Whether you appreciate seeing a player's number retired or would rather see them honoured instead, the Calgary Flames have several players in line for the next banner to be raised at the Scotiabank Saddledome. While the biggest omission to date has to be Theo Fleury, who's second in all-time goals, third in all-time assists, and second in all-time points in franchise history, there's another name that shockingly hasn't been honoured in one of the two possible ways.
The Flames have only retired three numbers in their history: Lanny MacDonald (9), Jarome Iginla (12), and Mike Vernon (30), yet they have had a variety of great players who have earned the honour. The organization also introduced the "Forever a Flame" program in 2012, which was their way of celebrating their players without locking up their numbers. Only two players have that distinction as of 2020: Joe Nieuwendyk (25) and Al MacInnis (2).
An Easy Choice
Why haven't the Flames retired Miikka Kiprusoff's No. 34 or added his name to the Forever a Flame banner group yet?
Kiprusoff retired in 2013, but go anywhere in Calgary or southern Alberta to watch a Flames game, and you'll find someone wearing a No. 34 jersey. The San Jose Sharks drafted the Finnish goalie 116th overall at the 1995 Draft and let him develop for several years before he was officially called for a cup of coffee in the 2000-01 season when he played in five games.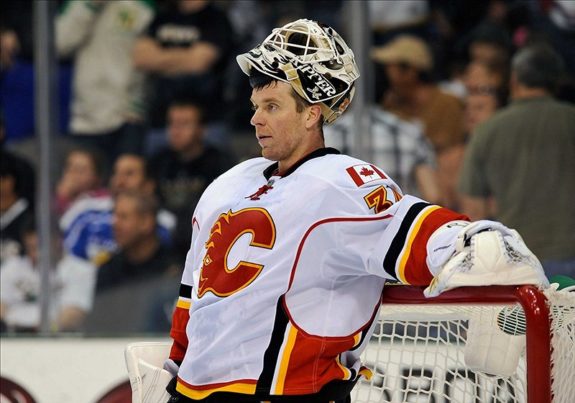 It didn't seem like the Sharks knew what they had in Kiprusoff, as he only played in 20 games in 2001-02 and 22 games in 2002-03. Stats-wise, he didn't set the world on fire, with a .915 and .879 save percentages (SV%), respectively. But what team hasn't been burned by shipping off a goalie right before they hit their prime? The good news for the Sharks though was they still had a reliable tender in Evgeni Nabokov. Still, the return of just a second-round pick could have been a whole lot more if Kiprusoff had been given a longer leash.
In 2003-04, Kiprusoff found himself behind Nabokov and Vesa Toskala, which led to a trade to Cow Town. Looking back, Flames fans are still happy with the acquisition. Kiprusoff and the Flames made it to the Stanley Cup Final that season, where they fell to the Tampa Bay Lightning. Many still contest what happened in Game 6, but there's no need to rehash that.
From 2003-04 until 2012-13, Kiprusoff kept the Flames' net steady, with career-highs in save percentage in 2003-04 (.933), wins (45), and games played (76) in 2008-09. In his career, he played in the All-Star Game (2007), earned a Vezina Trophy (2005-06), a William M. Jennings Trophy, and was an NHL First Team All-Star (2006). He also holds a variety of Flames goaltending records, including wins (305), games played (576), save percentage (.913), goals against average (2.46), and shutouts (41).
After the Finn officially left the game, the Flames struggled to find a bona fide number one backstop until they signed Jacob Markstrom this offseason.
Flames Icon
Back to the original question, why haven't the Flames honoured Kiprusoff?
Vernon, the only goalie to have his number hang from the rafters, trails Kiprusoff in all major stat categories. He also has less hardware as a Flame, but he does have something Kiprusoff doesn't; he brought the Stanley Cup to Calgary. Sure, Kiprusoff and the 2003-04 Flames came within inches of winning the top prize, but they didn't get it done. If there's one thing holding No. 34 back from being honoured in one form or another, I have to believe that's the reason.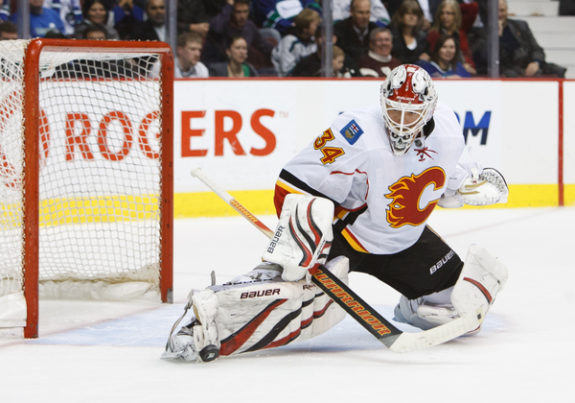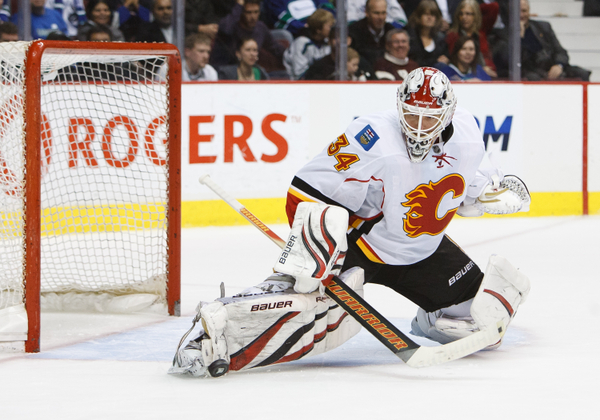 Iginla was the latest Flame to have his number retired, and for good reason — he's the best player ever to play in Calgary. As good as he was, Iginla never won a Cup in Calgary, so you have to think the Flames will honour Kiprusoff in the near future. Considering not a single player has donned No. 34 since him, his legacy looms large.
Kipper is beloved by Flames fans, even younger fans who are just starting to follow the team know who he is. I believe Fleury will be the next player honoured by the Flames and Kiprusoff should follow right after. At this point, I don't see any rhyme or reason to wait any longer.
---
---