Christmas is generally a very exciting time for everybody around the world, as you are able to get together with friends and family to celebrate the holiday. Unfortunately, this year will look much different for everyone as a result of the COVID-19 pandemic, which has resulted in governments putting restrictions on gatherings to limit the spread of the virus.
While the holidays will be different this year, hockey fans still have plenty to look forward to as the World Juniors are set to begin on Dec. 25. It will be different with no fans in the stands, but the 2020 Stanley Cup Playoffs proved to everyone that the games are still very exciting to watch and played with high intensity nonetheless. Similar to the NHL playoffs, the tournament will take place in Edmonton, Alberta, as well as Red Deer.
This annual tournament is exciting for many reasons. The main is that hockey fans everywhere will get to watch and cheer on their home country in their quest for gold. Another is that NHL fans will get to watch prospects of their favorite team showcase their talents on the world stage, giving a glimpse as to what the future of their team may look like.
This will certainly be the case for the Calgary Flames, who boast a very passionate fan base that will have many tuning in to watch their team's prospects. While they do not have as many potential prospects playing as other teams, the four players listed below all have a chance to make a big impact for their respective countries.
Team USA
Dustin Wolf, G
Flames prospect Dustin Wolf is nearly a lock to make this roster. The 19-year-old goaltender, who nearly went undrafted at the 2019 NHL Entry Draft (214 overall), has had an incredible junior hockey career to date with the Everett Silvertips of the Western Hockey League (WHL).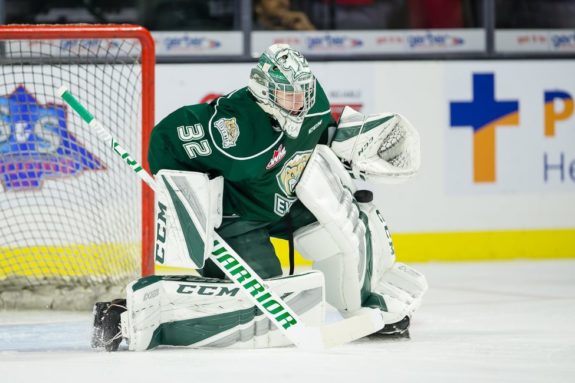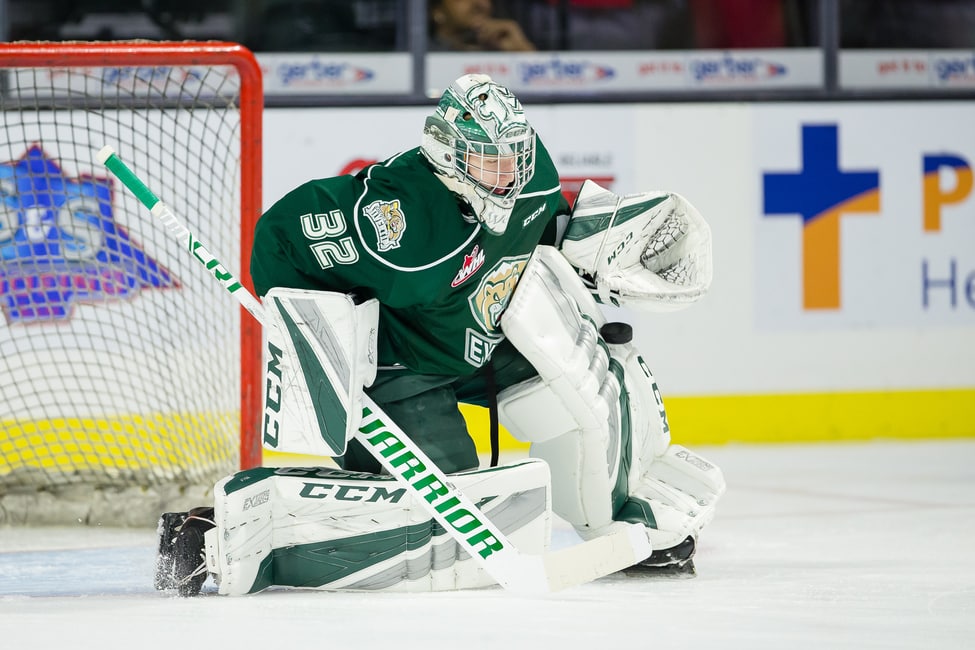 The 2019-20 season, Wolf's third with the Silvertips, saw him post a spectacular 1.88 goals against average (GAA) along with a .935 save percentage (SV%) in 46 games played. Shockingly, these numbers were actually a bit of a drop off compared to the season prior when he posted a 1.69 GAA and a .936 SV%. His play this past season was good enough to earn him both the WHL and Canadian Hockey League (CHL) goaltender of the year awards.
The 2021 World Junior Championship will be the second time Wolf will suit up for the tournament, as he also played at the 2020 tournament. Unfortunately for him and his teammates, last year's tournament was very disappointing with a 6th-place finish. The Flames' netminding prospect found himself on the bench for almost the entirety of that tournament, starting just one game as the team went with Spencer Knight as their starter. Both goalies are eligible to play again this season and will battle it out for the starting position.
Team Canada
Jakob Pelletier, LW
While he isn't a shoe-in like Wolf, Jakob Pelletier has the next-best chance of any Flames prospect. He was recently invited to Team Canada's World Junior selection camp for the second straight year. The 19-year-old had a great chance to make the team last year as well, but suffered a concussion during his final game prior to the tournament with the Moncton Wildcats and was unable to participate.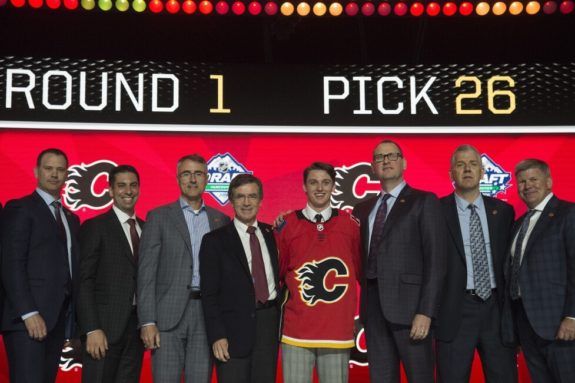 The Flames selected Pelletier with their first-round pick (26th overall) at the 2019 NHL Entry Draft. Despite being undersized at just 5-foot-10, 170 pounds, he has had no problem putting up massive numbers in the Quebec Major Junior Hockey League (QMJHL). Last season, while only playing in 57 games, he was able to score 32 goals and 82 points. The season prior, which was his draft year, he had what are still his career highs with 39 goals and 89 points in 65 games.
One big bonus for Pelletier compared to many of the others trying to make Team Canada is that he has already been able to get games in this season, as the QMJHL is one of the only leagues in North America currently playing. Pelletier, who was traded from the Wildcats to Val d'Or Foreurs this summer, has had no problems settling in with his new squad as he already has 13 points in nine games. Barring another injury, he will more than likely appear on this roster.
Connor Zary, C
Another Canadian first-rounder appearing on this list is Connor Zary, who was taken 24th overall at this year's draft. Ironically enough, when Pelletier got hurt last season, Zary was the player who replaced him at Team Canada's camp. While he isn't as likely to make the team, he still stands a very good shot. The fact he was already able to showcase himself at last years camp will certainly help his chances.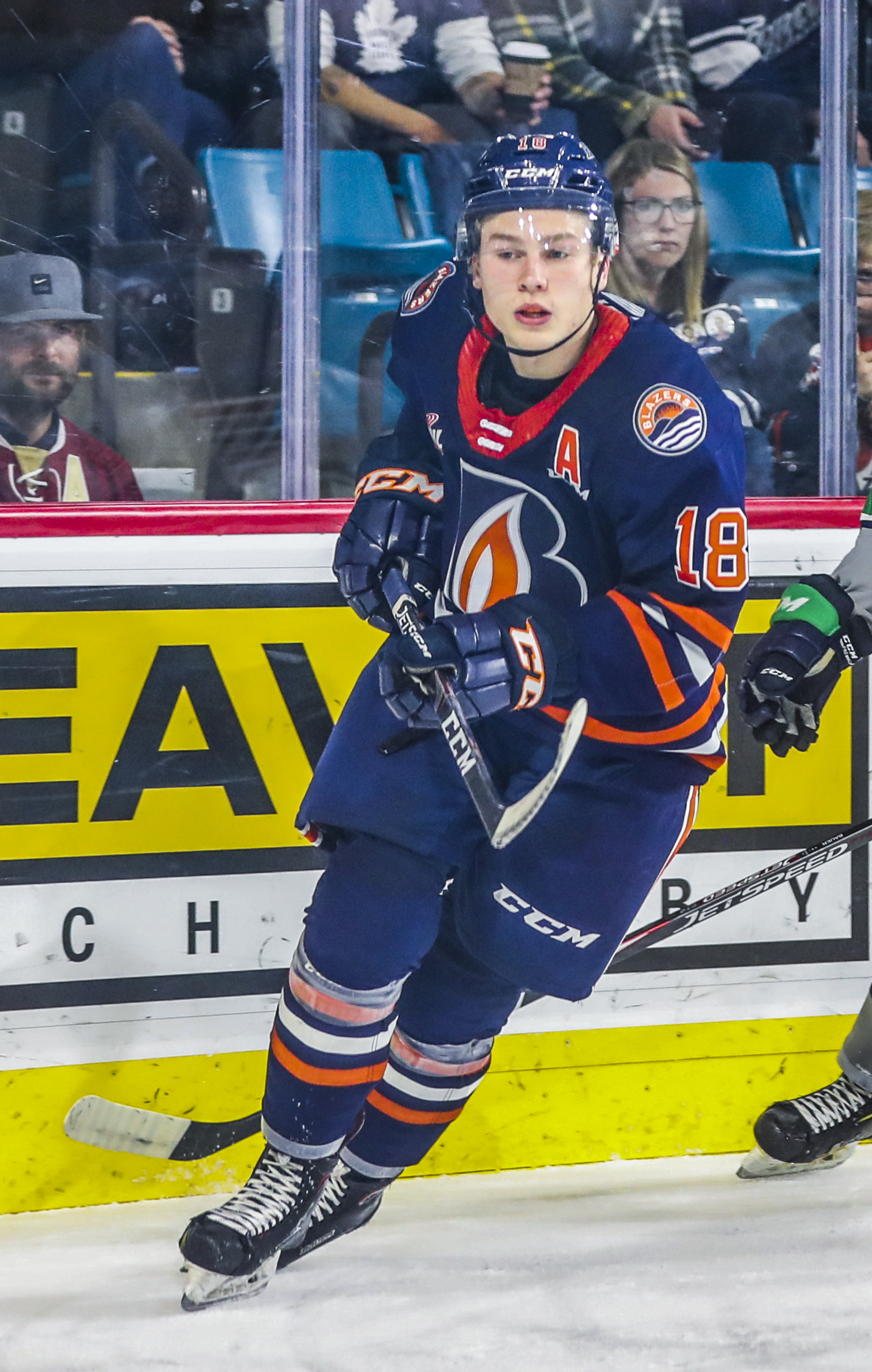 Zary has spent the last three seasons in the WHL playing for the Kamloops Blazers, where he has increased his totals each year. Though he was drafted a year later than Pelletier, they are the same age, meaning that Zary is also in his final year of eligibility to compete at the World Juniors. The 19-year-old is coming off of a 38-goal, 86-point season, with both of those totals ranking him second amongst his Blazers teammates.
Unfortunately for Zary, he is one of many who has not been able to play yet this season. As of now, the WHL is set to start their season in early January, meaning he will not get in any games prior to the tournament. Though this is a tough blow, many other players are in the same boat, so it shouldn't have too much of a negative effect on Zary. His great work ethic along with his responsible two-way play could be very valuable for Team Canada if he is able to crack the roster.
Team Russia
Yan Kuznetsov, D
Likely the biggest longshot on this list to play in this year's tournament is Yan Kuznetsov. The hulking 6-foot-4, 209-pound defenceman was the Flames' first of seven players drafted on day two of the 2020 NHL Entry Draft, selected 50th overall. While he managed just 11 points in 34 games with the University of Connecticut last season, many were impressed with how well Kuznetsov was able to play given that he was the youngest player in the NCAA at the time.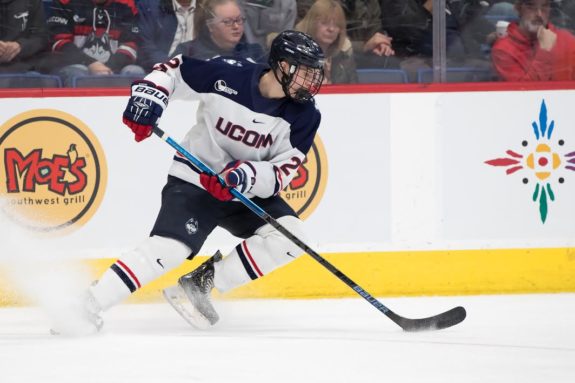 The 18-year-old defenceman will be one of the youngest players looking to earn a spot for Team Russia, which will make it a tough task. However, given his great stay-at-home defensive play, he may be a great fit for a Russian team that has struggled in the past due to a lack of defensive structure. Along with his size, he brings a physical presence that would also be very beneficial in a tournament like this.
One other positive for Kuznetsov is that there are no returning defencemen from last year's silver medal-winning team, meaning there are plenty of spots up for grabs. Again, given his age compared to the majority of players he is battling for a spot with will make it tough, but he may be able to convince new head coach Igor Larionov and the rest of the coaching staff to bring him along as a sixth or seventh defenceman.
Strong Shots at Gold
Though this list may not have as many prospects as other teams throughout the NHL, everyone mentioned will be right in the thick of things when it comes to winning the 2021 World Juniors. At last year's tournament, it was Team Canada winning gold over Team Russia, and while Team USA limped to a 6th-place finish, they have a great shot at redeeming themselves this go around.
---
---