The Calgary Flames have had many players since relocating from Atlanta back in 1980. As a result, many different jersey numbers have been worn. Numbers like 16, 18, 20, 21, and 22 have been extremely popular, worn by 24 different players each. Meanwhile, No. 15 is the most worn in franchise history, having been dawned by 25 players. They also have three numbers that are retired: 9 (Lanny McDonald), 12 (Jarome Iginla), and 30 (Mike Vernon).

At least one player has worn every number in a Flames jersey from 1-68, however, after 68 there are some that have not been worn at all, as just 13 numbers from 69-99 have ever been taken. Despite these numbers having been worn, many have only been used by one player. Today, we will go over those.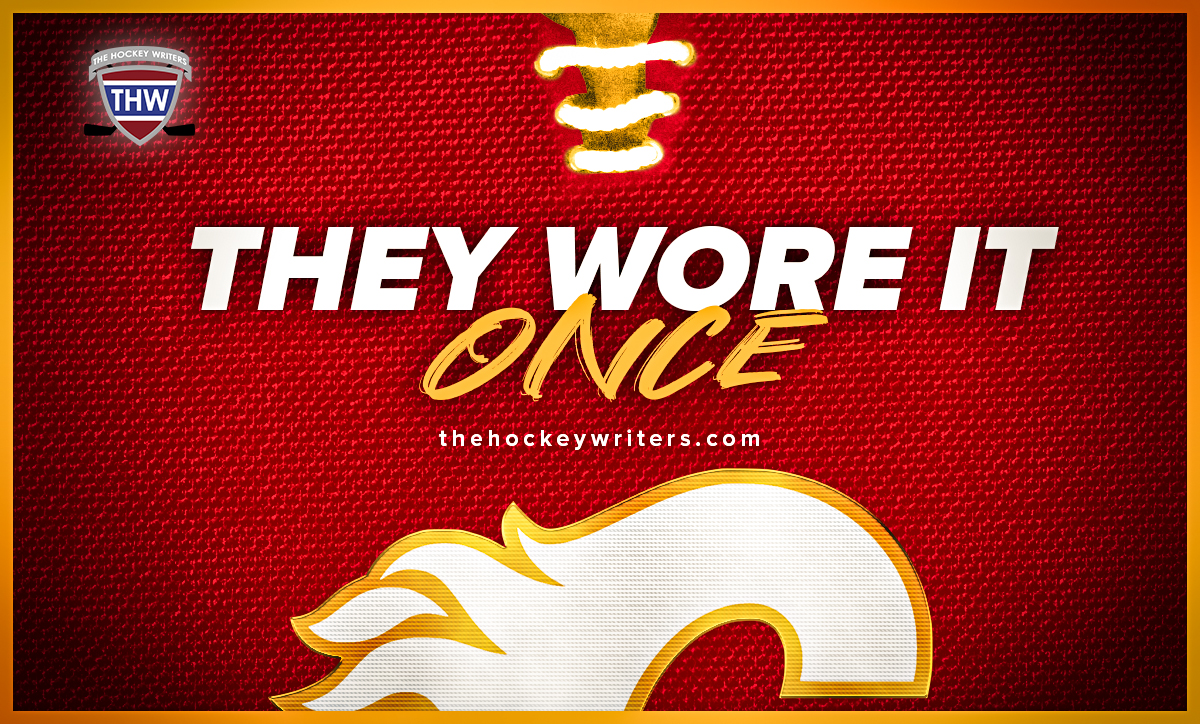 #65: Turner Elson (2016)
Not only is Turner Elson just one of 21 players in Flames history to play just one game for the team, but he is also the only player to wear the number 65. That turned out to be the lone NHL game he logged for some time, but that changed a season ago when he was able to suit up for two with the Detroit Red Wings.
You may also like:
The 30-year-old's lone game as a Flame came against the Minnesota Wild and he played a big part in the 2-1 win, chipping in with an assist. This season, he has been playing in the AHL with the Hartford Wolf Pack, where he has managed six goals and 19 points in 34 games.
#66: T.J. Brodie (2011)
One of the longest-tenured Flames, T.J. Brodie, wore the number 7 for a long time. However, during his first short stint with the team as a rookie during the 2010-11 season, he donned number 66. At the time, the former fourth-round pick was fairly unknown to Flames fans, but that has since changed drastically. The 32-year-old went on to play 634 games as a Flame, scoring 48 goals and 218 points.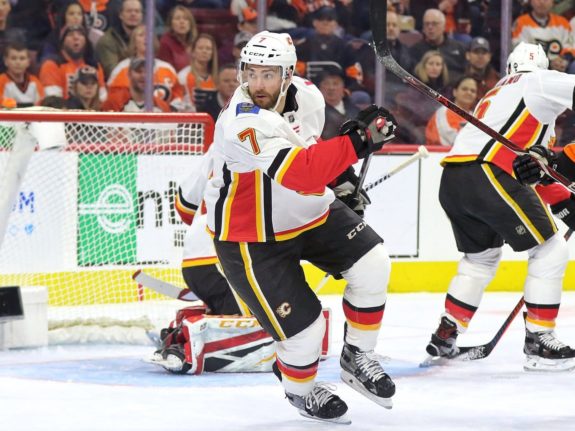 Brodie's tenure with the Flames came to an end during the 2020 offseason, as he signed a four-year, $20 million deal with the Toronto Maple Leafs. Unfortunately, he was limited to just 58 games so far in the 2022-23 campaign due to nagging injuries but continues to be a solid piece on the back end when healthy.
#70: Louis Domingue (2021)
During the COVID-19 shortened 2020-21 season, teams incorporated a taxi squad, which included a list of players who were able to travel with the team and suit up in games if any players on the active roster got sick. For the Flames, their taxi squad goaltender was Louis Domingue, who had been reliable for NHL clubs in a similar role in seasons past.
---
Latest News & Highlights
---
Between the duo of Jacob Markstrom and David Rittich that season, Domingue wasn't forced to be relied upon a ton, but was able to make one start. Unfortunately, it resulted in a loss, but he was able to play reasonably well, kicking aside 20 of the 23 shots he faced. The journeyman 31-year-old continues to play, and is currently teammates with Elson on the Wolf Pack.
#71: Walker Duehr (2023)
In Jan. 2023, the Flames called up Walker Duehr from the AHL. This marked his second time being called up to the NHL, though this time marked the first he wore No. 71. As a result, he joins this list, as he is the only player in franchise history to wear it.

So far, so good for Duehr and his new sweater number, as he was able to score his first NHL goal on Jan. 13. It's early, but he seems to be making an impression on head coach Darryl Sutter so far, meaning he may just in fact be able to remain with the big club should his strong play continue.
#73: Tyler Toffoli (2022-2023)
In Feb. 2022, the Flames announced that they were trading Tyler Pitlick, prospect Emil Heineman, as well as a first and fourth-round draft pick in exchange for Tyler Toffoli. He had an excellent 119 games in Calgary with 45 goals and 96 points before being traded to the New Jersey Devils during the 2023 offseason.
#77: Mark Jankowski (2017-2020)
The 28-year-old wore 77 during his entire 208-game career and was the first in franchise history to do so. After the 2019-20 season, he departed in free agency.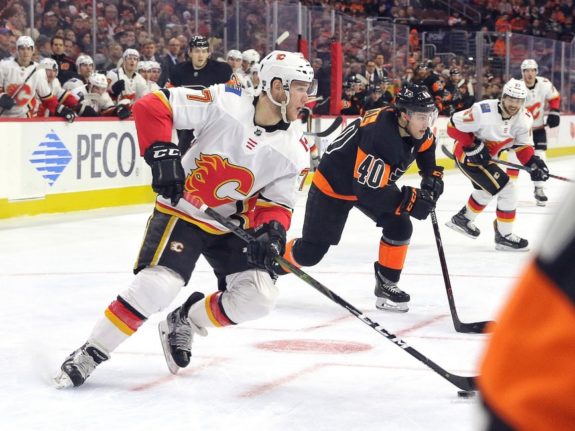 The former 21st overall pick has had an interesting career path to this point, to say the least. Despite his struggles this season, he was a decent secondary scorer during his first two years in the league.
#79. Micheal Ferland (2015-2018)
Before he was traded during the 2018 offseason to the Carolina Hurricanes in a blockbuster deal, Micheal Ferland became a fan favourite in Calgary. It all started in the 2015 Playoffs when he was flying around and hitting everything that moved during their first-round series against the Vancouver Canucks. Canucks defenceman Kevin Bieksa claimed to the media that Ferland was irrelevant, but it was clear he was getting under their skin.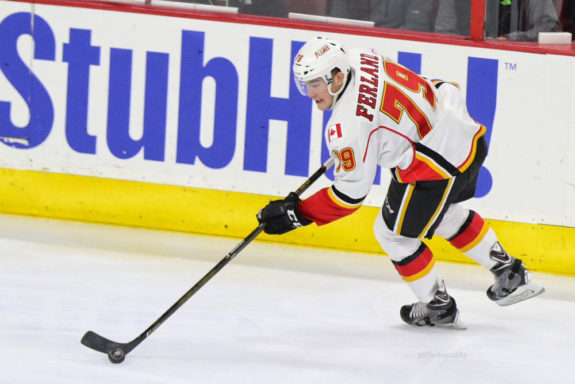 After that playoff showing, Ferland played in three full seasons with the Flames and saw his point totals increase each year. In his final season with the team, he put up career highs with 21 goals and 41 points. He was traded to the Hurricanes that offseason and then signed a four-year deal as a free agent with the Canucks the following year. He continued to wear the number 79.
#81: Dominik Simon (2021)
Prior to the 2020-21 season, the Flames chose to sign depth forward Dominik Simon to a one-year deal. The hope was that he could fill a similar role to what he had previously with the Pittsburgh Penguins, which was a bottom six forward who could jump into a top six role if injuries occurred.
The role envisioned for Simon never played out with the Flames, however, as he was held pointless in the 11 games he suited up for, and due to his lack of production spent plenty of time on the taxi squad. While he won't find himself in any Flames scoring records, however, he currently remains the only player in franchise history to dawn the No. 81.
#86: Josh Jooris (2015)
While no longer in the NHL, most Flames fans will remember the name Josh Jooris. The undrafted right-winger signed with the team after his third season at Union College, and appeared in 60 games with Calgary just two seasons later in 2014-15, putting up 12 goals and 24 points. He also suited up for 59 games during the 2015-16 season but was much less productive with just four goals and 13 points. As a result, the Flames decided not to give him a qualifying offer, and he became a free agent.
Jooris went on to have stints with the New York Rangers, Arizona Coyotes, Hurricanes, and the Pittsburgh Penguins. The 32-year-old has since spent the last four seasons playing in the National League in Switzerland. As of today, he is the only player to ever wear number 86 for the Flames, although he switched to number 16 for his second season with the team.
#88: Andrew Mangiapane (2018-2020)
The only current member of the Flames on this list is Andrew Mangiapane, who wears number 88. Though it took some time for him to fully develop, the 2015 sixth-rounder has become a very solid player at both ends of the ice for the Flames, and when on top of his game can rival some of the league's best goal scorers.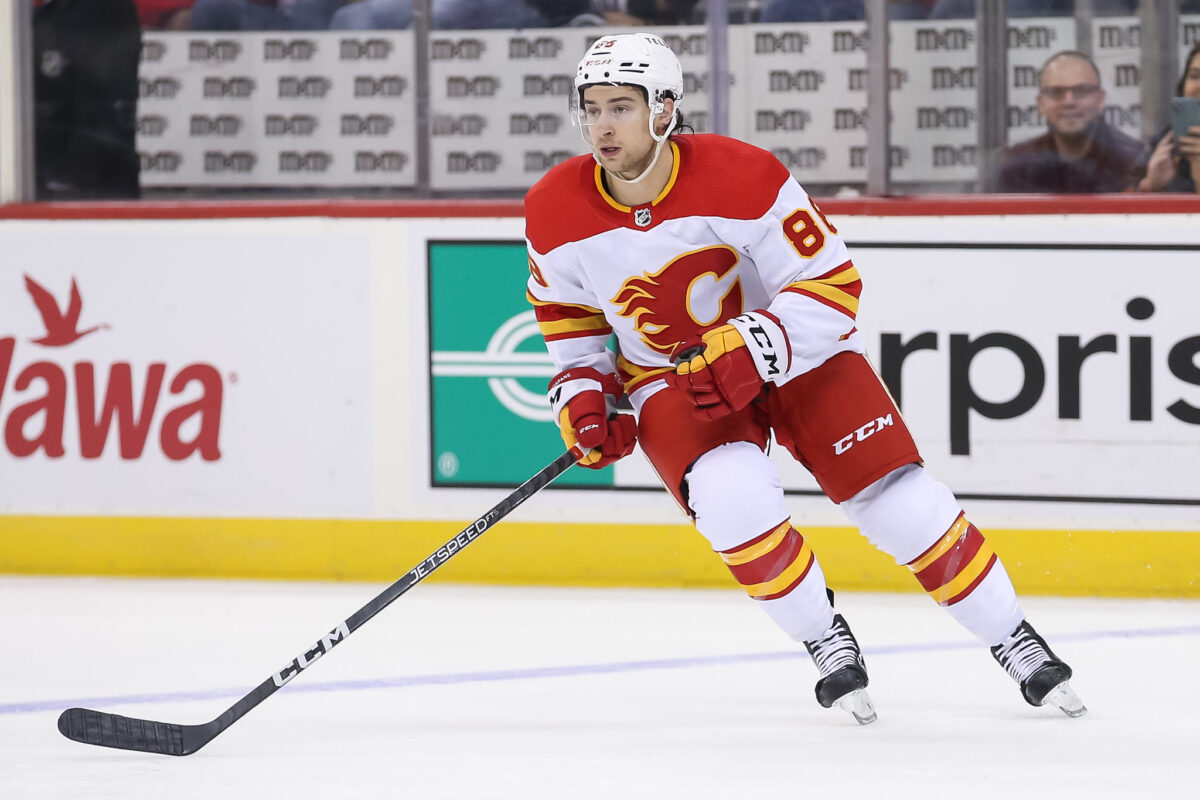 Unfortunately for Mangiapane, his 2022-23 season got off to a slower start than anyone had expected; however, he turned it around and finished with 43 points in 82 games.
#92: Michael Nylander (1994-1998)
Michael Nylander, the father of current NHLers William and Alex, is the final player on this list, as he wore number 92 for parts of four seasons with the Flames between 1994-1998.
Related: Flames With 100-Point Seasons
While he went on to have a very solid career, putting up nearly 700 points, he was never able to get truly comfortable in Calgary, despite a solid 55-point season in 1995-96.
Nylander also had stints with the Hartford Whalers, Tampa Bay Lightning, Chicago Blackhawks, Washington Capitals, Boston Bruins, and the New York Rangers. His two seasons spent with the Rangers were his best in the NHL, as he put up a combined 162 points in 160 games. While William, Michael's oldest son, still has a ways to go, he looks like he may go on to have an even more impressive NHL career than his father.
Impactful Players
Perhaps the most interesting thing about this list is how many solid players are on it. For many teams, the numbers that have only been worn once were from part-time NHLers who were assigned the number, rather than it being selected themselves. Not the Flames.