The Calgary Flames, like every team in the NHL, will not return next season with the exact same roster, especially when the team as a whole has largely underachieved. This means that there is going to be more than one player they move on from, whether it be via trade or free agency. In the Flames' case, these four appear to be the most likely.
---
---
Milan Lucic
Though a cheap extension for Milan Lucic was discussed by the Flames, the team really needs speed and scoring. He provides neither of those. The big winger is being paid as a top-six player but has been in the bottom-six for a couple of years now due to his large decline in production. Despite Darryl Sutter's shuffling of lines that saw Lucic play in the top-six at times this season, that proved to be a waste and someone with more speed and skill needs to assume that role. Jakob Pelletier ended up being that guy, so Lucic is back playing regularly on the fourth line.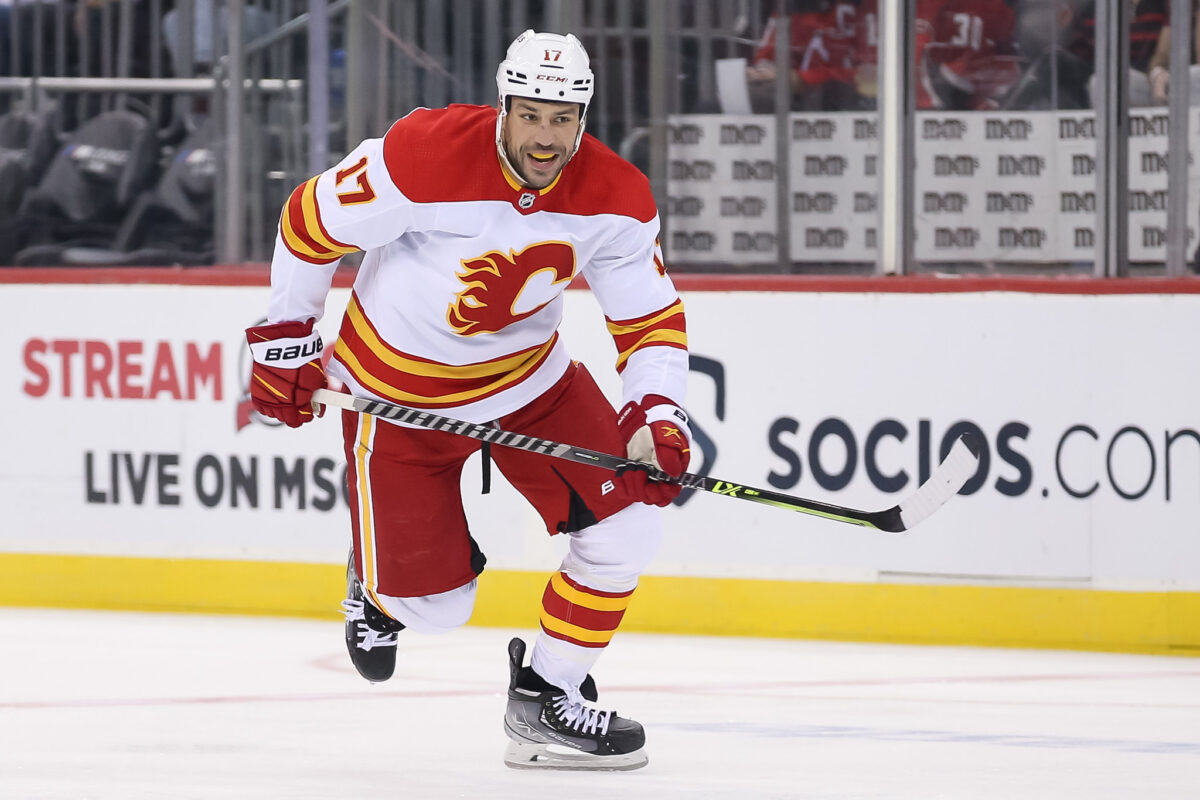 His numbers in any area of the game don't suggest he should be more than a $1.25 million player or play any higher than the fourth line. He has five goals and 14 points while playing under 11:30 per game. The once physical force feared around the league who could both play very tough and put up points has now nearly aged out. The type of player he is has quickly become less impactful and Lucic hasn't reached the 25-point mark since 2017-18. The Flames will be relieved that his cap will be off the books and it isn't worth bringing him back with a number of young and hungry players pushing for NHL roles.
Nick Ritchie
Sometimes you see trade deadline additions stick around and re-sign after the season if their time with the new team is enjoyable and productive. Though Nick Ritchie has been thrown into a top-six role and should get some points, he plays a similar type of game as Lucic did before his downfall. Ritchie is big, physical, and can score, but is also not the fastest. Once again, the Flames need speed and they added more size instead.
Related: Flames' 1-Goal Losses Have Sunk Season
---
Latest News & Highlights
---
The main goal for the offseason for Calgary is going to be to find a top-six winger. Ritchie is just serving as a placeholder this season. The team may use up most of their remaining cap space after the massive extensions to Jonathan Huberdeau and MacKenzie Weegar kick in. So cap space will be tighter than it is this season and there won't be much room to keep someone like Ritchie around unless he proves to be impactful. Even more than that, we don't yet know the money he'll be asking for, if the Flames will have interest in keeping him around, or his preference for next season. Brad Treliving will likely be wary of giving out contracts too early after what has happened with Huberdeau. So we should know after the season at the very earliest what the Flames plan to do with Ritchie.
Dan Vladar
Dan Vladar hasn't always been great for the Flames this season, but he has been more consistent and better than Jacob Markstrom while having a cap hit of $750,000. Unfortunately, that cap hit for Vladar jumps to $2.2 million average annual value (AAV) for the next two seasons. He has shown flashes of the ability to start a bunch of games and have success, but he has also struggled along with the Flames for parts of this season.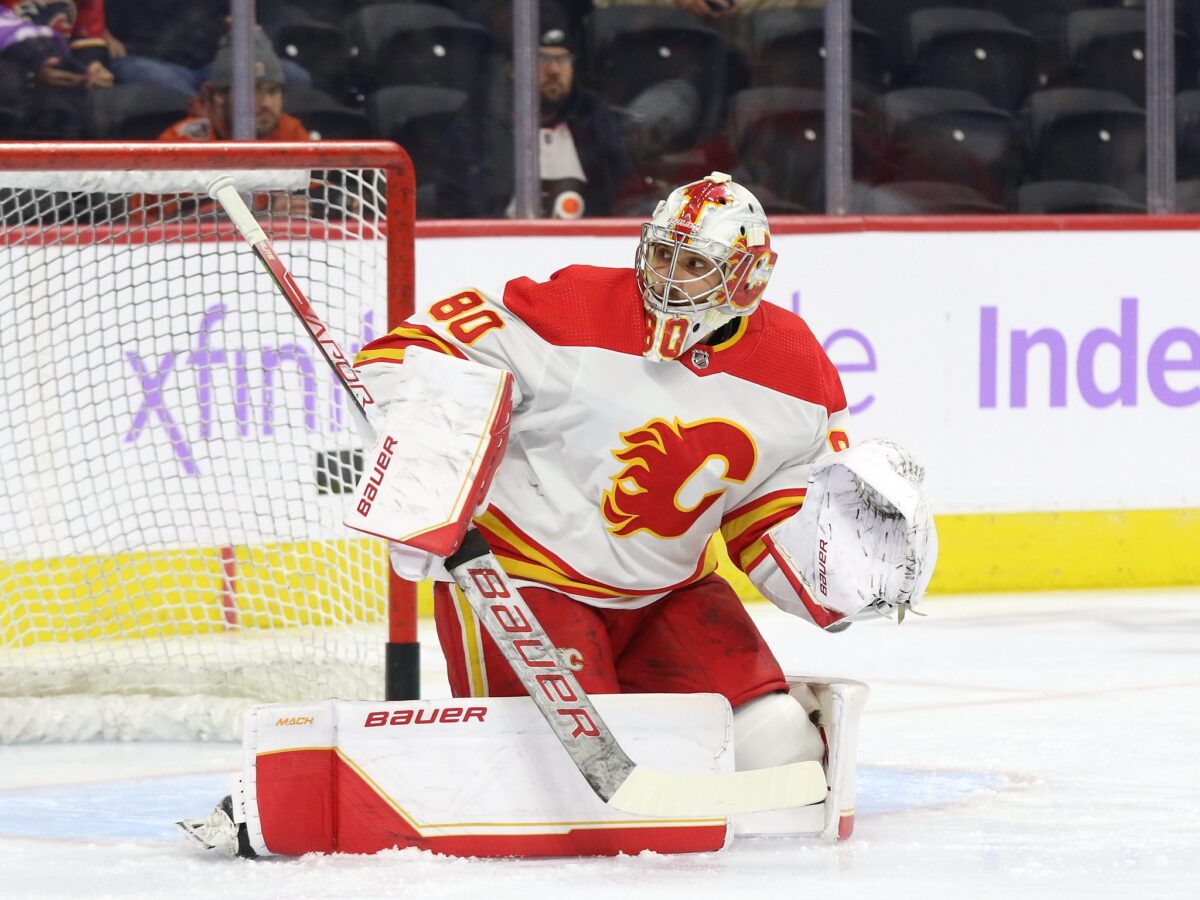 When Markstrom was really struggling early in the season, the Flames turned to Vladar to hold down the fort and keep the team in the playoff race. He stepped up and did just that, but as of next season, there is a problem in net (from "The Flames may give Dan Vladar more starts, but Jacob Markstrom is still their guy", The Athletic, Feb. 16, 2023). The Flames will have three goalies who are NHL calibre – Markstrom, Vladar, and Dustin Wolf. The young goalie has developed very well in the American Hockey League (AHL) for the second season in a row and has put up incredible numbers. He has nothing more to prove at that level and the Flames must make room for him. Markstrom would be a pain to move and the Flames would be selling really low on him. Vladar, as a backup with the potential to be a split starter, would be the easier goaltender to move and that's why he won't be with Calgary next season.
Troy Stecher
The Flames have 11 defencemen who are on NHL contracts in their organization at the moment. Oliver Kylington hasn't played, Michael Stone is injured again; while there are also Dennis Gilbert, Nicolas Meloche, and Nick DeSimone either staying in the AHL or jumping between there and the NHL. The Flames' top six defencemen are all under contract next season, meaning they only really need to keep a seventh and potentially eighth defenceman around. When it comes to Stone or Troy Stecher, there is much more familiarity with Stone seeing as he's won over the sixth/seventh defensive spot for multiple seasons in a row.
This means Stecher, who is an unrestricted free agent at the end of the season anyways, should be on his way out. He was a depth deadline addition this season because Kylington hasn't played and Stone is injured. He is another placeholder that the team will have no room for next season. Seeing as Stecher is an NHL defenceman, he likely won't be on board with sticking around where there will be very little opportunity and playing time, so he should be headed to free agency after the season.
The losses for the Flames won't be significant ones, but they will help free up spots and shape the roster to come back stronger next season. They need to change things up, and a lot of their players are locked in and will be too difficult to move at this time. As a result, don't expect any of these four current players to be with Calgary next season.