Flint Firebirds forward Luke Kirwan had plenty of potential when he came into the OHL and he's looking to reach that in his biggest season to date.
Kirwan was originally a second round pick by the Guelph Storm in the 2013 OHL Priority Selection. At 6'2," 220 pounds, Kirwan spent the 2012-13 season with the Eastern Junior Hockey League in New York. He was committed to the US National Development Program for the 2013-14 season, so his prospects of an OHL career were slim. However, his talent and potential were undeniable. For the US National Under-17 team in 2013-14, he had 57 points in 54 games and was considered a highly touted 2016 NHL Draft prospect.
The Windsor Spitfires saw this and traded for his rights, sending their second-round picks in 2018 and 2019 to the Storm. Kirwan signed and came to Windsor for the 2014-15 season. The team was high on him and expectations were huge. Here is the press conference with the Spitfires introducing Kirwan to the media:
https://youtu.be/B8h8CbfvWnE
Tough Times for Kirwan
While the skies were sunny to start, they were soon clouded over. Kirwan struggled out of the gate for Windsor. The reason, whether it was a new city, new competition or something entirely different, was unknown. Fans were expecting a power forward who could put the puck in the net with regularity and hit with force. Instead, they got a power forward who hit but put up just 19 points in 59 games.
Perhaps it was just an adjustment period. Fans were willing to give him the benefit of the doubt, as was the team, and Kirwan was brought back for the 2015-16 season. During the first-half of the season, Kirwan played a bit better at times, looking more comfortable on the ice, but struggled even more with the points. In 31 games, he managed only four points and it became apparent it was time to move on. The Spitfires dealt him to Flint on Jan. 4 in exchange for 1995-born forward Connor Chatham.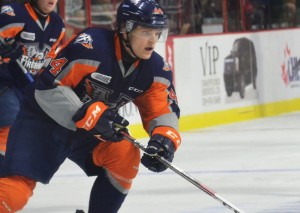 It was an instantly better situation for Kirwan. He saw top-six ice time and his confidence seemed to go up. His point totals started increasing with eight goals and four assists in 32 games. It was a step in the right direction and people were taking notice.
The March to the NHL
The 2016-17 season is going to be significant for Kirwan. While he wasn't drafted during the 2016 NHL Draft, he was invited to the Detroit Red Wings Prospects tournament this year, showing them he's worthy of a chance at the pros. The Firebirds have new management, are rebuilding, and Kirwan is going to be looked upon to provide scoring and leadership. If there was ever a season to break out and show the hockey world what he can do, it's now.
Kirwan possesses a quick, heavy shot that is tough to stop, as well as the natural ability to paste an opponent into the boards. His footwork has improved since last season and he is constantly moving on the ice, looking to create chances. Now that he's in a good situation with Flint, there's no reason he can't get his name back on the prospect map. As a 97-birth, he has two years to prove the critics wrong. Firebirds fans are going to see what Guelph and Windsor both saw originally – a kid that's hungry to succeed. Both the Flint organization and Kirwan need this to be a successful relationship.