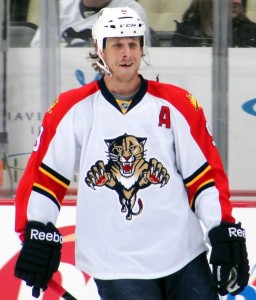 The Florida Panthers entered Tuesday's home game against the Winnipeg Jets needing a win to clinch their first division title in franchise history.  Needless to say, Panther fans were giddy.  A 3-0 lead just minutes into the 2nd period against a Jets team who had just a few short days ago been officially eliminated from the playoff race, and Pantherland was getting ready to stock the shelves with division champion merchandise.  But for a team that hasn't made the postseason since Y2K, there is still much to learn about chickens and the hatching of eggs…
Early Tuesday morning, I see facebook posts involving NHL.com's "If the Playoffs Started Today" chart.  "I can't believe what I'm seeing!" exclaimed one fan.  The chart, you see, showed Florida in the 3 seed, higher than they have never been.  A playoff spot that fans haven't seen in over a decade.  You can forgive the overeager fandom.  But this is hockey, where players lace up their left skate first every time, and have done so since they were 9.  You don't mess with what works for fear of the dreaded Jinx.
Early Tuesday afternoon, a youtube link leaks out.  Twitter is filled with a NBC Sports Network commercial featuring the Florida Panthers return to the playoffs, even though Florida has yet to officially be in the postseason tournament (disclosure; I have yet to see this commercial because I am a hockey player and I fear the Jinx).  "Awesome commercial!" proclaims a tweet.  "This brings back so many memories," reminisces another.  "I can't wait to see a playoff game!" says a young fan.  And then the cursing begins.  "We haven't clinched yet!"  "Too soon! Too soon!"  I know hockey.  I've met the Jinx.  I counted to 9 instead of 10 during stretches during my college career, because 9 was lucky.  I set my alarm clocks to 10:08 instead of 10:15 or 10:00 because 1+0+0+8=9.  I did not watch the commercial, but the Jinx was watching me.
Early Tuesday night, the Panthers were simply dominating the Winnipeg Jets.  They held a 3-0 lead and were at one point outshooting their Canadian visitors 20-7.  You could hear it in former Panther and current broadcaster Bill Lindsay's voice.  The Panthers were going to win the division.  The Jets had nothing to play for, being mathematically eliminated from the postseason on Saturday.  The Panthers were playing for everything.  They were winning battles, getting chances, scoring goals!  It wasn't a matter of if they were going to win, it was by how many.  Besides, it was Stephen Weiss' birthday.   Weiss has been a Panther since 2001, has played 643 NHL games with 0 postseason appearances, and tonight was the 10 year anniversary of his NHL debut.  The story lines were writing themselves.  "Here's what a #FlaPanthers SE Division cap will look like ($27.99 online)" posted a Panthers' beat writer.  Cue the Jinx.
It started with one.  An ill advised between the legs pass from Kris Versteeg was intercepted, and away went the Jets, 2 on 1.   Goal.  3 to 1.  But the Panthers still led.  They were still in control.  But they were scrambling to clear a puck out.  They were diving to block shots.  They cleared it right to the Jets defenseman!  Theodore was still on his butt!  They're only leading by one now… the Jinx is getting comfortable.
Between periods, the Panthers broadcast did something unforgiveable.  It previewed the potential playoff matchup with the New Jersey Devils.  I changed the channel.  I plugged my ears and left the room.  The Jinx was already in my head.
Jose Theodore has been a rock for the Panthers this season.  He's held every opponent except two to 2 goals or less in regulation since March 9th.  Even when Florida starts to scramble, he's been there to back them up.  But even Theo was no match for the Jinx.  With Florida holding a 3-2 lead to start the 3rd period, Andrew Ladd skated in and let go an innocent wrist shot from just inside the blue line.  No worries, Theo's got this.  Whiff.  Tie game.  Was he kind of, sort of screened?  Maybe.  Is it a shot he stops 999 times out of 1000?  Probably.  Not this one.  The jinx is now in full effect.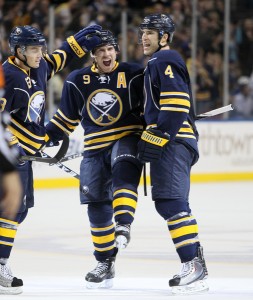 Before I get too far, let me touch on how far of a reach the Jinx has.  At the same time as FLA vs WPG, the 9th seed Buffalo Sabres were hosting the Toronto Maple Leafs.  A Buffalo loss in regulation and the Panthers clinched a playoff spot regardless of the outcome of their game.  The Leafs broke out to an identical 3-0 lead as Florida.  So as the Panthers were collapsing, they were getting help, right?  The Jinx is all-seeing.  3-1, Buffalo gets one back.  3-2, Buffalo cuts it to 1… But unlike Florida, Toronto bounced back.  4-2 Toronto!  Uh oh, 4-3…  Toronto scores!  5-3 with 7 minutes left!!!  The Panthers' play by play man relays the score to his viewing audience.  "Remember, if Buffalo loses, Florida clinches a playoff spot and right now, it's looking good!"  Here it comes… 5-4, as Buffalo scores with 5 minutes left.  And then, thanks to modern technology, I am able to watch on my cell phone as the Sabres tie the game with just under 2 minutes left on a play.  Why did I start watching?  I hadn't watched the Sabres game all night and the Leafs were winning.  Why did I have to watch?  The tying goal took forever, yet seemed inevitable.  The puck disappeared under a scrum of players in front of the Leafs' net for what felt like an eternity, and yet no whistle from the referee.  Blow the whistle…. Blow The Whistle… BLOW IT…. NO DON'T POINT TO THE NET!!!!!! WHY DIDN'T YOU BLOW YOUR WHISTLE!!!  Buffalo would go in to win in overtime, but that didn't really mean as much once they sent it to OT, because… the Jinx.
The go ahead goal for the Jets was as inexplicable as any I've seen Florida give up this year.  On a routine pass to the point, Theo starts leaning towards the far post.  Did he not see the pass?  Was he trying to see around a screen?  Was the Jinx pushing him out of the way?  By the time the shot was released from the point, JT was so far out of position, the puck could have rolled across the goal line.  The Jets, a team out of contention, had come back from a 3-0 deficit against a Florida team fighting for their playoff spot, fighting for the first division title in franchise history, and now led 4-3.
So one would think when Tomas Kopecky scored with about 3 minutes left in the game to tie it up, the Jinx would have tired of the torture.  "OK, Panther fans, you've learned your lesson, now enjoy the postseason," a friendlier Jinx might have said.  And yes, when Kopecky tied it, I went beserk.  Hope was restored.  All was right with the world.  But the Jinx had one more trick up its sleeve.  With 15 seconds to go, leading Panther goal scorer Tomas Fleischmann found himself on a clear breakaway, the division title literally on his stick.  Denied.  Overtime.  The Panthers worst nightmare.  No team in the NHL has more overtime losses than the Panthers.  And with just a 6-15 record in the shoot out, this one seemed destined to end there.  But not tonight.  Not with a lesson to be learned.  Not with fans who haven't seen a playoff game in 10 seasons.  Not when all of Pantherland was expecting nothing less than to walk out of the BankAtlantic Center with Division Champion T-shirts draped across their shoulders.  This is hockey.  The sport where you don't shave until your season ends.  Where you tuck one side of your jersey in your pants because your favorite player growing up used to do that.  You don't mess with what works.  Why did I have to watch the end of the Sabres game?
The Panthers still have a chance to find what works.  With 2 games remaining, they lead Washington and Buffalo by 4 points. Guess who Florida plays Thursday night?  The current landlords of the southeast division, the Washington Capitals.  After Tuesday's debacle, Florida needs just a single point to clinch now, or a single point dropped by Buffalo or Washington.  Panthers' assistant GM Mike Santos said it best.  "We're focused on just getting in.  The league will tell us where to show up and who we're playing."  But don't tell that to anyone inside Florida's locker room.  Don't announce that on twitter.  Find out what you did differently between the time the Panthers scored its 3rd goal and Winnipeg got on the board and never do that again.  NHL GameCenter has been deleted from my phone, I've done my part.  This is hockey.  Don't jinx it.
Karl Selvig was born and raised in south Florida, and was introduced to hockey when the NHL came to Miami in 1993. It was love at first sight. After playing through college, he turned to the media side of the sport and has enjoyed writing about his beloved Panthers since 2007.