Flyers fans rejoice. After several years of legitimate consideration and a second place finish in 2018, Sean Couturier has finally won his first Frank J. Selke Trophy.
It's been quite some time since a Flyer brought home any kind of personal hardware. The last to do so was Ian Laperriere, awarded the Bill Masterton Memorial Trophy, at the end of the 2010-11 NHL season.
Related: Hitting in Women's Hockey – Why Not?
The drought for a Selke Trophy has been even longer in Philadelphia. Couturier becomes the first Flyer to win the award — given to the league's best defensive forward — since Dave Poulin (1987) and the third in franchise history joining Poulin and Bobby Clarke (1983).
A Long Time Coming
Any Flyers fan will tell you that the Selke for Couturier is long overdue, and they're not wrong.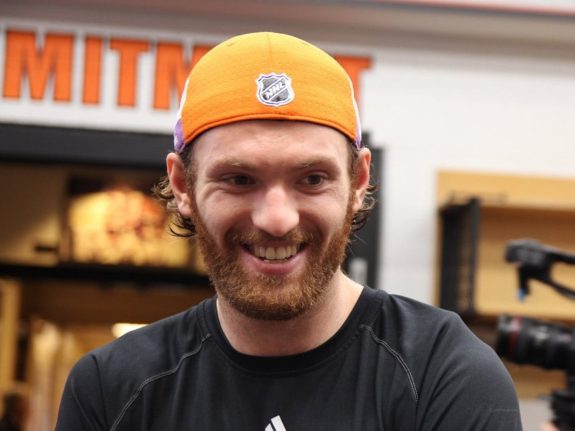 Over the past few years, he's emerged as one of the game's best two-way forwards up there with the likes of Patrice Bergeron, Ryan O'Reilly, Anze Kopitar, and Mark Stone.
The 2017-18 season is when Couturier started showing the league what he was capable of. Through the earlier stages of his career he still played a valuable role for the Flyers, but was plagued by injuries and was one of the few standouts on some fairly mediocre squads.
Since 2017, he's posted back-to-back 30-plus goal seasons, finished top three in points for the Flyers in all three years, and led the team in plus/minus in two of the three.
This year saw no change from Couturier. He was once again the most valuable player for the Flyers, finishing second in points, first in plus/minus, and absolutely dominating the faceoff circle, finishing with an impressive 59.63 faceoff percentage.
His worth is easily measurable outside of scoring or face-off stats as well. As a key member of both the Flyers' power play and penalty kill units, he consistently helps his team control the game, especially when he has the puck.
Landslide Victory
Couturier's 2017-18 season also marked the first in which he truly started to make waves in the Selke debate. He had earned some top-10 finishes in voting several times in his first six seasons, but was never really in conversation to actually win.
That year, he very narrowly came in second to Anze Kopitar, earning 976 total votes including 37 for first place.
Well, this year, there were no discrepancies as to who would bring home the Selke Trophy. Up for the award alongside four-time winner Patrice Bergeron and former Selke and Conn Smythe Trophy winner Ryan O'Reilly, Couturier ran away with the votes.
While it isn't surprising to see Couturier finally get his first Selke, it had to take some off guard to see him win by such a significant margin. As almost any recipient of the award would, he was quick to give credit to his teammates for helping elevate his game and to the coaching and management staff for believing in him.
Related: Greatest Rookie Seasons in NHL History
From the get-go, and especially after he was named the Professional Hockey Writers Association's mid-season favorite for the award, it felt like it was finally Couturier's year.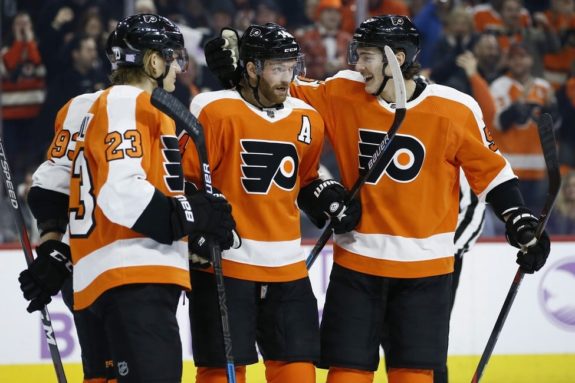 It may seem like a small victory after the Flyers disappointing playoff exit, but for their fans and, obviously, for Couturier, it's a massive one. It feels good to say that the Flyers finally have a Selke winner, and especially one that shows no signs of slowing down.
---
---