Jim Neveau, Blackhawks Correspondent
Woodridge, IL- Blackhawks Patrick Kane and Dustin Byfuglien were looking forward to the opportunity to make an impression at the US Olympic Orientation Camp for a long time, but for Kane, the road was made a bit bumpier by off-ice issues.
Patrick Kane came into a mob scene on Monday morning in Woodridge. Flash bulbs popped and the room fired up with the sound of key strokes as he entered and took a seat next to Team USA GM Brian Burke. Decked out in a suit and tie, Kane looked down at the ground most of the time before his speech, and when he came to the podium it was with a look that reeked more of "let's get this over with" than genuine contrition.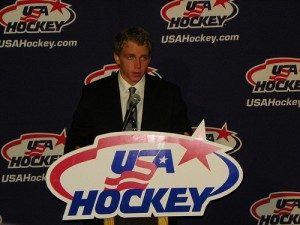 In predictable fashion, he issued a statement of about a minute and a half in length, during which he stated his desire to comment on the issue, but his inability to do so. He also discussed how sorry he was to the fans of the Blackhawks, and expressed his desire to leave the situation behind.
"I have caused a lot of pain for the Chicago Blackhawks, the city of Chicago, my family, and my fans, and for that, I sincerely apologize", Kane said.
"It's time to move on…..I look forward to getting on the ice, representing the Chicago Blackhawks and the USA Olympic hockey team."
The statement itself wasn't a surprise. It's obvious that his handlers are going to tell him not to say anything about the ongoing investigation, but it was the delivery that was most stunning to hear. Kane, by nature, is a guy who is seemingly care-free and he certainly had that air about him today, but there was an aura of suspicious lack of feeling behind the statement.
The statement had all the emotion of a guy on public radio reading about corn futures. It was very dry, and while most athletes do maintain a kind of detached attitude about the thing that they are apologizing for, Kane actually seemed to really not care. It was ironic that he would later talk about Michael Vick falsely being accused of "not being sorry",  because as anyone who listened to his speech noticed, it seemed fake enough.
After receiving a loud ovation (and a few scattered boos) while being introduced before practice, Kane settled into his normal rhythm on the ice, making quick cuts on his skates and banging shots off the posts and into goalie Jonathan Quick. He looked rusty, as most of the players did, but he certainly looked as though he was well prepared, and most importantly, healthy for the upcoming season.
Practice lasted for about an hour, and within fifteen minutes of its conclusion, Kane emerged from the locker room, and engaged reporters in a more upbeat interview than his public statement at the outset of the day would have indicated.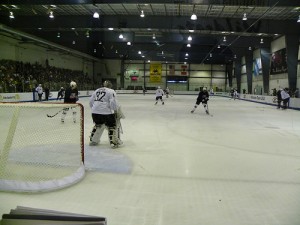 "It's great to be a part of USA Hockey. When you get on the ice, you can get away from anything," he told the throng of reporters surrounding him. "It was good to skate on the ice in front of some fans."
Kane seemed more at ease without a prepared statement in front of him, more of the affable boyish guy than the quiet, nervous apologizer that had appeared earlier in the morning.
He also compared his plight to Michael Vick, who was just signed by the Eagles last week. He discussed that in Vick's case, people didn't believe that he was truly sorry, and then said "situations like this make you realize how fortunate you are".
To wrap up, he mentioned the case one final time, saying that it's "tough not to be able to say anything", and then he brought up his family when asked what the toughest part of his situation is. "My family's reaction was the toughest part. Me being in handcuffs is something they never want to see again."
Team USA GM Brian Burke talked about the Kane situation in passing, saying that "Kane is focused on the camp", and stated that he "does not look poorly on Kane for his alleged actions".
Kane's fellow Blackhawk, Dustin Byfuglien, who was also at the camp, addressed the Kane issue in his brief post-practice remarks, saying "he's (Kane) handled it very well. It's good to see that he has a lot of support around." He also discussed the team building exercise that the team engaged in, which involved each player having to introduce his roommate and something unique about them. "It was a good opportunity for a laugh", he said.
Byfuglien had a solid practice as well, skating with ease for a guy of his girth, and his stick-handling looked markedly improved from last season. Even though this will only be his second year as a forward in the NHL, he seems to be fitting into the right wing spot very well. It is a deep position for the US to be sure, but with Buff's size and strength, if he can become a good puck-handler, he will be a shoe-in for the squad.
Needless to say, the Hawks' contingent at the camp certainly had a difficult first day. Getting Kane's statement out of the way was important, but more importantly, the two young men got onto the ice and are focused on one thing: making the Olympic team.
James started out for The Hockey Writers covering the Atlanta Thrashers in 2009, and has also covered the Chicago Blackhawks, served as NHL Correspondent, and is now a Managing Editor and the site's NHL Central Blogger. He also writes for The Golf Writers.