A Guest Post by Su Ring  of Daily Su
Su on Twitter:  MotleySU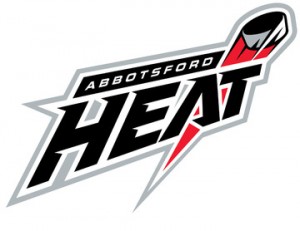 Abbotsford, BC. Population: around 140,000.  A hotbed of youth hockey.  According to its website, Abbotsford Minor Hockey boasts about 1000 registered players between the ages of 5 and 18, making it one of the largest youth hockey associations in British Columbia. Abbotsford is home to the Pilots, a Junior B team in the Pacific International Junior Hockey League.  The city sits in the shadow of Vancouver, home to the NHL's Vancouver Canucks.  So, it seems only fitting that when an NHL team went looking for a place to move one of its AHL teams teams, Abbotsford showed up in its sights.
The Heat are now firmly ensconced in Abbotsford, finalizing its roster and setting its schedule.  Hockey fans are excited to see the NHL stars of tomorrow, right in their backyard.  But when I recently asked a group of Abbotsford residents who are also diehard Canucks fans what they thought of the Heat, I received the same response.
"I'm really excited to have AHL in town…." they began.
"But?" I prompted them.
Looks of anguish crossed their faces and one finally blurted out, "Why does it have to be CALGARY's team?"
That's the struggle that lies ahead for many hockey fans in this British Columbia city. Oh, they have no problem welcoming the young players who will live among them for a good chunk of the year. They're eager to see these young men hone their skills, as they look to realize their lifelong dreams.  When the Heat take the ice at the Abbotsford Entertainment and Sports Centre, fans may almost forget that they're cheering for an "enemy's" farm club.  Except that the Heat's name and logo is a little too close to the parent club's name and logo.  Heat. Flames.
Calgary received the AHL's permission to move the team from Moline, Illinois, where it tried valiantly to succeed as the "Quad City Flames" for the last two seasons, to Abbotsford, hoping to draw more fans and more revenue. Before landing in Illinois, the team lived in Omaha as the Ak-Sar-Ben Knights.  Before that, they were the St. John Flames. And before that, the Utica Devils.
So, the team has bounced around quite a lot, never remaining in one city for very long.  Calgary Flames management hopes this stay will be a much longer one.  In a news release, Flames president Ken King said, "We're extremely excited to be calling Abbotsford our new home.  Playing in a Canadian market in front of sophisticated hockey fans that understand the game, only one hour by air from Calgary, will most certainly enhance our player development program."
You cannot deny that the Flames have developed some pretty stellar players, including hotshot goaltender Miikka Kiprusoff, who cut his teeth in the AHL.  They've moved Jim Playfair off the Calgary bench, where he spent the last season as Associate Coach, to helm the Heat. And don't think for one minute that the Flames organization isn't cognizant of the split loyalties it may be instilling in Abbotsford fans.  The Heat are set to launch their pre-season with a couple of matches against the Canucks' AHL team, Manitoba Moose. The two teams are also scheduled to face each other a handful of times during the regular season.
For those of you who find it odd that an NHL team's farm club is so far away, don't.  It's the same in Major League Baseball.  Some teams may be able to keep their AHL teams close by. The Toronto Maple Leafs' AHL affiliate Marlies are in the same city. The Pittsburgh Penguins' AHL team is just down the pike in Wilkes-Barre.  But most have their farm teams far away, which can make it difficult on a player who gets called up to the big show. That happened last season to Brad Staubitz and Riley Armstrong of the Worcester Sharks.  Their parent team is in San Jose, so getting the call made for a grueling cross-country flight on a red-eye, only to land in time to hit the ice for morning skate on a game day. Think that's far? The Los Angeles Kings' AHL affiliate Monarchs are in Manchester, NH.  (To see a list of AHL teams and their NHL affiliates, just click here to visit the AHL's very informative website).
This brings us back to Abbotsford.  The Heat's Facebook page boasts more than 500 fans so far.  The team's Twitter page has a healthy number of followers. The City's mayor is hoping that the excitement over AHL level hockey fills the Abbotsford Entertainment and Sports Centre's 6000+ seats on a regular basis. I'm sure that some of those seats will be filled by fans driving across the border from Western Washington, looking to see former Everett Silvertips and Seattle Thunderbirds in action on AHL teams (including: Taylor Ellington/former Silvertip, current Moose; Greg Scott/former T-Bird, current Marlie). I have no doubt that Abbotsford fans will show their new team a lot love throughout the season, but it'll be interesting to see what happens when the Manitoba Moose come to town.