For the fourth year in a row, the closest that the Calgary Flames and their fans will get to the playoffs are televised games.  As the Flames continue to plan for the future and the fans watch other teams mount a quest for the glorious Stanley Cup, there are some aspects of the playoffs that can appeal to Flames fans.  The following is an update of all former members of the Flames organization currently still participating in the Stanley Cup Playoffs
Chicago Blackhawks vs. Detroit Red Wings
Former Flames forward Todd Bertuzzi and defenceman Ian White's Red Wings emphatically tied their series with the powerhouse Chicago Blackhawks at one win a piece with a convincing 4-1 road win on Saturday.  Unfortunately, neither player was dressed for that victory.  Bertuzzi has seen some playoff action but has yet to contribute in 6 playoff games so far and White has been noted as being in and out of coach Mike Babcock's dog house all season.  White has not donned a Winged Wheel since April 7th.
The lone former Flame on the Chicago Blackhawks, grinder Jamal Mayers, has yet to suit up this post season.
Los Angeles Kings vs. San Jose Sharks
The Kings were led to Stanley Cup glory for the first time in franchise history last season by former Flames head coach/general manager Darryl Sutter and the stone faced native of Viking, Alberta remains behind the bench looking to repeat.  After a rough start in the opening around against the St. Louis Blues that saw the Kings drop the first two games of the series, Sutter's squad put on a show not dissimilar from their performance last spring by winning the next four to end the Blues' season.  They currently hold a 2-1 edge over their California rivals.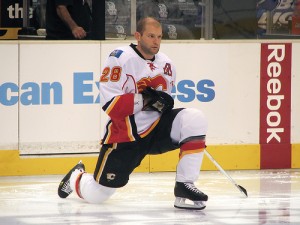 The Kings also saw a boost to the blueline around the trade deadline when they acquired bruising former flame Robyn Regehr.  Regehr rose to prominence under Sutter during the Flames' Cinderella run to the Cup Finals in 2004, and his performance during that spring was parlayed into membership on Canadian installments in the 2004 World Cup of Hockey and the 2006 Winter Olympics.  He will be looked upon to be a premier shut down defender and penalty killing machine for the Kings this spring, and no one knows his capabilities better than Sutter.
There is also ex-Flame presence on the San Jose blueline as well, as Brad Stuart and Scott Hannan are currently looking to help the Sharks even their series with the Kings at two.  Stuart was a trade acquisition for Calgary in 2006-2007, and only ended up playing 33 games for the Flames before leaving for Kings as a free agent that following summer.  Hannan also had a cup of coffee for the Flames, who had a one-year stint with the team last year.
Pittsburgh Penguins vs. Ottawa Senators
Perhaps the most intriguing series in Calgary for obvious reasons, the Penguins are currently serving as the surrogate team for Calgary's favourite son and former Flames captain Jarome Iginla.  In a trade the marked the end of an era that saw Iginla become the franchise leader in goals and points, the Flames shipped their captain to the Penguins in order to fulfill his wish of winning a Stanley Cup. Iginla is certainly doing his part, as he has recorded 10 points in 9 playoff games.  They currently lead the pesky Senators 2-1 after a double overtime setback in Ottawa last night.
The Senators, meanwhile, will have to try to win the Stanley Cup without any influence from former Calgary Flames.
Boston Bruins vs. New York Rangers
Jarome Iginla will look to capture the elusive Stanley Cup for the first time as the Bruins continue their goal of returning to the- what? Seriously?  I thought it was confirmed?  No way.  For who!?
Anyways, while Iginla opted to choose the Penguins over the Bruins a former Flame who has become a mainstay in Boston is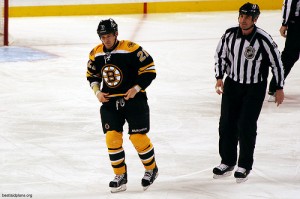 defenceman Andrew Ference.  Another steady defender from the 2004 Flames run, Ference has found his niche in Boston and served as a crucial member of their 2011 Stanley Cup Championship team.  An outspoken activist for environmentalist causes and NHLPA deliberations with the NHL, Ference continues to be a steady presence on the Bruins back end this spring.  Former Flame Marc Savard is still technically part of the Bruins active roster on long-term injured reserved, but the popular consensus is that concussions have unfortunately ended his career.
The lone Flames ex-pat participating in the New York Rangers is defenceman Roman Hamrlik, but he has not played since April 1st.
Having just received a Bachelor of Arts in History (with a concentration in Canadian History) from the University of Calgary, Thomas Strangward is pursuing his passion of sports journalism and has recently accepted a seat in the renowned Radio, Television, and Broadcast News Program at SAIT in Calgary, Alberta.