Chris Ralph – Flames Correspondent at THW
*Last week after Coach Brent Sutter run the Flames through a Sutter-tough practice, I discussed if the need would arise for him to break out his "Run The Gauntlet" type of practice. In the article, I found away to include a picture of some NFL cheerleaders. (Flames – THW)
*Coincidentally, yesterday the Calgary Herald broke a story about the Flames possibly contemplating having cheerleaders. President Ken King quashed the idea, stating: "I've always said this is a pure hockey market. A pure hockey market by my definition — and I think I coined the phrase, pure hockey market–is respect for the game, understanding of the game and appreciation. It's about the hockey. What I care about is making sure we have the best hockey product on the ice." (Calgary Herald)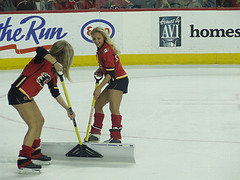 *I actually had a request yesterday and talked with a local radio station here in Calgary, AM 770 regarding the Flames cheerleading subject. I basically stated that, as much as I enjoy cheerleaders in football, traditional hockey markets don't really have the need. It's not easy for a guy to say no to female cheerleaders, but I am not sold on the concept for the Flames. As selling points for stale hockey markets in the states, go for it, but here in Calgary our Ice Crew girls do a great job already. Football has many more stoppages in play and real estate room for the girls to maneuver, but hockey's fast pace style and arenas are not so conducive for cheerleading. (AM 770)
*The Flames have had their share of difficulties on the road in seasons gone past, but Randy Sportak notes the Flames are Road Warriors so far this year: "Heading into tomorrow night's game in Buffalo, the Flames have a 5-1-1 mark away from the Saddledome. It's not quite good enough to claim the title of road kings — that goes to the New Jersey Devils with their incredible 8-0 to start the season — but is impressive, nonetheless." (
Calgary Sun
)
*Kent Wilson takes a look at Flames scoring chances thus far this season. (Matchsticks And Gasoline)
*James Duplacey plays hockey Lego blocks as he commences his "historical/statistical analysis of how the Calgary Flames team of 2009-10 was built. In this week's historical analysis of the team, we'll look back at the Flames' 2003 Entry Draft selections." (Flaming Puck)
*Kiprusoff's first shutout of the season helps net Flames first win in Montreal in nine years (Flames.com)
*Flames go for 5th straight win against tough Sabre squad.
*Curtis Glencross will feel the effects of a head-shot for the next three games. "I was anticipating the play as the puck was being moved out of the zone," said Glencross of an early-game hit that dropped Drury. "My intent was to impede that process, and it unfortunately resulted in an awkward collision with Drury." (Calgary Sun)
*Flames trainer Jim 'Bearcat' Murray is honoured at 2009 Hall of Fame inductions, and deservedly so! (Flames.com)
 *Phaneuf "hit" wrong notes with many of the Habs faithful. Randy Sportak reported (Calgary Sun):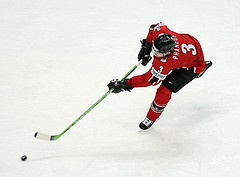 "Phaneuf recorded three hits, but they were doozies.
– He rocked Max Pacioretty after the Montreal forward blocked a shot, gathered the puck and headed up ice only to be stopped in his tracks.
– He went towards the boards while jostling with Tomas Plekanec and sent him flying, which set off fireworks.
– He corked Andrei Kostitsyn with a textbook check."
Olympics:
*Which Flames will crack the final roster for Vancouver 2010? Iginla's annual November Resurgence is upon us and no doubt has cemented his position with Yzerman and selecting committee. Will Bouwmeester, Phaneuf and Regehr follow suit? (CBC)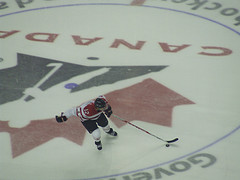 Chris is THW's senior draft/prospect analyst and a Managing Editor. Watch for "The Next Ones" Prospect Profile series, exclusive rankings, mock drafts, as well as the annual THW NHL Entry Draft Guide. Follow @ChrisRalphYQ on Twitter as he infiltrates, dissects and analyzes all happenings of hockey prospects and the NHL entry draft. Email: cralph[at]thehockeywriters[dot]com