The All-Star weekend is a time to exhibit the most talented NHL players, promote the sport and trash talk. Twitter trash talk between Marian Gaborik and Henrik Lundqvist has poked fun with Hank and Gabby facing off against each other at All-Star weekend.  Gaborik will participate for Team Chara, while Lundqvist will try to shut down Sniper Gaborik in Tim Horton's Elimination Shootout Challenge for Team Alfredsson.
Hank: Alright @MGaborik10, having a lot of pasta and going to bed early tonight.. Watch out for the 2 pad stack tomorrow ;)
Gabby: "@HLundqvist30: Want me to tuck you in?:)Watch out for the speed and the five hole shot;)
Gaborik, the only Rangers player to be chosen by Team Chara,  will also compete as the Target Shooter in the Skills Challenge Relay.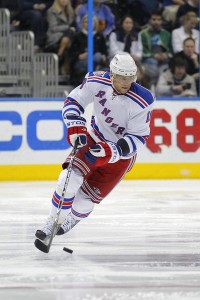 Lundqvist, Carl Hagelin and Dan Giradi were chosen by Team Alfredsson in the mock Fantasy Draft Thursday night.
Ottawa Senators Daniel Alfredsson chose fellow Swede Henrik Lundqvist as assistant captain of Team Alfredsson.  Lundqvist told reporters he was excited to meet players he had never played against. Joey, the junior reporter interviewed Henrik and opened with, "my mom thinks you're dreamy." All smiles, he replied "Thank you."  He was extremely happy for his fellow Rangers teammates to be able to attend and showcase their skills.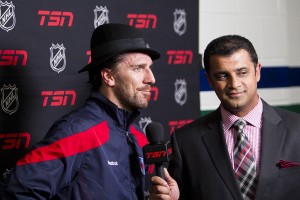 Coach Tortorella and San Jose Sharks head coach Todd McLellan are coaching Team Alfredsson.  Torts will get a chance get out of the way and let the guys perform. It will be hands off for the coach this weekend so he can enjoy and bask in the success of his team leading in the East.
For Team Alfredsson, Rangers defenseman Dan Giradi was picked 20th overall and will participate in the Canadian Tire NHL Accuracy Shooting competition. Girardi spent some time convincing Lundqvist to pick him for his team at the All-Star Game, "I told him I've blocked a lot of shots for him over the years so it would nice for him to not leave him hanging for a long time." While Giradi only has four goals and 13 assists so far this season, he ranks third in the league with 119 blocked shots.
Rookie Carl Hagelin was a late addition but a worthy recipient of his industrious work in New York.  Hagelin will participate in the Molson Canadian All-Star Skills Challenge in two events, the lone rookie in the Tim Horton's elimination shootout and with his speed, the Bridgestone NHL Fastest Skater.  Hagelin's skill has been witnessed by New York fans as he outskates the defenseman, negates the icing, and gains possession in the offensive zone. Hagelin's only concern is that he doesn't "blow a tire," in the speed competition.
Team Alfredsson's strengths will be displayed though the selections of the Canucks dynamic duo Daniel and Henrik Sedin, top scoring defenseman Erik Karlsson, Tampa's Steven Stamkos, and Philadelphia's Claude Giroux. Team Alfredsson will be the obvious choice to win for the home crowd.
Team Chara can expect some booing, but the outlook and the stats give Team Chara an edge in scoring.  Players on the team bring almost 350 more points during the season to the competition.  Assistant Captain Joffrey Lupul ranks fifth in the league in scoring with 52 points. Pavel  Datsyuk  and Evgeni Malkin will make this team difficult to beat.
Teammates turned rivals have the best players taking a break from the serious side of professional sports and allows each of them to be guys having fun. Whether it is the trash talk or bilking a teammate out of a shootout All-Star goal, it's all in good humor. Follow all the tweets for the NHL All-Star players this weekend.