The Sidney Crosby health situation took another big twist yesterday evening as both Crosby and the Pittsburgh Penguins confirmed that the superstar's latest setback resulted from wrong diagnosis from the Penguins medical staff. Frustrations from Crosby's camp, including his agent Pat Brisson, with the Pens medical team has been on-going for weeks now.
Bob McCown of Sportsnet 590 The Fan first reported yesterday that, as a result, Crosby decided to consult with an independent doctor in Utah where an MRI and a CAT Scan indicated that there was an abnormality with his C1 and C2 vertebrae. While the young superstar has searched for answers regarding his motion and balance issues without finding the cause. the fractured vertebrae are believed to have went completely unnoticed by team doctors for several weeks. The C1 and C2 vertebrae are regarded by doctors as the most important ones in the cervical spine.
According to McCown, Crosby went to the Utah doctor on the recommendation of New England Patriots quarterback Tom Brady, who is Crosby's friend. After his stop in Utah, Crosby went to Atlanta to work with chiropractor Ted Carrick, then he headed to Los Angeles to meet neurological spine specialist Dr. Robert Bray, who also diagnosed the neck injury.
Crosby's agent, Pat Brisson, also confirmed the news to CBC's Elliotte Friedman. Brisson added the Sidney's goal is to come back this season after the injury has fully healed. "His goal is to play once he's safe and sound, and feels good and has no symptoms. His goal is to play, the sooner the better. I can't put any timeline. I have no clue." Brisson added: "He was good all week. It was good for him to get some therapy and continue his workouts."
The good news about this mis-diagnosis is that #87 remains cleared to skate as he did for the past two weeks. Right now though the best thing to do for the Crosby clan is to wait until the findings of the third party specialists are revealed, but this whole situation is not good for the Penguins who appear to have botched another medical issue with their franchise player.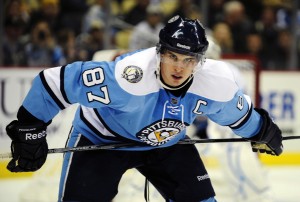 Pittsburgh Penguins general manager Ray Shero spoke with reporters after the NHL's board of governors meeting on Saturday morning in Ottawa and sounded optimistic about Crosby's safe recovery.
"Hopefully we'll see next week as to where he is and we'll get the reports from California and compare notes to what's been done so far," said Shero. "We want to continue to look to see how we can get this under control and manageable so he can return to play."
Crosby was knocked out of hockey for 10½ months after suffering head shots in back-to-back games against the Washington Capitals (Dave Steckel) and the Tampa Bay Lightning (Victor Hedman) in early January 2011. He returned for eight games earlier this season with a bang on Nov. 21, recording four points against the New York Islanders before his latest setback occurred in a game against the Boston Bruins on Dec. 5 when he collided with David Krecji. Crosby had two goals, 10 assists and a plus-7 rating in his brief comeback.
The Penguins could very well get a major boost before the playoffs if Crosby is able to make it back this season despite the team doctors' mis-diagnosis that has plagued his recovery in the past few weeks.
Follow me on Twitter for more updates on the NHL and hockey in general.