Alex Galchenyuk's transition to center has been a slow and steady process, but in his fourth season in the NHL, it appears he's finally found a home at the position.
It didn't come without its share of growing pains, though. The 21-year-old American went through long stretches without a point in October and November. He was fighting the puck and didn't seem to have any confidence. With his offensive production running dry, fans and media began to question whether the transition to center came too early. Some even suggested trading him might be the best option for the club.
Well, they were wrong.
With nine points in his last eight games, Galchenyuk is not only proving he belongs at center, but can be dominant in the role. It definitely took a bit of time to adjust. Being a second-line center in the NHL comes with a tremendous amount of accountability — particularly up the middle in the defensive zone — but Galchenyuk has risen to the occasion. Not only is he one of the Montreal Canadiens' most lethal scoring weapons, but he's incredibly responsible in the defensive zone.
Galchenyuk's ability to turn nothing into something is an asset not a lot of players can lay claim to. His speed makes him exceptionally dangerous. New Jersey Devils goaltender Cory Schneider found that out the hard way on this goal, which only begins to scratch the surface of what No. 27 is capable of.
Galchenyuk played a season-high 16 minutes and 59 seconds that night. That's right — Galchenyuk hasn't seen over 17 minutes of ice time all season. For all the progress he's made this year, head coach Michel Therrien has yet to reward him with adequate playing time. Given his play of late, it might be time for Therrien to change that trend.
Galchenyuk: The Offensive Machine
After an abysmal 2011-12 season, the Canadiens were in desperate need of a spark. They found that in their third overall pick.
Galchenyuk was drafted for his offensive instincts and poise with the puck. His explosive speed and sick mitts define why the 21-year-old is considered among the best players in his age group. Add in his underrated shot, and he really is a triple-threat scoring machine.
Although Galchenyuk's offensive production has been rather modest throughout his young career, all signs point to that changing. Since his first full season in the league, Galchenyuk has seen his point totals rise significantly. His 2.39 points per 60 minutes at even strength ranks first on the team and 21st in the NHL (among players who have played at least 250 minutes). He's making the most of his minutes and a big reason why Montreal finds itself first in the league in goals for.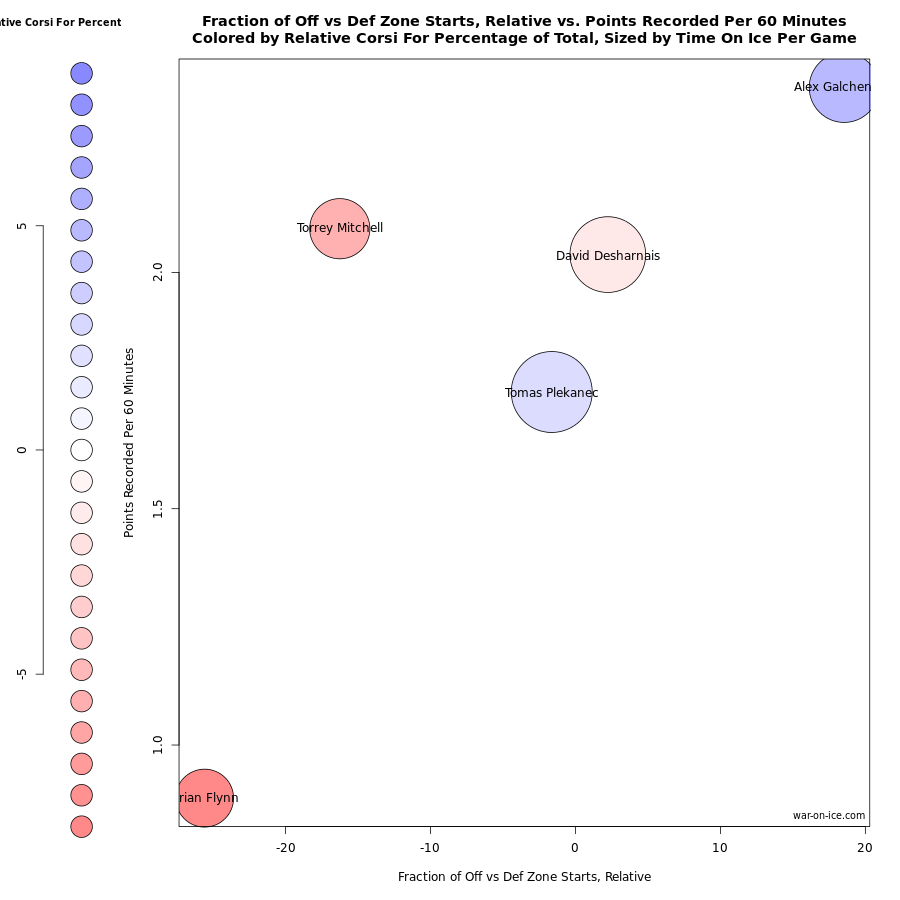 Among the five players who have played the center position for the Habs this season, Galchenyuk is the best possession drive and point producer at even strength. He's also the only player in the NHL who finds himself in the top 50 in scoring despite averaging less than 15 minutes per game. What's baffling is he still only gets the third-most ice time among Montreal centers, behind Tomas Plekanec and David Desharnais.
Now, Plekanec gets a free pass here because, for all but a handful of games, he's seen tough minutes against good quality competition; but that hasn't been the case with Desharnais. The diminutive center has received plenty of opportunities to produce, and while he's still putting up decent numbers, his offensive output has come back down to earth.
Michel Therrien has always been a big proponent of rewarding good play with ice time, yet for all the talk, he doesn't back it up — especially when it comes to young players. Desharnais has played more than 17 minutes nine times this season. Galchenyuk hasn't played one. Given his offensive output, the ice time discrepancy between No. 51 and No. 27 doesn't add up. There's no question Desharnais is having one heck of a season, but continuing to develop a talented player like Galchenyuk should be the main priority, especially if he's not hurting the team.
Offense is only half the game, though. Defense is just as important in evaluating how effective a player can be at even strength. With that said, is Galchenyuk good at both ends of the ice?
Is Galchenyuk Defensively Responsible?
To say Galchenyuk's defensive game has shown noticeable improvements would be an understatement. He undoubtedly still has a lot to learn, but the 21-year-old forward has become one of the Canadiens' most reliable defensive forwards.
Last season, Galchenyuk was middle-of-the-pack in CA60 (shot attempts against per 60 minutes) at even strength. This season, he's the best shot-suppressing forward on the team. His scoring chances against are down, and he's actually proving to be an asset, rather than a hindrance, on defense. The center position requires a lot more attention to detail in the defensive zone, and it seems like Galchenyuk is putting in the necessary work to play a successful 200-foot game.
Across the board, the 21-year-old is helping the team limit opponents' chances, suppress shots and, ultimately, prevent goals. Mind you, Galchenyuk has been up against low-quality competition in sheltered starts, but in that role, he's completely dominating. As one of the best defensive forward on the team this season, it's difficult to imagine this would be a reason why Galchenyuk hasn't been playing a lot.
And yet, there seems to be this idea that Galchenyuk hasn't quite developed into a strong two-way player — which is being used as a convenient explanation for his lack of ice time. These stats make that a moot point.
Even though playing center requires more awareness in the defensive zone, that hasn't stopped Galchenyuk. The 21-year-old is controlling the play at both ends of the ice and making life tough for the opposition. It's only logical that his minutes should reflect that.
Final Thoughts
When a player overcomes a challenge, he gets promoted. It happens when a developing player in the AHL no longer benefits from a role in the minors; and it happens when a developing player in the NHL no longer benefits from a reduced role in the big leagues.
Galchenyuk has passed the initial position change test with flying colors. Given his results at center this season, it might be time for a new challenge — a bigger challenge. The worst that can happen is he makes mistakes and learns from them. Isn't that what development is all about anyway?