Welcome back to old time hockey.
The NHL announced Wednesday that it has agreed to a deal with ESPN that runs for seven years, including four Stanley Cup Final broadcasts, beginning next season. NBC's current deal expires after this year, and with plans to shutter its NBC Sports Network, television rights for the league had been up in the air. ESPN's previous deal with the league ended in 2005.
Ah, the memories. While it appears that the ESPN NHL theme music will in fact return, others have also recalled the iconic voice of announcer Gary Thorne, who was most often seated next to color commentator Bill Clement. Thorne, for all intents and purposes, was THE voice of the NHL for ESPN during most of the Detroit Red Wings' glory days.
As Twitter lit up with speculation that Thorne may be due for a return to the network (he recently concluded his gig as the Baltimore Orioles' primary play-by-play announcer), a thought popped in my head: "What were the most memorable Red Wings games called by Gary Thorne?"
Sit back, and enjoy the goosebumps.
3. Kris Draper Scores Overtime Winner Against Washington in 1998
"Martin Lapointe centers, shot, scores! Kris Draper! The incredible comeback is complete!"
The 1997-98 season was one that no Red Wing fan will ever forget. The team had won the Stanley Cup the previous season after a 42-year championship drought, but fans and players were only able to truly celebrate for less than a week after players Vladimir Konstantinov, Slava Fetisov, and team masseur Sergei Mnatsakanov were injured in a limo accident. Though Fetisov made a full recovery, Konstantinov and Mnatsaknanov were not so lucky, and they became a rallying cry for the team (and city) throughout the ensuing season. The season's theme? "Believe."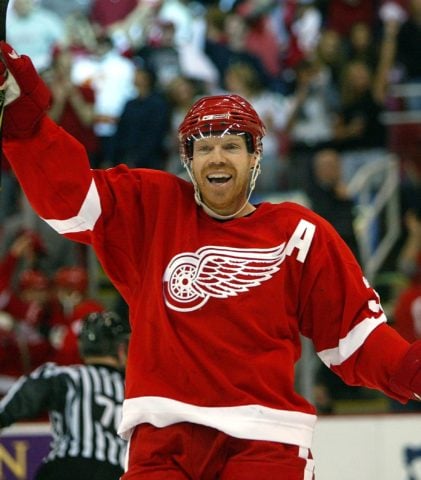 Detroit cruised through the playoffs, beating the then-Phoenix Coyotes, St. Louis Blues, and Dallas Stars – all in six games. This set up a Stanley Cup Final against the Washington Capitals, and after winning Game 1 at home, 2-1, the Red Wings trailed 4-2 in Game 2 midway through the third period. Goals by Lapointe and Doug Brown evened the score (an open-net miss by Washington's Esa Tikkanen was sandwiched between those two goals, and likely would have put the game out of reach), setting up Draper's epic overtime winner. Believe, indeed.
Final: Red Wings 5, Capitals 4 (OT). Detroit went on to win the series 4-0 and capture its second consecutive Stanley Cup.
2. Darren McCarty Dekes Niinimaa and Hextall In 1997 Final
"Darren McCarty comes back with Niinimaa in front of him. McCarty draws, McCarty in, McCarty – SCORES! A magnificent goal, Darren McCarty!"
The 1996-97 season had it all for Red Wings fans. After a bitter ending to its Conference Final run one season earlier, the team finally put all of the pieces together, and what followed was one of the most memorable playoff runs in franchise history. It culminated in a Stanley Cup Final meeting with the Philadephia Flyers, whose "Legion Of Doom" line was expected to shut the Red Wings down. Little did anyone know it would be the Red Wings' checking unit – The Grind Line – that would make its presence felt.
Already up 1-0 in Game four and midway through the second period, McCarty went to his bag of tricks and surprised everyone watching. The result was a beautiful goal, one that saw him first make a brilliant move around Janne Niinimaa before deking goalie Ron Hextall out of his pads. Even Clement remarked in the immediate aftermath, "Move over Mario, here I come!"
The goal gave the Red Wings a 2-0 lead, and ultimately ended up being the championship-clinching goal after the Flyers notched one of their own in the waning seconds.
Final: Red Wings 2, Flyers 1. Detroit went on to win the series 4-0 and capture its first Stanley Cup in 42 years.
1. Steve Yzerman Saves Hockeytown in Double Overtime
"Gretzky had it, lost it, Yzerman picks it up. Yzerman moving, blue line chance, SCORES! Steve Yzerman! Detroit Wins!"
Try watching that clip without having your eyes well up with tears. This has often been referred to as "The Goal That Saved Hockeytown," because if the Red Wings had lost to the St. Louis Blues in the 1995-96 season, there's a fair chance that some of the major centerpieces of that team would have been traded away.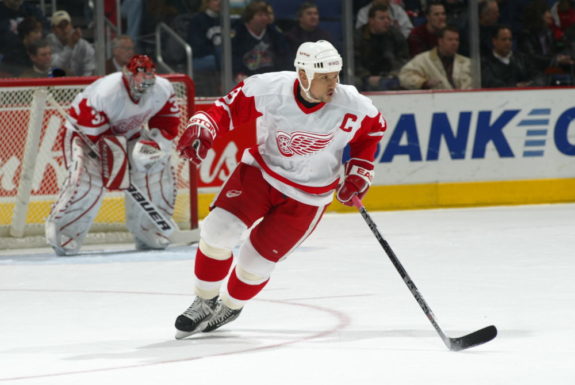 Detroit beat the Winnipeg Jets in six games in the Conference Quarter-Final matchup before meeting the Blues in the Conference Semi-Final. That series was a see-saw battle that culminated in one of the most nerve-wracking bouts of all time, a scoreless Game 7 that went into double overtime. Blues goalie Jon Casey filled in admirably for injured starter Grant Fuhr, but was not able to withstand Yzerman's knockout punch.
Though the ensuing round finished with bitter disappointment after losing the Western Conference Final in six games to the Colorado Avalanche, the memory of Yzerman's heroics, coupled with back-to-back championships the next two seasons, leaves this goal as arguably the most memorable Red Wings game that Thorne ever called on ESPN. What a finish.
Final: Red Wings 1, Blues 0 (2OT). Detroit won the series 4-3.
More Memories to Come
Though it's unclear at this point who ESPN plans to have as its primary play-by-play analyst for any nationally broadcast games, Red Wings fans can hope to make similar memories in the future as the team's rebuild continues to take shape. Thorne and Clement, along with Steve Levy, Darren Pang, John Buccigross, and Barry Melrose, would all be welcomed with open arms back into the living rooms across North America.
Until then, though, these memories will suffice.
What's your favorite play-by-play call in Detroit Red Wings history? Share your thoughts in the comments section below.
Want more Red Wings content? Tune into The Hockey Writers' Grind Line — a weekly show on YouTube and Facebook. Check out our most recent show below, and make sure you subscribe to the channel so you don't miss any upcoming shows.
---
---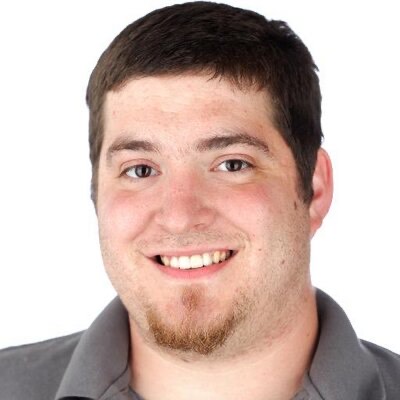 A die-hard hockey fan in the desert, and proud Iowa State alum. Detroit Red Wings and Arizona Coyotes contributor for The Hockey Writers.