One of the most compelling storylines of the 2009 Stanley Cup playoffs was the rapid rise of backup goaltender Jonas Hiller, supplanting former Conn Smythe winner J.S. Giguère as the Ducks' main man with the mask.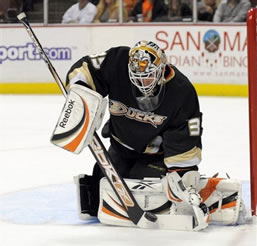 It's a movie that Giguère has seen before.
After establishing himself as "The Franchise" in Anaheim's Cinderella run to the cup in 2003, Giguère found himself riding the pine a scant 3 years later with backup Ilya Bryzgalov playing all but 4 games in the Duck's 2006 push to the Western Conference Final where they eventually lost to the Edmonton Oilers. Giguère returned for the 2006 – 07 season at the top of his game and with something to prove. The combination proved unbeatable. An undefeated record in October led to his best regular season ever (36-10-7) and finally the biggest prize of them all when 'Giggy' backstopped the Ducks to their first ever Stanley Cup triumph over the Ottawa Senators.
If recent history is any indication then, it would seem the Ducks get the best out of Giguère when he's fighting for his job. The question is: can the team afford the luxury of two top flight tenders in the salary cap era?
With two years and $13 million remaining on his contract, Giguère represents a significant cap hit for the Ducks, a hit that can only be justified if the 32 year old netminder is playing to all star form. If not, he is an exceedingly expensive backup on a team with a decided lack of secondary scoring and an aging defensive core. Clearly the situation has all the ingredients of an impending trade except for one fairly substantial snag—Giguère has a no-trade clause in his contract and is resolute about his desire to stay in Anaheim.
"I signed a no-move for a reason," emphasized Giguère. "I really like playing here. Right now, this is what my heart is telling me, to stay here and try to find a way. Now if the team and Bob Murray feel like it's better for them to move me, I'll see. But at this point, I have no intention of going anywhere."
So, where does this leave Ducks GM Bob Murray? Despite Giguère's no-trade clause, Murray is sitting pretty. Here's why:
He has considerable strength at the most vital position on the hockey club. There will always be a number of teams in the market for a blue chip goaltender especially one with Stanley Cup winning credentials. Worse case scenario: if they can't trade Giguère, there will be interest in Hiller as well.
Despite his initial posturing, Giguère will not force the Ducks to keep him if they are seriously committed to going with Hiller from hereon. He's too unselfish a player to handcuff the organization. Essentially what his no-trade clause guarantees him is the ability to decide which team(s) he'll approve.
Both Scott Niedermayer and Teemu Selanne have agreed to let the Ducks GM know if they'll be returning next season before the June 26-27 draft. Upon confirming their status, Murray will know what his key needs are and will be in a strong position to best leverage Giguère to help fill the remaining holes on his hockey team.
With or without the potential departure of Selanne and/or UFA Todd Marchant, Anaheim has lacked secondary scoring from the pivot position since they traded Andy McDonald to the Blues. With that in mind, the smart money had Giguère bound for Philly with the comparably priced C Daniel Briere (Salary $6.5 million; 11 G-14 A- 25 P) coming in return. That deal has been effectively scuttled however following the Flyers recent signing of Ottawa castoff Ray Emery and their rumoured pursuit of former starter Robert Esche. This leaves the following squads as those teams most likely to get 'Giggy with it' this offseason:
Toronto Maple Leafs
Leaf GM Brian Burke has stated his top priority is moving up in the draft for a shot at John Tavares. Failing that, Burke may see his former Conn Smythe winner as a proven commodity and significant upgrade over the streaky Vesa Toskala. Unfortunately for the Leafs, they lack the forward depth Anaheim's looking for. However, should the Ducks lose both Niedermayer and UFA Francois Beauchemin this offseason, a Tomas Kaberle for Giguère swap becomes a definite possibility.

Colorado Avalanche
Saying the Avalanche have goaltending issues is a bit like saying Sean Avery has a PR problem. Colorado HAS to get a legitimate starter via trade or free agency this offseason. At 32, Giguère isn't the perfect fit for an organization looking to build with youth, but then neither is RW Ryan Smyth. Trades often involve players looking for a fresh start. Giguère for Smyth certainly fits the bill on that count.

St. Louis Blues
As a former goaltender, Blues GM John Davidson is keen to build his club from the pipes out. Chris Mason's strong finish aside, it's unlikely that Davidson will pin the contending hopes of this emerging young team on the shoulders of a 33 year old journeyman. Shipping Mason and former Duck Paul Kariya to Anaheim for Giguère gives the Blues an immediate upgrade in net. Anaheim in turn bolsters its forward depth with Kariya, the franchise's former golden boy, along with Mason an invaluable insurance policy in the event that Hiller falters in the starting role.

LA Kings
Rumors continue to swirl of a potential Chris Pronger for Jack Johnson swap. With Pronger going UFA at the end of next year and the Kings in need of an experienced D-man to mentor stud prospects Drew Doughty, Thomas Hickey & Colton Teubert, this trade is not as unlikely as it sounds on the surface. Given that the Kings are ALWAYS in the market for a goalie, why not make it a blockbuster with Pronger and Giguère to the Kings in exchange for D Johnson, G Jonathan Bernier, C Jarret Stoll and a 1st round pick?

Ottawa Senators
Dany Heatley has requested to be traded—AGAIN. While you would expect teams to shy away from a player rapidly gaining the reputation of a coach killer, the fact remains that Heatley is a former 50 goal scorer and that kind of talent always carries a cache. Arguably the most gifted LW in the league, swapping Giguère for Heatley would give the Ducks an absolutely stellar first line of Heatley, Getzlaf and Perry enabling rising star Bobby Ryan to return to his natural position of center to anchor Anaheim's second line.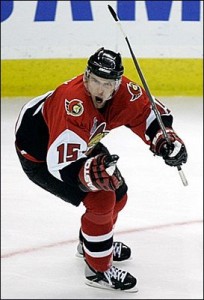 Given Heatley's latest trade demands and Ottawa's ongoing dissatisfaction with their starting goaltending, a potential deal with the Sens looks to be the Ducks' strongest possibility to trade J.S. Giguère. However a major X factor still looms in this year`s goalie sweepstakes with the final destination of 24 year old Swedish phenom Jonas Gustavsson yet to be decided. With his unbeatable combination of youth, talent and a potentially cap friendly salary, every team in need of a tender will be taking a run at Gustavsson in the weeks ahead. Once the Swedish sensation signs, all eyes will turn to the current crop of FA goalies (Nikolai Khabibulin, Dwayne Roloson, Craig Anderson, etc.).
However it all plays out, one thing is certain: flush with Net assets in a seller`s market, Ducks GM Bob Murray can afford to be patient. In the era of the salary cap, Conn Smythe winning goalies are truly the rarest and most valuable of hockey commodities and with each passing day, J.S. Giguère`s stock continues to rise.