When it comes to nationalities, the NHL offers a rather homogeneous mix. It's basically Canada, the US, and a smattering of countries across Europe. The vast majority of the best NHL players come from just a handful of countries. You know these countries as the powerhouses that are always contending for medals at the Olympics, World Championships, or World Juniors.
Canada, Russia, Sweden, the US, and Finland are the "Big Five". However, since the infusion of European players into the NHL in the late 20th century, lesser known hockey countries have produced some elite talents. They don't produce them at nearly the rate of the elite countries, but are starting to close the gap.
I decided to see what the best possible NHL roster would look like if you could only select one player from each country.
The criteria was that they had to have played in the NHL (or AHL) during the 2014-15 season. I only had to cheat slightly on this to get player #20 to complete a full starting lineup.
Here's a look at what I believe is the best possible combination:
The Forwards
The forwards may not look as good as you would expect because there are a number of smaller countries who only produced a handful of NHL players for 2014-15. Some only produced one. So, to put together an entire starting lineup, I was forced to use them in the lineup. This also meant that a number of great forwards were passed up because they came from powerhouse countries, and had defensemen who made much more sense.
First Line: Thomas Vanek (Austria) – Evgeni Malkin (Russia) – Jakub Voracek (Czech Republic)
Vanek was a slam dunk, as the only other Austrians in the NHL are Michael Raffl and Michael Grabner.
I thought you said the powerhouse forwards were passed up? Not all of them. Think quickly: who is the best Russian defenseman in the NHL? Nobody in particular comes to mind. You could argue any number of players, and none are elite. The only reason Ovechkin was not taken over Malkin was because of position.
Voracek is likely the best Czech player in the NHL, and there was an opening position-wise. Jiri Hudler and Ondrej Palat were considered.
Second Line: Henrik Zetterberg (Sweden) – Anze Kopitar (Slovenia) – Mikhail Grabovski (Belarus)
The thought of Zetterberg and Kopitar on the same line is scary. They would be a terrifying two-way duo to have to face. They can put up points with aplomb, and are very good defensively.
Grabovski doesn't belong on a second line, but it was either him or defenseman Raman Hrabarenka who played one game for the Devils last season.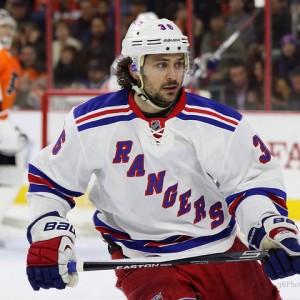 Third Line: Mats Zuccarello (Norway) – Zemgus Girgensons (Latvia) – Daniel Sprong (Netherlands)
Zuccarello is a strong player in his own right, and is the only Norwegian player in the NHL. Girgensons is one of two Latvians in the NHL, and is clearly a better option than Vancouver LW Ronalds Kenins, who I did not know existed until I did this exercise.
Daniel Sprong is where I cheated to get a full roster. He was a 2nd round pick of the Pittsburgh Penguins in 2015, and stands a good chance at playing in the NHL one day, but isn't there yet.
Fourth Line: Ruslan Fedotenko (Ukraine) – Dainius Zubrus (Lithuania) – Borna Rendulic (Croatia)
This is an all-Eastern European line, and they are all the only NHL player from their respective country. Fedotenko technically played in the AHL in 2014-15, but is still a capable NHL player.
The Defensemen
You'll see many more familiar names on this defense. The US, Canada, and Slovakia are all represented in what would be an unfair defense to play against. It contains four players who are arguably #1 defensemen in the NHL.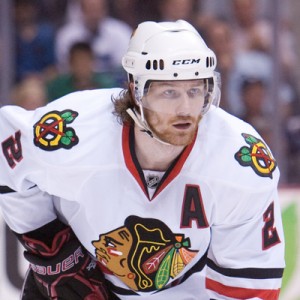 First Pairing: Duncan Keith (Canada) – Ryan Suter (USA)
You can take your pick of elite Canadian defensemen here. You could argue for Drew Doughty, PK Subban, or plenty others. However, I think Keith is the best defenseman in the world and he showed it in the playoffs last year. Ditto with the US. Justin Faulk, Kevin Shattenkirk, or Keith Yandle are all good choices.
Keith and Suter are both absolute workhorses out on the ice, and both are capable of playing over half the game without seeing their game suffer.
Second Pairing: Roman Josi (Switzerland) – Zdeno Chara (Slovakia)
Josi had a breakout year in 2014-15 playing next to Shea Weber, and he's paired with another physical monster here in Chara. Josi's career is on the upswing and Chara's on the downswing, but both are elite at this point in time. Their skillsets also complement each other very well. Both were obvious picks for their countries.
Third Pairing: Dennis Seidenberg (Germany) – Xavier Ouellet (France)
The Germans and French aren't necessarily known as the best of friends, but they'll have to make due on the bottom pairing here. It was a tossup between Seidenberg and Christian Ehrhoff for Germany, and Ouellet represented an opportunity cost. Antoine Roussel is a better player, but he would have forced me to pick a Czech defenseman like Marek Zidlicky or Jan Hejda instead of Voracek.
Voracek+Ouellet > Roussel+Zidlicky.
The Goalies
The two nations that haven't been accounted for are Finland and Denmark. Finland has been famous for producing elite goaltenders, and there are a number of good options to choose from.
Starter: Tuukka Rask (Finland)
Backup: Frederik Andersen (Denmark)
Rask was the winner of the 2014 Vezina Trophy, and has led the league in shutouts twice. He's universally considered an elite goalie in the NHL. Pekka Rinne was considered, but Rask has been more consistently great over the past few years. Andersen hails from Denmark, and would immediately be the league's best backup.
The Final Roster
Thomas Vanek – Evgeni Malkin – Jakub Voracek
Henrik Zetterberg – Anze Kopitar – Mikhail Grabovski
Mats Zuccarello – Zemgus Girgensons – Daniel Sprong
Ruslan Fedotenko – Dainius Zubrus – Borna Rendulic
Duncan Keith – Ryan Suter
Roman Josi – Zdeno Chara
Dennis Seidenberg – Xavier Ouellet
Tuukka Rask
Frederik Andersen
I challenge you to build a better roster than that! If you can, put it in the comments.
Bill Schoeninger is a Philadelphia Flyers writer and current Boston University student studying business. Coming to THW from Hometown Hockey, Bill follows and writes about the Flyers, Boston University Terriers, and NHL Draft prospects. Follow him on twitter @BSchoeninger17