The Vegas Golden Knights have traded Marc Methot to the Dallas Stars in exchange for goaltender prospect Dylan Ferguson and a second-round draft pick in the 2020 NHL Entry Draft. The 32-year-old Method is coming off his fifth season with the Ottawa Senators in 2016-17 and his 11th year in the NHL after spending parts of six seasons with the Columbus Blue Jackets to start his career.
We have traded Marc Methot to @DallasStars in exchange for Dylan Ferguson and a 2020 second-round draft pick.

More: https://t.co/J1zX9H0Gbx pic.twitter.com/K05rcaKwHB

— Vegas Golden Knights (@GoldenKnights) June 27, 2017
Playing alongside Erik Karlsson during his time in Ottawa on the Senators' top pairing, Methot has made a name for himself as a sturdy defensive defenseman who has favorable size at 6 foot 3 and 228 pounds. With only 21 goals and 120 points in 579 games, Methot is very clearly not an offensive threat. Fortunately, he was perfectly complemented in Ottawa with the offensively-gifted Karlsson who has proven to be a game-changer in the NHL since being drafted 15th overall in the 2008 NHL Entry Draft. Joining the Stars, Methot should have every opportunity to see himself playing on the top-pairing alongside No. 1 defender John Klingberg in Dallas. A mobile defender who has scored double-digit goals and at least 40 points in each of his first three seasons, Klingberg could benefit greatly from playing alongside a stay at home defender like Methot
Golden Knights Collecting Assets
This is just another example of the Golden Knights taking advantage of the situation they've been placed into with the Expansion Draft. Rather than just selecting 30 players that they could use to build their team for their inaugural season in 2017-18, the Golden Knights opted to make a plethora of side deals with teams. Rather than taking the best players available, Vegas created a solid and serviceable team while focusing on asset collection to ice a competitive team in the future. In trading Methot to the Stars, a need for both teams was fulfilled.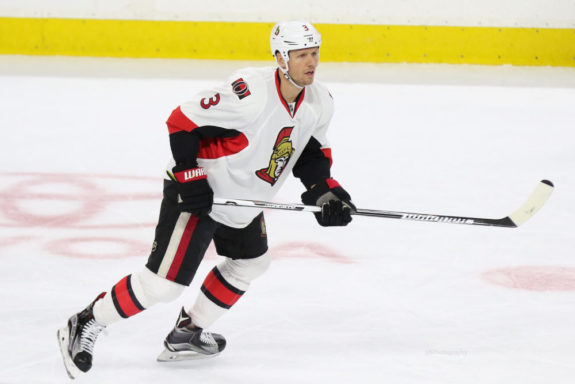 On the one hand, the Stars are getting a 32-year-old blueliner who could immediately help return the team to a playoff contender in 2017-18. With two years remaining on a deal that comes with a $4.9 million cap hit, Methot makes a lot of sense for the Stars. For the Golden Knights, however, Methot's value was always highest elsewhere due to their current window and the potential to flip him for a few assets.
Building for the Future
By the time the 2020 draft rolls around, the expectation is that the Golden Knights will already be a playoff team looking to take the next step. That hasn't stopped Vegas from making trades now to accumulate picks in future years, however, as they've already acquired two second-round picks and a fifth-round pick in 2019 as well as two second-round picks in 2020.
Few teams can trade away NHL players for future assets the way the Golden Knights can. For the NHL's newest franchise, however, the collection of current prospects and players that can be flipped has allowed them to build for the present, the future, and the distant future all at the same time. Building through the draft has proven to bring success to many franchises in the past and the Golden Knights are looking to replicate that type of success while keeping their prospect pool full, both with assets like Ferguson and picks like the 2020 second round pick.
Brandon Share-Cohen has covered the NHL and various professional sports for seven years. Working with The Hockey Writers, Brandon works extensively on covering the Boston Bruins in addition to his role as the News Team Lead.