From all accounts, Philadelphia Flyers General Manager Ron Hextall is a direct and persistent man. He is straightforward when talking to the media, and he is not afraid to call underperforming players out when he thinks it's necessary — perhaps detrimentally so, as when he called Brayden Schenn's development over the past few years "average". If you're a Flyers fan, you accept these qualities as part of Hextall's managerial charm.
Said charm certainly paid off in May of 2015, when Hextall persuaded Dave Hakstol — then the head coach of the University of North Dakota's men's hockey team — to take the Flyers' vacant head coaching gig. Hakstol supposedly turned down the Flyers' offer a number of times before agreeing to head to Philly, and Hextall's persistence likely played a large part in the coach's decision.
A lot of people questioned the hiring at the time. No NCAA coach had gone directly to the NHL since Herb Brooks left St. Cloud State for the Minnesota North Stars' head coaching position in 1987, and Hextall faced a great deal of scrutiny because of it. But Hextall knew that the Flyers needed a head coach who could come in and demand accountability from the team's young, underperforming roster.
Under previous coaches Peter Laviolette and Craig Berube, the Flyers were maddeningly inconsistent. They were plagued by slow starts and had a reputation for taking entire periods off. When they weren't doing that, they were playing teams too lightly, losing to teams they should have beaten.
Change on the Fly
To remedy this, Hakstol immediately began implementing a 200-foot system that required players to be both aggressive and responsible in all three zones. Players who failed to give an acceptable level of effort found themselves watching the action from the Wells Fargo Center's luxury boxes. But unlike Berube, Hakstol let players know why they were sitting and gave them the chance to work their way back onto the roster. Those who couldn't keep up, like RJ Umberger and Evgeni Medvedev, were eventually sent packing.
Aside from weeding out the dead weight, one of Hakstol's biggest accomplishments last season was getting his roster — which contained many of the same players who had struggled to perform consistently under Berube and Laviolette — to commit to this system game in and game out. By the end of the season, the Flyers seemed to bring a consistent effort on a nightly basis, and the lion's share of the credit for this should go to Hakstol. And to Hextall, of course, who now looks like he knew what he was doing all along.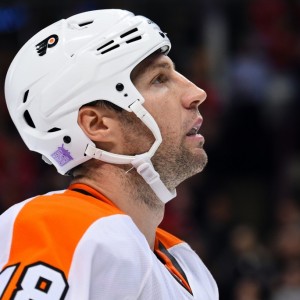 While Hakstol certainly places a lot of emphasis on his system, he does not seem to be married to it. He has shown the ability to make adjustments on the fly when that system isn't working, either through the players' failure to implement it properly (as happened often early in the season when his players were still learning its intricacies) or when opponents had figured it out (as was evident during the team's first-round playoff series against the Washington Capitals).
Hakstol's ability to change up his tactics mid-game certainly set him apart from some of Philadelphia's other recent head coaches. Eagles fans will remember how frustrating it was to watch Andy Reid fail to make in-game adjustments, a habit that continues to dog Big Red in Kansas City. And Chip Kelly's supposed inability to adjust both in games and to the various personalities on his roster caused Eagles owner Jeffery Lurie to fire Kelly before the final game of the 2015 regular season.
Putting It All Together
But it's hard to outcoach your opponent every night if you're saddled with a mediocre roster, no matter how clever your strategies might be. Scotty Bowman himself probably couldn't have gotten last year's Flyers past the second round, and the club's brain trust know this even better than we do.
To that end, Hextall has been quietly amassing one of the best farm systems in the league. One assumes that top prospects like defenseman Ivan Provorov and winger Travis Konecny were drafted in part because they fit Hakstol's system very well. So it will be interesting to see what Hakstol can do with a roster that Hextall puts together on his behalf, as opposed to the one that the duo inherited from Paul Holmgren.
Even if Hakstol doesn't yet have all the players he wants, he has shown that he is willing to do whatever works in order to be successful. If the results he achieved in his rookie campaign are any indication, Hakstol might be able to end the Flyers' Stanley Cup drought in the near future as the Flyers' best prospects finally see the NHL ice.