The 2014-15 season was not the very best for the Carolina Hurricanes. We've acknowledged that quite adequately. It was a season, however, that saw some of the 'Canes experience fatherhood for the first time, and others add to their growing family.
Rather than a hard-hitting critique of Eric Staal or a primer for GM Ron Francis on how to best make his draft picks, I thought it would be nice to wish these Dads of new Hurricanes fans a very Happy Father's Day.
"Gerbes"
If you've read my work at all, you know that my favorite Carolina Hurricane is Nathan Gerbe. He has an effort meter that stays buried in the red. I've never seen Gerbe give less than his all. It's a real pleasure to say Happy Father's Day to Nathan Gerbe, as he and his wife Brennan celebrated the birth of Blake Lynn Leilani Gerbe on Memorial Day, 2015.
https://instagram.com/p/3G7p5RGc2a/
The Captain
In December, Eric Staal and his wife Tanya were excited to welcome their newest member of the Staal family, their son, Finley. At 8 lbs, 13 oz and 22 inches, another future NHL center may be in the making.
Congratulations to @NHLCanes center Eric Staal and his wife Tanya on the birth of their son, Finley.

— FOX Sports Carolinas (@CanesOnFSCR) December 15, 2014
As we in the media speculate and wait with eager anticipation news about Staal's meetings with his agent and Francis, it has to be remembered that Staal has repeatedly said that he likes living in Raleigh. The addition of a third child may play heavily into his decision on whether or not to move his family to Toronto or wherever. Anyway, Happy Father's Day, Eric!
Not to be outdone…
Brotherly rivalry shows up in many ways. Jordan Staal was down to his brother Eric 0-3 in the kid department. While still behind, Jordan and his wife Heather welcomed their new daughter, Abigail into the world in early January.
Congratulations to Jordan and Heather Staal on the birth of their baby girl Abigail – 1/2/15 5lbs 6oz (tiny like mom) pic.twitter.com/rcwLeQAMUN

— Jill Balmer (@MSPgal58) January 3, 2015
Jordan had just returned to the team from his having been sidelined with a broken leg. Lauren Brownlow of Fox Sports Carolinas wrote about Jordan playing hours after Abigail's birth. Brownlow quoted Jordan as saying,
"I think we went in there around 9 (Thursday night) and we had the baby around 2:30-ish (Friday morning). Until 5:30, yeah, maybe shutting my eyes for a little bit. I got a nice little pregame nap that felt like an eight-hour knockout this afternoon, but it was nice to get that in."
The Hurricanes went on to beat the Philadelphia Flyers, and Jordan had an assist on a goal by his brother Eric's goal. All in all not a bad 24-hour stretch for Jordan. A very Happy Father's Day to you, Jordan Staal!
Who's next?
This summer should see the expansion of the "Caniacs" world yet again, as John-Michael Liles and his wife Erin, as well as Alex Semin and his wife Alyona are expecting, also.
Mike Halford at Pro Hockey Talk reiterated what Chip Alexander of the Raleigh News & Observer wrote last week, on Francis saying of Semin,
"We're looking at all the options. Is it best to keep him here or should we do something else? At the right time we'll do what's best for our organization."
Halford wrote that one option might be "for head coach Bill Peters to continue trying to light a fire under Semin." That really did not work last season, but who knows?
In any event, it may be that he and Alyona will be welcoming their new addition in another city. Until then, Semin gets from me wishes for a Happy Hurricanes Father to be Day!
JML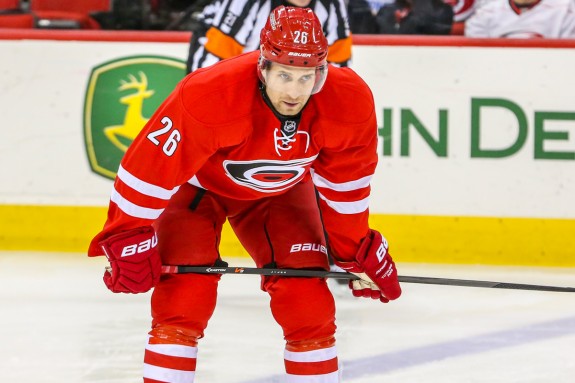 John-Michael Liles may not be ready to pair with Justin Faulk on the blue line on a nightly basis. (Check out "Justin Faulk Needs Help" here). But this summer should be exciting as Liles and Erin await the birth of their child. Liles has made great strides as a legitimate defender with the Hurricanes, and it's my pleasure here to wish him Happy Father's Day a bit ahead of schedule.
It's great to be around the Canes' organization. I take the privilege of being on media row very seriously. But, there is a sense of family that is present around this team, and it's really very cool. Sure I'll be on top of the draft and Ronnie's trades (if any). For today though, to all the players who are Dads, new and veteran, it's a Happy Hurricanes Father's Day!
Mark Shiver is a staff writer for The Hockey Writers credentialed with the Carolina Hurricanes. You can follow him on Twitter @markshiver
Mark lives in the Raleigh, NC area and covers the Carolina Hurricanes.