The Hershey Bears picked up four out of a possible six points last weekend, also increasing their home winning streak to a season high of nine games with a 3-1 victory on Sunday. They split two road matchups with the Adirondack Phantoms prior to the Sunday afternoon matinee, with a Saturday afternoon loss in Philadelphia at the Wells Fargo Center snapping their six game winning streak.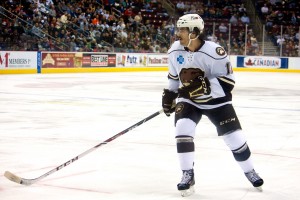 The team lost defensemen Julien Brouillette and Patrick Wey to the Capitals, due to injuries with their parent club. However, they received blue liner Tyson Strachan who was assigned to Hershey earlier this week. Below is a preview of their games this weekend and some news and notes on the team.
February 7th at Rochester (22-16-3-3)
Hershey's trip to face the Americans evokes the return of forward Derek Whitmore and goaltender David Leggio to face their former club. Leggio and Whitmore will both likely to play in a rare matchup against a Western Conference opponent late in the season. The Americans are a strong team, but struggle when shorthanded, rating 25th in the league. Hershey's rising power play will be a key factor in this contest.
Home Record: 12-6-1-2
Power Play: 18.7% (13th)
Penalty Kill: 78.9% (25th)
Goals per Game: 2.86 (15th)
Goals Against per Game: 2.80 (15th)
Offensive Leaders: Luke Adam (32 points), Jamie Tardif (26), Johan Larsson (22) and Mike Zigomanis (20)
Goalies: Matt Hackett (12-12-2, 2.79 GAA, .908 SV %) and Nathan Lieuwen (10-7-1, 2.37 GAA, .924 SV %)
February 8th vs. Portland (17-19-2-7)
The Pirates are in all sorts of trouble at the moment, going 2-5-1-2 in their past ten games. They have the worst defense in the league, allowing almost 3.5 goals per game, even though their special teams rank both near the top one-third of the American Hockey League. A focus on playing a full sixty minutes and not looking at this game as an easy win is imperative for the Chocolate and White.
Road Record: 11-9-2-1
Power Play: 19.7% (10th)
Penalty Kill: 83.6% (11th)
Goals per Game: 2.87 (14th)
Goals Against per Game: 3.47 (30th)
Offensive Leaders: Andy Miele (45), Lucas Lessio (30), Chris Brown (28) and Brandon Gormley (28)
Goalies: Mark Visentin (11-14-4, 3.08 GAA, .905 SV %), Louis Domingue (6-5-2, 3.09 GAA, .908 SV %) and Mike Lee (0-2-1, 3.81 GAA, .872 SV %)
February 9th vs. Wilkes-Barre/Scranton (26-16-1-3)
Hershey's biggest rival comes into town on Sunday afternoon, with only two points separating the two clubs. All the promotions to the NHL from Wilkes-Barre/Scranton have had their toll on the Baby Pens, who trail the East leading Binghamton Senators by five points. Another gritty, fight to the buzzer sounds type contest is expected.
Road Record: 13-6-1-2
Power Play: 12.8% (29th)
Penalty Kill: 84.0% (9th)
Goals per Game: 2.78 (18th)
Goals Against per Game: 2.41 (1st)
Offensive Leaders: Tom Kostopoulos (29), Brendan Mikkelson (25), Nick Drazenovic (23) and Philip Samuelsson (18)
Goalies: Jeff Deslauriers (16-11-2, 2.39 GAA, .901 SV %) and Eric Hartzell (1.85 GAA, .925 SV %)
Bears Links
You can follow Matthew on twitter @m_speck and email him at mspeck21@yahoo.com with any questions or comments.
Matthew Speck covers the Washington Capitals organization for The Hockey Writers. He provides coverage of both Washington at the NHL level and prospect related content. Matthew also covers local sports for the Lebanon Daily News in Central Pennsylvania. You can email him at mspeck21@yahoo.com with any questions or comments.