One of the biggest National Hockey League legends was born on this date. The number 100 was prominent as many members of the Hockey Hall of Fame set personal milestones. Let's begin our daily trip back in time and relive all the best moments that March 31 has given us over the decades.
Happy Birthday, Mr. Hockey
We usually wrap up this daily post with mentions of who is celebrating their birthday on a given day, but today we will start with the birthdays to honor one of the greatest hockey players who ever lived. Gordie Howe was born in Floral, Saskatchewan, on March 31, 1928.
Howe made his NHL debut with the Detroit Red Wings as an 18-year-old. He went on to play 1,767 games over 25 seasons with the Red Wings and one with the Hartford Whalers. He originally retired in 1972 but returned to the game with the Whalers in 1973 to play in the World Hockey Association.
His final season was back in the NHL, along with his sons Mark and Marty when the Whalers joined the league in 1979. He scored 15 goals and 41 points while playing in all 80 games at the age of 51. When he retired for good, he was the all-time NHL leader in goals (801), assists (1049) and points (1850). He held all of those records until some guy named Wayne Gretzky showed up.
Howe was so well respected around the league, the Toronto Maple Leafs had a Gordie Howe Night on March 31, 1971, to honor him before he and the Red Wings played them. Mr. Hockey passed away at age 88 on June 10, 2016, and will never be forgotten.
Hall of Famer Pavel Bure is celebrating his 52nd birthday today as well. The "Russian Rocket" scored 437 goals and 779 points in his career with the Vancouver Canucks, Florida Panthers and New York Rangers. He was one of the first players to bring lightning-fast speed to go along with deadly goal-scoring ability over from Europe.
The most notable players of the other 28 who unfortunately have their birthdays overshadowed on this date by these two all-time greats include Bob Pulford (87, HoF), Gilles Gilbert (74), Gord Lane (70), Brad Marsh (65), Tom Barrasso (58), Michael Ryder (43), David Clarkson (39), Steve Bernier (38), Jani Hakanpaa (31), Kiefer Sherwood (28), Trevor Moore (28), Jakob Chychrun (25) and the late Bill Hicke.
A Big Day for Paul Coffey
Paul Coffey hit a couple of big milestones on this date during his Hall of Fame career. On March 31, 1984, he became just the second defenseman in NHL history to score 40 goals in a season. His 39th and 40th goals came in the Edmonton Oilers' 4-3 win over the Los Angeles Kings. He and Bobby Orr remain the only two defensemen to score 40 goals in a single season.
---
Latest News & Highlight
---
A year later, Coffey scored his third career hat trick and added two assists, while Gretzky had a goal and four assists as the Oilers picked up a 7-3 road win at the Chicago Blackhawks.
On March 31, 1996, Coffey became the eighth NHL player and first defenseman to score 1,400 career points when he picked up three assists in the Red Wings' 8-1 victory over the St. Louis Blues. Ray Bourque is the only blueliner to have more goals, assists and points than Coffey.
Welcome to the Century Club
The magic number for March 31 in hockey history is 100. On March 31, 1973, Orr scored his third career NHL hat trick during the Boston Bruins' 7-3 loss at the Maple Leafs. The three goals gave him his fourth straight 100-point season. He extended that streak for two more seasons which was an NHL record at the time. His six straight 100-point seasons are still tied for the second-longest streak in league history with six other Hall of Famers. Gretzky's record of 13 100-point seasons in a row will likely never be beaten.
On March 31, 1982, Glen Sather became the first coach to win 100 games with the Oilers, when Mark Messier scored twice to become just the second player in team history after Gretzky to have a 50-goal season in a 7-3 win over the visiting Kings. He still holds the franchise record for wins with 464. Craig MacTavish, Ron Low and Todd McLellan are the only other coaches to win at least 100 games behind the bench in Edmonton.
On March 31, 1990, Joe Sakic scored a goal in the Quebec Nordiques in a 3-2 loss to the Whalers. He made history by becoming the first player in NHL history to score 100 points in a season while playing on a last-place team. John Tanner made his NHL debut in goal for the Nordiques to make them the first team in NHL history to use seven netminders in one season. The 1933-34 New York Americans and 1979-80 Oilers had each used six goaltenders.
In that very same game, Ron Francis became the third player in Whalers history (and first in 10 years) to get 100 points in a season with an assist. His 69 assists in 1989-90 remain the Whalers/Carolina Hurricanes' single-season record. His 101 points are second only behind Mike Rogers, who scored 105 points in 1979-80 and again the following season.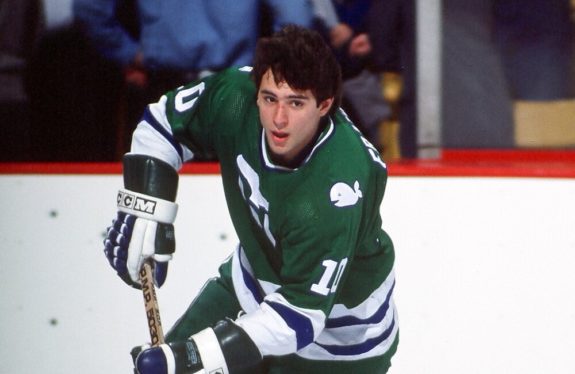 On March 31, 1997, Ken Wregget became the second goaltender in Pittsburgh Penguins' franchise history to record 100 wins. The milestone came in a 4-3 victory over the Panthers. His 104 wins are fourth in franchise history behind Matt Murray (117), Barrasso (226) and Marc-Andre Fleury (375). Mario Lemieux scored his 610th goal to tie Bobby Hull for sixth place on the NHL's all-time scoring list.
Mike Bossy is the Boss
On March 31, 1984, Bossy of the New York Islanders became the first player in league history to score 50 goals in seven straight seasons. He scored goals No. 50 and 51 in a 3-2 win over the Washington Capitals to break the tie he had with Guy Lafleur.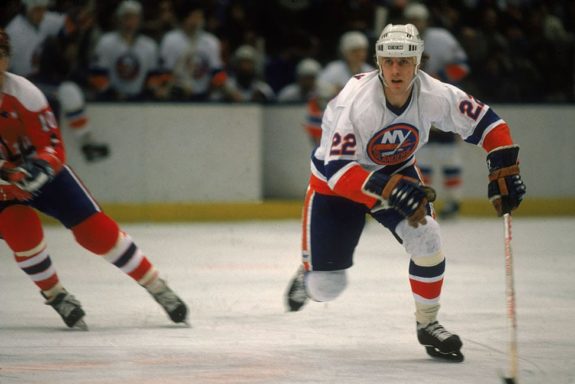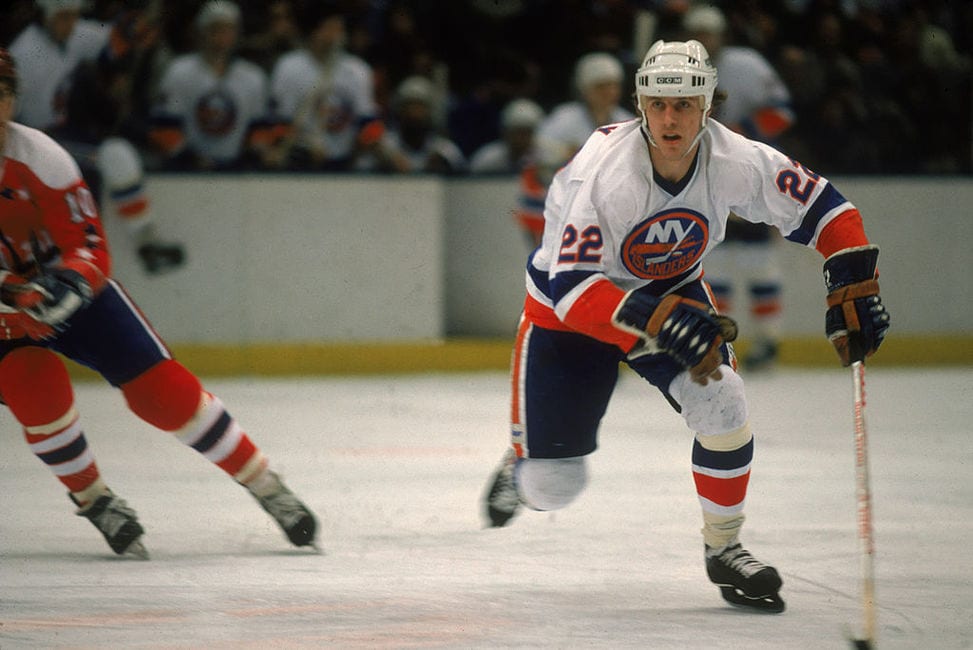 His streak went on for another two seasons before being snapped after nine consecutive seasons with at least 50 goals. Not even Gretzky had nine 50-goal seasons in a row; he only had eight. When you do something offensively that the Great One couldn't do, you have really achieved something remarkable.
Mark Messier Says Goodbye
On March 31, 2004, Messier played the final game of his Hall of Fame career. After scoring a goal in the first period, he took a victory lap around the Madison Square Garden rink following the New York Rangers' 4-3 loss to the Buffalo Sabres.
Messier officially announced his retirement from the league in September 2004. His name is all over the NHL record books as he is third all-time with 1,887 points and eighth with 694 goals.
Old School Playoff Memories
King Clancy of the Ottawa Senators played all six positions on March 31, 1923, including goaltender, for two minutes after Clint Benedict was called for a penalty. This historic feat came in the Senators' 1-0 win over the Edmonton Eskimos of the Western Canada Hockey League to win the Stanley Cup. The two-game series was played in Vancouver and was the last time the Stanley Cup Final was played entirely at a neutral site until 2020.
Four years later, Howie Morenz scored in overtime to give the Montreal Canadiens a 1-0 win against the Montreal Maroons in the first all-NHL Stanley Cup Playoff game to be decided past regulation. Rookie goaltender George Hainsworth earned his first postseason shutout.
The Maple Leafs became the first team in NHL history to win 50 Stanley Cup Playoff games when they defeated the Rangers 3-2 in Game 6 of the Semifinals. Nick Metz scored the game-winning goal with just five seconds left in the third period.
On March 31, 1951, the Bruins and Maple Leafs played the last playoff game to end in a tie. The teams were even at 1-1 after one overtime in Game 2 of the Stanley Cup Semifinals at Maple Leaf Gardens when Ontario's Sunday curfew law would have made it illegal to begin another period after midnight.
Odds & Ends
Stan Mikita became the second player in Blackhawks history and ninth in NHL history to score 400 career goals on March 31, 1973, in a 4-2 loss at the Red Wings.
On the same night, the Philadelphia Flyers tied the NHL record for most goals in a period when they scored eight times in the second period of a 10-2 blowout of the Islanders.
Sergei Priakin became the first player permitted by the Soviet Hockey Federation to play in the NHL on March 31, 1989, when he debuted for the Calgary Flames. He did not show up on the scoresheet in a 4-1 win over the visiting Winnipeg Jets. Joe Mullen scored to become the fourth player in team history to have a 50-goal season.
Brett Hull scored twice on March 31, 1990, in the Blues' 6-3 loss to the Minnesota North Stars. The two goals gave him 72 on the season, breaking Jari Kurri's single-season record for the most goals by a right wing.
Related: Top 5 Father-Son Duos in NHL History
Jeremy Roenick scored two goals to become the first player in Blackhawks history to get 100 points in three straight seasons on March 31, 1994, in a 6-3 loss to the Washington Capitals.
Speaking of the Capitals, Alex Ovechkin became a six-time 50-goal scorer on March 31, 2015, during a 4-2 win over the Hurricanes. He is the sixth player in league history to have at least six seasons of 50 goals or more.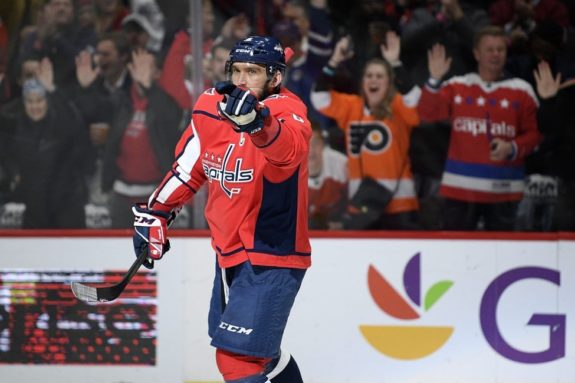 On March 31, 2018, the Vegas Golden Knights became the first modern-era expansion team in any of the four major North American leagues to win its division in its first season of existence when they beat the San Jose Sharks 3-2. William Karlsson had the game-winning goal for their 50th victory in 2017-18.
Brandon Montour scored two shorthanded goals in quick succession as he potted two in a span of 37 seconds in what ended up as a 6-1 shellacking of the Flyers on March 31, 2021. It was the 12th-fastest by any player since 1933-34, but a record for a defenseman.
On that same night, Joonas Donskoi also got into the speed act with a hat trick in only 3:27 in what became a dominating 9-3 win over the Arizona Coyotes. It was the second-fastest hat trick in Avalanche/Nordiques history joining Alain Cote, who did it in 2:17 on Apr. 1, 1982.
A couple of milestones were set in Florida on this date in 2022 as Jonathan Huberdeau recorded his 71st assist of the season, setting an NHL record for most by a left winger, and Joe Thornton became the sixth player in NHL history to play in 1,000 wins (regular season and playoffs combined).
On that same night, Auston Matthews scored 50 goals for the first time in his career and became the 10th United States-born player, and first since John LeClair in 1997-98, to do so. He did it in 62 games, the fewest in 26 years.
*Originally constructed by Greg Boysen
---
---