With a plethora of talent waiting in the wings, the future of hockey is bright. The 2015 NHL draft class provided the obvious generational talents Connor McDavid and Jack Eichel along with top guns Mitch Marner, Dylan Strome and the sublime skating defenseman Noah Hanifin. 2014 draftees Sam Bennett, Sam Reinhart and Nik Ehlers seem primed to put their stamp on the NHL landscape as soon as this upcoming season. Max Domi, Darnell Nurse and Shea Theodore from the 2013 NHL Draft all will be key cogs for their respective franchises soon enough.
But how do these prominent prospects stack up against each other? THW brings you The Next Ones Top 100 NHL Prospects. This is a collaborative project combining the opinions of three of THW's prospect profilers.
Coast to Coast and Across the Pond
To get a broad perspective of hockey's next ones, we combined the rankings of the following:
East Coast: Eldon MacDonald – based in Atlantic Canada, E-Mac has a widespread knowledge of the hockey prospect world with a focus on the QMJHL and the OHL. Always an essential draft resource, check out his War Room 2016 NHL Draft Prospect Tracker.
West Coast: Yours truly – based in Calgary, I get to see the WHL up close and personal along with the Hockey Canada based events. Follow The Next Ones series as the hockey season unfolds.
Across the Pond: Dennis Schellenberg – THW's unique European perspective, based out of Switzerland. He recently attended the Ivan Hlinka Memorial tournament.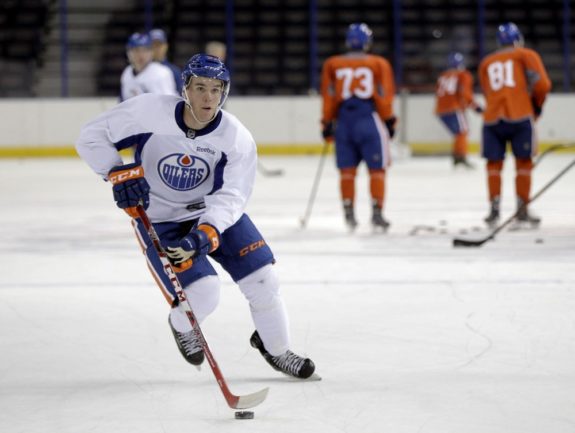 Prospect Criteria
This was perhaps as difficult to establish as it was to reach a consensus ranking of the eligible prospects. We could have simply used Calder Trophy eligibility as a basis. Hockey's Future also has a complex system to clarify what constitutes a NHL prospect. In the end, we settled on the following subjective criteria:
Age: 25 years old or younger
Has not established himself as a NHL regular

To clarify further, if they were in the NHL the last quarter of the season and not sent to the minors or CHL at season's end, then they are no longer a prospect.

Must be drafted or signed by a NHL team
Leon Draisaitl was one prospect in particular that stirred some debate as to if he should be eligible for this list. In the end, he was deemed eligible.
The top 100 features skaters only; we will highlight the top 30 goalies in a separate article.
The Outliers
Many of our rankings aligned nicely, in close proximity, making the final ranking of those prospects straightforward. There were prospects with a range of opinion among the three of us.
Schellenberg was extremely high on San Jose Sharks prospect Joonas Donskoi, who ripped up Finland's top league this past season. He is also big on American prospects Jimmy Vesey and Mike Reilly.
MacDonald appreciates what defensive defensemen bring to the rink more than most, knowing how vital they are for successful franchises. If he had his way, Steven Santini would have been much higher. As well, Jarred Tinordi and Brandon Carlo would have made the final cut.
Not surprisingly, my outliers had a Western flair, highlighted by Brayden Point and Travis Sanheim, with Alberta native and Boston University standout Brandon Hickey coming in higher on my rankings. And yes Leafs fans, Connor Brown did climb his way into my Top 100, but it wasn't enough to make the final combined list.
The Next Ones Top 100 NHL Prospects – Summer 2015
Printable PDF Format:
THW Top 100 Prospects Colloboration PDF
Legend
Only a portion of the table displays by default; you can scroll over to see the rest of the player demographics and statistics or select View full-size workbook option, which is the icon in the bottom right hand corner, to view the full table.
Be sure to scroll over to see all the specifics and stats for each prospect 
The spreadsheet is searchable; simply click on the spreadsheet and utilize CTRL/Command "F"
Most prospects are also linked to their elite prospects profile
Have Your Say
survey services
Related Articles
_________________________________________
Chris is THW's senior draft/prospect analyst and a Managing Editor. Watch for "The Next Ones" Prospect Profile series, exclusive rankings, mock drafts, as well as the annual THW NHL Entry Draft Guide. Follow @ChrisRalphYQ on Twitter as he infiltrates, dissects and analyzes all happenings of hockey prospects and the NHL entry draft. Email: cralph[at]thehockeywriters[dot]com