by Eldon MacDonald (edited by @ChrisRalphTHW)
THW's War Room July Rankings include a list of 300 prospects, the Top 60 of which are ranked along with 10 honourable mentions and five sleepers for the 2016 NHL Draft.
The key components:
1. The Superstar of the Draft: Auston Matthews, the one player who could be on the same level as last year's potential superstars, Connor McDavid and Jack Eichel.
2. Tier 2 Players: The last draft class featured three players ranked in the tier below the two potential superstars – Dylan Strome, Mitch Marner and Noah Hanifin. This year there are two players so far in the 2nd tier – Jakob Chychrun and Jesse Puljujarvi.
This draft eligible prospect list does not identify:
1. The star right under your nose: Last year, Timo Meier was a player that I identified as an early to mid second rounder, a player that I had seen at least 50 times, maybe more. However, Timo turned it up a few notches over the summer (particularly his skating) and by mid-November his game had started to reach the elevation that would cause me to rank him at 10th by the end of the year. He ended up being selected 9th overall by the San Jose Sharks.
2. That seemingly wretched awful player that you initially don't like: Last year at this time, there was a player that I would describe as a wet noodle give away machine. Naturally, I did not include him in my rankings. He did not have a great start to the season so I felt vindicated with my prognostication. However, things change and that player changed. He just got better and better and he handled the puck beautifully, he skated beautifully and more importantly, he became a take charge blueliner with a huge upside. By the end of the season, I had him ranked at 20th He was eventually selected 18th overall by the Ottawa Senators. His name – Thomas Chabot.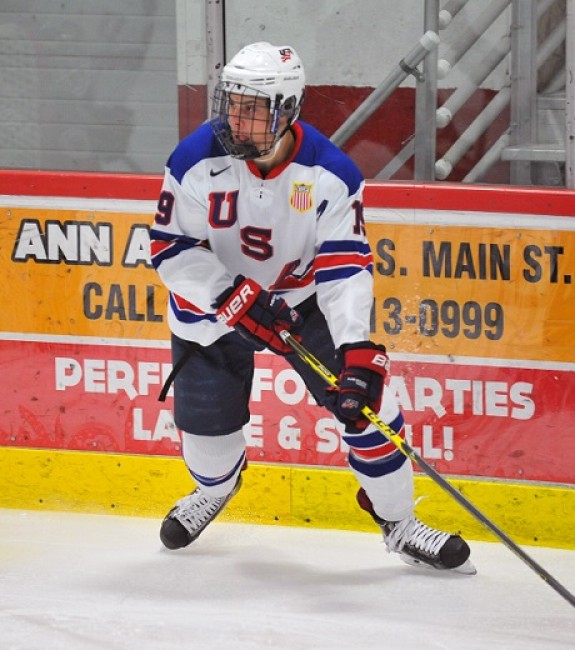 The point of the above discussion is that the players on the attached rankings that you saw in the 2014-15 season may not be the same kind of player that you see as the 2015-16 season evolves. Some players go to a whole new level, many improve substantially, a few stagnate and an unfortunate few go downhill.
The War Room Top 10 For 2016 – July 2015 Edition
(2014-15 team, Position, Shoots, Height, Weight, GP, Goals, Assists, Points, Plus/Minus)
2014-15 – USA U18 NDTP – C, L, 6'2, 200, 60-55-61-116
Let's start by saying he was the MVP of the 2015 IIHF World Junior U18 Tournament where his team, Team USA, won the gold medal. In short, Auston Matthews is the generational talent of the 2016 draft like Connor McDavid and Jack Eichel were for the 2015 draft. He brings together the size, skills, drive and leadership of the best. This is what his coach, Don Granato of the Team USA U18 NTDP, had to say about him to The Hockey News, "He's worth talking about. When we first got him here, I thought we had a chance to have the next first overall American. There's such an inner burn with him that separates him from others. He challenges himself to win every drill in practice. It pushes his skill development to the point where it has developed immensely in two years." The great mystery that surrounds Auston Matthews is where he will play this season. Europe and the Everett Silvertips of the WHL have been the two locales most talked about.
https://twitter.com/ZurichUpdate/status/623071923933544448
2014-15 – Sarnia, OHL – D, L, 6'2' 200, 42-16-17-33 (-11)
Jakob Chychrun ('16) is a beast. Huge physical force who can wheel and shoot. Assistant Captain for Sarnia at 16. Top 3 NHL pick. @ISShockey

— Matt Grainda (@graindaiv) February 22, 2015
I love this player. When Anthony DeAngelo was traded to the Sault Ste. Marie Greygrounds, Jakob seamlessly stepped up and provided that back-end offense necessary in today's game. Jakob not only provides offense but the defense with his size, physicality, defensive acumen, leadership, breakout and skating ability. Jakob is the son of long-term NHLer Jeff Chychrun.
2014-15 – Karpat, FIN 1 – Liiga – RW, R, 6'3, 220, 21-4-7-11 (+4)
Jesse Puljujarvi is simply the big winger that all NHL teams covet – huge, elite offensive talent, lethal shot, excellent skating, and very good passing. In short, this is a player who can do it all and is a leader when he is on the ice – he will push Jakob Chychrun hard for the number two spot in the draft.
2014-15 – USA U18 NDTP, LW, L, 6'1, 190, 65-38-58-96
Matthew Tkachuk has the NHL bloodlines – his Dad is Keith Tkachuk and his Uncle is Tom Fitzgerald – both long-term NHLers. There are similarities with Dad. Both are goal scorers who provide high-end offense. There are differences as well – Matthew's high-talent is his vision while Dad was more known for his in-your-face, hard to play against style. Here is what his new coach, Dale Hunter of the London Knights, had to say about him, "He's a playmaker. He can score. He's big and strong. He's good on the power play. He's a real skill guy. You see the number he puts up and it's tough because he's playing against older kids. He's going to make teammates better because he can pass the puck."
Matthew Tkachuk (@TKACHUKycheese_) 2014-15 season highlights with @usantdp https://t.co/lT5Pi2Tw0y #USHL

— USHL (@USHL) June 9, 2015
2014-15 – Windsor, OHL – C, L, 6'6, 216, 56-17-26-43 (-8)
NHL size (huge at 6'6), NHL bloodlines (son of former NHLer, Jeff Brown), big time shot, big time speed – Logan Brown is decent but inconsistent right now. If he puts it all together and shows a little more drive and consistency, there is no limit for this human hulk.
2014-15 – USA U17 NDTP, LW, L, 6'2, 200 , 38-18-10-28
I will let Max's new coach, Dale Hunter of the London Knights, describe him, "He's a complete player. He's a fast player. He's skilled. In big games, like you see in the National Hockey League right now, he raises his game . . . That's what we need in London. He's going to put up lots of numbers during the year but come playoff time, he raises his game to another level and that's what you need to win." I will just add that Max has that NHL compete level, that NHL edge and NHL hard to play against style NHL teams love.
Max Jones to London. They are on verge to have another great season. #powerforward #OHL #Knights

— Tim Archambault (@TArchambaultPSL) June 3, 2015
2014-15 – Omskie Yastreby, MHL, LW/C, L, 6'0, 215, 29-13-3-16 (+1)
Maurice (the Rocket) Richard was a top player all over the ice but when he entered the offensive zone, his eyes lit up and he energized himself like Ironman – he owned the offensive zone. I am not suggesting Dmitri Sokolov is another Rocket Richard. I will say, however, that Dmitri is like the Rocket because he too is a changed man when he enters the offensive zone. The offensive zone is his zone and he has a plethora of weapons at his disposal – a NHL eady one-timer, a wicked wrister, an awesome backhander and the ability to dazzle, particularly coming of the right boards. Dmitri will be bringing that dazzle to North America this year where he will play for the Sudbury Wolves of the OHL.
2014-15 – Leki – FIN 2 – Mestis, RW, R, 6'3, 210, 36-5-7-12 (-12)
Patrik Laine is a big guy who likes to shoot and score. He is a top gun as witnessed by his better than a goal a game at the World U18's (8 goals in 7 games – tied with Auston Matthews for most goals in the tournament). He is a player who has drawn a lot of criticism for his perceived immaturity (he was sent home from last year's Ivan Hlinka Tournament) and his uninvolved defensive play. The bottom line, however, is this is a big guy with elite offensive skills who has already shown his awesomeness against the best in the world (an all-star at the 2015 World U18 Tournament) and has the potential for a very bright future at the top of the hockey world.
Power move by Sarnia taking Finland's Patrik Laine in the Import Draft. He's been a points machine both locally and internationally.

— Ryan Kennedy (@THNRyanKennedy) June 30, 2015
2014-15 – Regina, WHL, C, L, 5'11, 172, 61-17-37-54 (+10)
OK, he may not be Superman, the man of steel, but there is a lot to like about Sam Steel. Sam Steel is a dynamic player. Combine elite skating and passing with amazing peripheral vision and a player who thinks and plays the game at high speed and you have Sam Steel. He was very good last year with Regina and I am anticipating a breakout season for him in his draft year. He is slightly undersized so he will have to continue to develop his strength as he moves up the ladder.
2014-15 – Jokerit U20, FIN U20 – D, L, 6'2, 180, 44-6-26-32 (+0)
I have Olli Juolevi in the top 10 because he is the type of defenseman you want on your team – big, mobile, with a zen-like calm and high-end, mature defensive decision-making. Add the big shot and outstanding vision and you have a top notch defensive project. Olli is coming to North America this year to play for the London Knights of the OHL.
Just outside the top 10, you will find:
No surprise BU commit Keiffer Bellows '98 takes ROY honors in USHL. Helped lead Sioux Falls to Clark Cup. In 58gp 33-19-52 & 12gp 9-3-12.

— Russ Bitely (@russbites) May 22, 2015
Bellows, Keiffer: 2014-15 – Sioux Falls, USHL – C, L, 6'0, 185, 58-33-19-52 (+10)
Gauthier, Julien: 2014-15 – Val d'Or, QMJHL – RW, R, 6'4, 220, 68-38-35-73 (+6)
Krys, Chad: 2014-15 – USA U18 NDTP – D, L, 5'11, 185, 22-3-17-20
Fabbro, Dante: 2014-15 – Penticton, BCHL – 6'1, 185, D, R, 44-4-29-33
Jost, Tyson: 2014-15 – Penticton, BCHL – 6'0, 194, RW, L, 56-23-22-45
THW's War Room Top 60 Preliminary 2016 NHL Draft Rankings
Your Quintessential Draft Tracker featuring 300 prospects
Plus 10 Honourable Mentions
With 5 Sleepers
The Ultimate Rankings Spreadsheet Legend
Column 1 "E-Mac" = E-Mac's War Room July 2015 ranking
Column 2 "CR" = Chris's List – The Next Ones Preliminary Edition – Top 30
Column 3 "FC" = FC Hockey's 2016 Preliminary Rankings – Top 30
Column 4 "ISS" = ISS Preliminary 2016 Rankings – Top 30
Column 5 "NHL" = NHL Central Scouting's 2016 Futures List (Yes/No if player included)
Only a portion of the table displays by default; you can scroll over to see the rest of the player demographics and statistics or select View full-size workbook option, which is the icon in the bottom right hand corner, to view the full table.
The beauty of the above option is that you can then download the file to your computer and play with it or adjust it anyway you like.
Be sure to scroll over to see all the specifics on each prospect 
The spreadsheet is searchable; simply click on the spreadsheet and utilize CTRL/Command "F"
Most prospects are also linked to their elite prospects
_________________________________________
Chris is THW's senior draft/prospect analyst and a Managing Editor. Watch for "The Next Ones" Prospect Profile series, exclusive rankings, mock drafts, as well as the annual THW NHL Entry Draft Guide. Follow @ChrisRalphYQ on Twitter as he infiltrates, dissects and analyzes all happenings of hockey prospects and the NHL entry draft. Email: cralph[at]thehockeywriters[dot]com