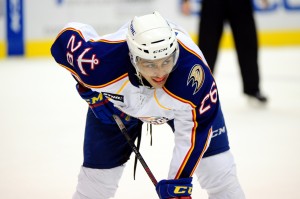 It's unfortunate the Anaheim Ducks season came to a screeching halt on May 12th; however; the Anaheim organization's future is a bright one with explosive forward Emerson Etem.
Goaltending is the backbone of every NHL club, no matter the team. Fans should give a pat on the back to GM Bob Murray and the Ducks brass for picking up goaltender Viktor Fasth who made his North American debut this season at the age of 30.
After the Ducks hasty exit from the post-season and after emotions subsided with Anaheim fans, THW pounded the key board looking for fans thoughts on the 30-year-old goaltender and the new kid on the block 20-year-old Emerson Etem.
Jack Miceli, hockey blogger and founder of The Rant, sat down with THW correspondent Ted Warren and gave his two cents on Fasth and Etem.
                                                         Miceli On Fasth: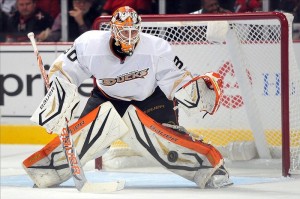 "Great hockey player. Fifteen games in the season the Ducks brought him over. A million dollar contract in a shortened season. You've got to think really highly of a player who does that. "
Fasth kicked off his North American career with the Ducks top affiliate, the Norfolk Admirals. The Admirals season ticket holder expressed his thoughts on his first impressions of Fasth,
"His first game, he seemed kind of shaky. It was like is he really worth the million dollars?  The shaky start came because it was his first time playing on North American ice. He wasn't used to the faster pace. I don't think he was ready for that, but that's why he was in Norfolk."
Miceli chimed on Fasth's future, "Anaheim brought him in to be the number one. I think the only reason why Hiller is still number one right now is because Fasth was hurt. If you look on his progression of play before he got hurt, he was playing the majority of the games over Hiller."
Jack On Emerson Etem
"Watching him in Norfolk at the beginning of the season you saw the speed, you saw the skill, but his mind was going too fast for his feet. He knew what he was trying to do, but his body wouldn't go fast enough.  You'll never see him in the AHL again. He needs to work on his physical game. He's a big dude now. He needs to bulk up. He needs to work on his ice vision. I don't think he does not see the shot, it's maybe more of a confidence thing. He thinks he can't make that shot, but I know the skill is there. I watched video of him when he was in Juniors. He's good enough. He'll become a first-line player in two years when the older guys step aside. He'll be moving in-between first-line and second-line. If the Ducks want to keep him, he'll be really good trading power for the future.  In addition, he can dangle like I've never seen players dangle before, the second only to ex-Admiral Richard Panik."
It's as if Jack owns a crystal ball when it comes to predicting a prospect's future. The Chicago native's knowledge about hockey is second to none.  Make sure to follow him on Twitter at https://twitter.com/jackmiceli
Follow Ted @bauerhockeydude
Watch Emerson Etem's game winning goal 12/22/12
.
Ted grew up in Virginia. Warren has a passion for the AHL and dishes out articles about the Norfolk Admirals and the AHL. Follow him on Twitter @bauerhockeydude