Jim Neveau, Managing Editor/Coyotes Correspondent
Glendale, Arizona – Hockey isn't something that one expects to find in the deserts of Arizona this time of year. The Phoenix Coyotes have never been beyond the first round of the playoffs in their organization's history, but this year, things seem to be different.
After dispatching the Chicago Blackhawks in six games in the first round, the Coyotes were in territory they had never been before. Despite the unfamiliarity of their surroundings, they looked completely at ease against the Nashville Predators, ending their postseason in a five game series that was just about as one sided as you can get in the NHL playoffs.
They have run into a buzzsaw, however, in the Los Angeles Kings in the Western Conference Final. The Kings have outplayed Phoenix in every key area, whether it be scoring goals, winning board battles, or their forechecking and backchecking, which are both superb. Add to that the fact that goaltender Jonathan Quick has not been playing his best hockey, and you pretty much can see why Phoenix is headed to the city of angels down 2-0 in the series.
Whether they will be able to turn things around will be seen tomorrow night at the Staples Center when the series resumes, but matters of discipline are threatening to undermine the team.
As Game 2 wore on, several Coyotes players let the fact they were down in the game and series get the best of their judgment skills, and several of them were the subject of controversy afterwards. Captain Shane Doan got things started when he boarded LA's Trevor Lewis in the second period. Doan received a five minute misconduct and was given the gate as well. Goaltender Mike Smith followed that up with a vicious hack at the legs of Kings captain Dustin Brown and was given a two minute penalty for that (which Brown was also penalized for in a laughable affirmation of his reputation for diving).
As if those things weren't enough, you had defenseman Derek Morris tripping Rob Scuderi by sticking his knee out in what was definitely a dangerous play. Before that in the period, center Martin Hanzal got into the action, boarding Brown in the corner in what was universally (and correctly) decried as an incredibly dangerous hit.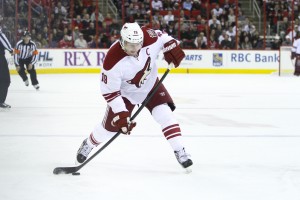 All of those things were reviewed by the NHL, and the disciplinary decisions have been handed out in each case. Which ones did Brendan Shanahan get right? Which ones did he get wrong. Here's the case-by-case breakdown:
Shane Doan: No Suspension, No Fine
Doan's play was the bloodiest out of all of the action that occurred Tuesday night at Jobing.com Arena. Lewis was very shaken up after the play, and the sight of blood pouring from the bridge of his nose certainly had an impact on the decision to kick Doan out of the game.
Shanahan looked at the play, and decided that Doan shouldn't be suspended despite his status as a repeat offender. The reason for this was likely that video evidence suggested that Lewis put himself into a vulnerable position against the boards despite knowing that Doan was coming, and that has usually been a reason for Shanahan not to lay the ban down on anyone.
The fact of the matter is that Lewis putting himself in a vulnerable position was his own fault, and Doan didn't really have time to ease up on the hit before it took place. It was wrong to kick him out of the game, albeit understandable due to the speed at which everything happened, so Shanahan did make the right call in not dropping the hammer on Mr. Doan.
Mike Smith: No Suspension, No Fine
Smith has gained quite a bit of notoriety in these playoffs, including a play where he was hit by Chicago's Andrew Shaw behind the net and writhed around in pain for a while afterwards. He was fine after that play, but Shaw was still suspended for three games for the incident. He has also made it a pattern to stick his blocker and stick out in efforts to draw goaltender interference penalties, which we saw in Tuesday's game when Dwight King was nailed for an infraction that was at best questionable.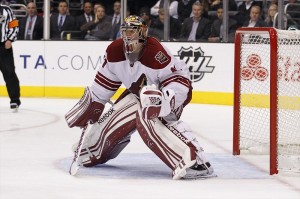 Smith continued to show his penchant for violently defending his crease in the game when he hacked at Brown's legs, but it didn't even warrant a review by the league, which is completely wrong. If nothing else, the league should have reprimanded officials for idiotically citing Brown for diving when he clearly did not do so.
As for Smith himself, he should have been fined for this play. There is no reason in the world why a goalie should be able to get away unscathed with a slash, especially one in a blatant attempt to injure a player. A suspension wouldn't have been completely outrageous either, but being that it's the playoffs and goaltenders are such an integral part of the game, a fine and a strong reprimand would have sufficed in this situation.
Derek Morris: No Suspension, No Fine
Morris also got away unscathed for his trip on Scuderi in the third period, and truthfully, it's difficult to see why. It was a pretty blatant attempt at a knee-on-knee hit, which is simply foolish to do in this day and age. The attempt to injure was there, and Shanahan failing to suspend on the hit was the incorrect call. Morris should have been given a game for this one. We'll let you judge the video for yourself:
Martin Hanzal: 1 Game Suspension
Out of all the nonsense to occur in Glendale on Tuesday, it was the hit by Hanzal that was the most scrutinized and the one that every hockey pundit seemed to agree would elicit punishment.
It was, after all, the third different incident involving Dustin Brown to occur in the game, and so the officials had to have looked at it as a blatant attempt to injure the Kings' leader, and apparently Shanahan agreed, suspending Hanzal for a game.
The question, then, is whether or not the suspension was long enough. After all, Hanzal doesn't exactly have a track record for doing this sort of thing, and Brown wasn't injured on the play, and even stayed in the game. So, was one game enough?
Before we get to that, it seems appropriate to once again call for something to be done about the league's concussion protocols. It was pretty apparent that Brown took a nice lick to the head on this one, but he was allowed to stay in the game in spite of that. It was eerily reminiscent of Smith when he was clocked by Shaw in the Chicago series staying in the game despite an apparent head injury. The league is supposedly taking the head injury issue more seriously, but we have seen in several occasions when it comes to this team that there is still work to be done in this area.
Back to the hit itself, it is one that the league has got to do a better job of legislating against this type of hit on a vulnerable player. Brown didn't turn into the hit late, and Hanzal hit him with the full intention of sending a message by drilling him face-first into the boards. The intent to injure was there, the argument that it was simply a hockey play holds no water, and about the only thing missing was an injury to Brown.
That should be completely irrelevant to the situation, but it isn't. Shanahan and his crew have made it a point to legislate based on injury, and in few situations has it been as stupidly applied as in this one. These types of hits have the potential to seriously injure or even end the careers of players, and Brown is frankly lucky that this one didn't. Just because he avoided a date with the hockey reaper does not change the fact that this hit could very well cause serious damage to a player in the future, so Shanahan missed an opportunity to send a message that these types of plays are unacceptable.
Is it going to take a player getting carted off on a stretcher and returning in a wheelchair before the league starts taking these idiotic blindside hits from behind more seriously? Let's hope not, but we shouldn't hold our breath hoping that common sense will prevail.