The 2016 NHL Draft Lottery is happening this Saturday and every Toronto Maple Leafs fan is waiting to see which spot the Leafs will end up with at the draft. With that in mind, it seems right to take a look now and see how the Leafs' 2015 draft picks are doing. The Leafs drafted a total of nine players comprising five forwards and four defensemen. So far the only player that fans can expect to see in a Leafs jersey next season is Mitch Marner, while the rest will most likely return to junior.
Round 1
#4 Mitch Marner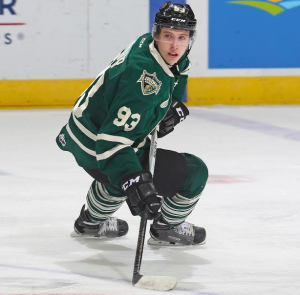 Mitch Marner looks like he will easily make the jump to the NHL next season after the terrific year he's had. During the season of the 2015 draft Marner put up an impressive 126 points in 63 OHL games and followed that up with 16 points in seven playoff games. Marner has continued to show why he was picked fourth overall in the draft with 116 points in 57 games this year. If that wasn't impressive enough, Marner has lit up the OHL playoffs with the London Knights with 37 points in 14 playoff games. He is scoring at a pace that might even be able to break some OHL playoff records.
It will be interesting to see how Marner transitions to his first year in the NHL. Will he be able to dominate the game like he did in the OHL or will he need a few years to become that dominant player at the NHL level? Regardless, Marner is expected to eventually be an elite player for the Leafs in the years to come.
Round 2
#34 Travis Dermott
Travis Dermott could go back to the OHL with the Erie Otters next season, but could also turn pro and head to the AHL. Either way, he will likely need a few seasons in the AHL before making the jump to the NHL. That's not to say that he is a bad defenseman by any means, but that he hasn't dominated at the junior level and wouldn't warrant the leap to the NHL. Last season Dermott finished with 45 points in 61 games and 17 points in 20 playoff games. This season he has managed to show an improvement with 43 points in 51 games and 14 points in 13 playoff games. Dermott's Erie Otters were coincidentally knocked out of the semi-finals by Marner's London Knights in an easy four game sweep. At 5'11 and 207 lbs, Dermott looks like a promising part of the Leafs future defense.
#61 Jeremy Bracco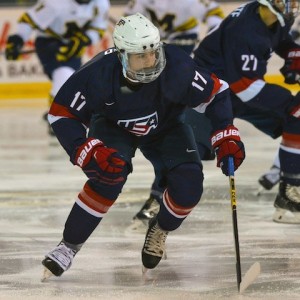 Last year Jeremy Bracco played on the U.S National Under-18 Team along with Auston Matthews and Matthew Tkachuk. Matthews led the team in scoring, but Bracco managed to finish fourth with 32 points in 24 games, which was just behind Tkachuk. This year both Bracco and Tkachuk played in the OHL, with Bracco joining the Kitchener Rangers. While Tkachuk was able to easily transition to the OHL and finish with 107 points in 57 games, Bracco finished with 64 points in 49 games.
This might not seem like a great year for Bracco, but when you consider that he was tied for 35th in scoring with Pavel Zacha, who was the 6th overall pick that year, it doesn't seem that bad. And Bracco had a 1.31 points per game average which puts him at 17th in the OHL. He also led the Kitchener Rangers in playoff scoring with 14 points in nine games. Bracco will probably take a few more years to fully develop to the point of playing in the NHL, but he is looking to be a fantastic 2nd round pick.
Round 3
#65 Andrew Nielsen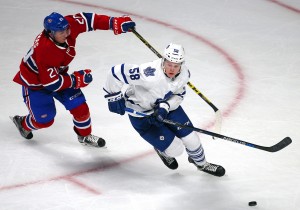 Andrew Nielsen has been the biggest surprise out of all of the Leafs' 2015 draft picks. It seemed like a strange pick for the Leafs to make considering most rankings didn't even have Nielsen in the top 100, but this year he has proved everyone wrong. Last year Nielsen put up a respectable 24 points in 59 games in the WHL with the Lethbridge Hurricanes. This year Nielsen shot up to 70 points in 71 games and was 3rd in scoring for defensemen. At 6'3 and 207 lbs Nielsen is sure to join Dermott as being part of the Leafs future defense.
#68 Martins Dzierkals
Martins Dzierkals wasn't very well known considering he played in the MHL last season. The MHL is the junior league of the KHL, which is why many have never even heard of it before. While in the MHL Dzierkals played with the HK Riga and put up 28 points in 32 games. For this year he went and played for the Rouyn-Noranda Huskies in the QMJHL and finished with 67 points in 59 games. When it comes to making the jump from European hockey to North American hockey it requires time to adjust to the differences in the game. Dzierkals will need to continue to prove himself over the next few years to make it onto the Marlies.
Round 4
#95 Jesper Lindgren
Jesper Lindgren is currently playing for MODO Hockey in Sweden so it will be interesting to see when he transitions to playing for the Marlies. Last year Lindgren played in the SuperElit league, which is an under-20 junior league, and finished with 33 points in 39 games. This year he split time between the SuperElit and the SHL, which is Sweden's highest tier of hockey. Lindgren had 14 points in 20 games in the SuperElit league and 3 points in 26 games in the SHL. Expect to see him play a few more years in the SHL until making the transition to the Marlies in the AHL.
Round 5
#125 Dmytro Timashov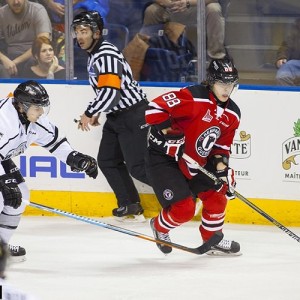 Dmytro Timashov feels like he is going to become one of those great late round picks. Last year Timashov played in the QMJHL with the Quebec Remparts and finished with 90 points in 66 games and also had 18 points in 22 playoff games. He was 12th in scoring and was 15th in points per game with 1.36. This year he was traded halfway through the season from the Quebec Remparts to the Shawinigan Cataractes. Timashov finished 14th in the QMJHL with 85 total points in 57 games. He also improved his points per game average to 1.49, which put him at 8th in the QMJHL this year. Timashov has somehow gone unnoticed the last two seasons, but expect him to be a great find for the Leafs.
Round 6
#155 Stephen Desrocher
Stephen Desrocher is another player that seems to have surprised everyone this year with how well he has improved over last season. Desrocher had 23 points in 66 games and 12 points in 21 playoff games in the OHL with the Oshawa Generals last year. He has dramatically improved his game to be one of the top defensemen in the OHL. In 69 total games this season, Desrocher had an impressive 46 points and was tied for 5th in scoring for all defensemen in the league. He was traded from the Oshawa Generals early in the season to the Kingston Frontenacs and had 6 points in 9 playoff games with them. Desrocher will probably play with the Marlies next season considering he is 20 years old. Then it will be a test to see if he has potential to make the NHL.
Round 7
#185 Nikita Korostelev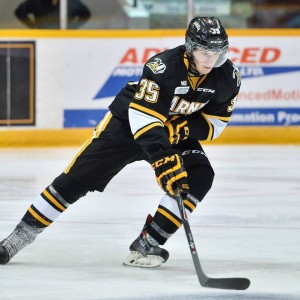 And to finish off the list of the Leafs' 2015 draft picks is Nikita Korostelev. Last year Korostelev led the Sarnia Sting in scoring with 53 points in 55 games and had three points in five playoff games. This year, however, he dropped to 42 points in 53 games and had five points in seven playoff games. It seems like part of his drop in production has to do with Sarnia acquiring 2015 Philadelphia Flyers 1st round draft pick Travis Konecny from the Ottawa 67's. Since both players play right-wing it seems like Korostelev was bumped from the top line, which would account for his drop in production. He will need to prove himself in junior next season to have any chance of making the Marlies.
In Conclusion
After looking at all of the Leafs' 2015 draft picks and how they have done compared to last year, it seems to show that the Leafs scouting department has a gift for finding players with lots of potential. Most of the draft picks have improved this year and gives hope that most of them could be playing in the AHL in a year or two. In regards to the 2016 NHL draft there shouldn't be too much worry for the Leafs when it comes to choosing the best player to draft.
So, what do you think of the Leafs' 2015 draft picks?
Toronto Maple Leafs contributor for The Hockey Writers.
I've been a fan of the Toronto Maple Leafs since I was a kid and have always had an interest in writing. At The Hockey Writers, I get to enjoy both of my passions as well as writing about small convoluted details in player contracts and stats.