Last night's loss to the Calgary Flames was a brutal finish, although if there's anything the Devils can take away from their last couple games is the play of center Adam Henrique.
Henrique's Impact
After missing six games with a lower-body injury, Henrique has re-entered the lineup and produced right away playing with Patrik Elias and Marty Havlat. Henrique has two goals, an assist, and even with Calgary's late comeback, Henrique is a +2 in those three games.
Henrique's impact is shown primarily on the Devils record as in the six games Henrique missed, the Devils went 2-4. With Henrique in the lineup the Devils collected a 7-5-3 record which should be eight wins, but that's another story.
Henrique is currently in the 2nd year of a six-year contract which pays him $24 million over that span. At an average of $4 million a season, a couple of years from now, this contract is going to be a steal for the Devils. Henrique is on track for a career year as in 15 games, Henrique has compiled six goals, six assists, and a +5 which leads all forwards on the Devils.
I'm sure were all aware of the abysmal penalty kill this season which for a while was the worst in the league until they were undermined by the Philadelphia Flyers. Adam Henrique is known for his dominance on the penalty kill and even before he came back, the Devils have gotten their act together. Before last night's brutal affair, the Devils killed 20 straight penalty's, and came close on several occasions to scoring shorthanded, especially Saturday night in Edmonton.
Reliving Pressure
I mentioned earlier that since Henrique has returned from injury, he's been reunited with Patrik Elias, along with being paired with Marty Havlat. As a result, Elias has gone back to his producing ways collecting a goal and an assist, while Havlat chipped in two assists.
There's no doubt though that the return of Adam Henrique has helped Patrik Elias from a mental standpoint more than anything. I believe it's more than a coincidence that the game Henrique returns, Elias scores for the first time since the season opener against the Flyers. Not only producing points, but Elias has looked much more energetic and is making plays we haven't seen much of in the first quarter of the season.
What Henrique also does is he relieves pressure from No.1 center Travis Zajac and the rest of the first-line. With Elias not scoring, and the reminder of the Devils depth players not contributing much, it felt as if most nights Zajac, Jagr, and Cammalleri had to produce the winning goal or nobody else would. Henrique brings that extra scoring punch which the likes of Jacob Josefson, Michael Ryder, and Damian Brunner simply couldn't bring .
Leadership Potential
Adam Henrique is also turning into a big-time leader for the Devils. He's in his fourth full-season with New Jersey and along with being a fan-favorite, Henrique is the main piece of the Devils young leadership core. Possibly as soon as next season we could even see Henrique with a Captain's C if the Devils decide to part ways with aging defenseman Bryce Salvador.
Head coach Pete Deboer also loves having the versatility Henrique brings. "It's nice having Adam back in the lineup and Adam looking like Adam. His first game back, I thought he was a little tentative. I thought tonight he was back and jumping and we've missed him."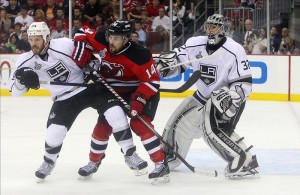 So it begs the question of if Henrique can continue to produce at the rate for the rest of the season? I definitely think he can.
Henrique plays the game the right way, he goes to the net, blocks shots, wins face-offs, and goes into the corner. He's turned into the type of player that everyone wants on their team which make Henrique a very valuable piece for the Devils now and in the future.
Like/Dislike? Leave a Comment Below!
Corey Spina lives in Wayne, New Jersey. He is a senior at Centenary College, and is majoring in Communications/Journalism. Corey is in his second season covering the New Jersey Devils for The Hockey Writers, he completed a sports journalism internship with TAPinto, and he is the Host/Producer of the Sports Buzz on WNTI.org.