With Kyle Okposo having recently played his 500th NHL game and looking more and more like an offseason departure, now's as good a time as any to reflect on his career as an Islander.
Though it's hard to remember now and the fans would just as soon forget it, there was in fact a time before John Tavares. And during those fallow years, it was Okposo who represented hope.
Drafted seventh overall in 2006, the winger out of Minnesota made his Islanders debut late in the 2007-08 season. The team was in the midst of its third consecutive losing campaign (let's not argue about 2006-07, though add up the wins and losses if you must) and headed for a last place finish in the Atlantic Division. They'd remain there for the next four years.
The Isles weren't simply bad upon Okposo's arrival; they were altogether unexciting. The only story worth following in Uniondale – which, in those years, seemed to be in a perpetual state of drear – was the freaky injury saga of Rick DiPietro. Beyond that, the Islanders were known as a place for the league's nameless pawns and waning stars.
(And Trent Hunter. Bless you, Trent Hunter. Was there ever a less inspiring but more fitting face of a team's franchise? He was Islanders to his core.)
It wasn't that the Islanders utterly lacked talent. They still featured a few players you'd circle in your program and watch during warm-ups, whose jerseys were worth wearing if only because of their past accomplishments. Guys like Alexei Yashin and Miroslav Satan; Bill Guerin and Doug Weight.
But those players weren't franchise cornerstones. They gave the fanbase something to admire in the moment, but very little to rest its hopes on in the future. And the Isles' core was hardly redeeming, the team's potential manifested in the likes of Blake Comeau, Sean Bergenheim and Chris Campoli.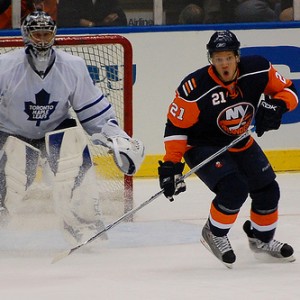 Sigh.
Indeed, it was a discouraging time for Isles' fans. The present was so continually dull, the future so distressingly bleak, and the past too distant to celebrate.
Enter Kyle Okposo.
Here, finally, was a young player with legitimate skill. A player who had put up 40 points in 40 games as a freshman at Minnesota. A player who had participated in two World Junior Championships, for the U.S. no less. A player, at last, whose jersey was worth wearing for all the things his future held in store.
Okposo played in the final nine games of the 2007-08 season, tallying five points in the process. At that pace, he would have been the Isles' second-leading scorer over 82 games. That's exactly where he finished the following year, even leading the team in goals despite missing 17 games.
But it wasn't about the numbers with Okposo – not by first impression, at least. More than anything else, it was about the flair. The personality. Okposo seemed to play the game like so few of his contemporaries, his style almost anachronistic. In many ways – and this remains true today – he was a fossil of the game's primal years.
There was the offensive ingenuity, but also the snarling toughness. He'd set up a linemate one moment and then skate through an opponent's chest the next. There was his wizardry with the puck, but also his willingness with his fists. He'd dress down defensemen with ease and stand up for his teammates without question. He was a hockey player in every way, equal parts Mike Bossy and Clark Gillies.
Hyperbole? Sure. But the point remains the same.
The gruff, blue-collar fans of Nassau Coliseum took a fast liking to Okposo. He was appealing in the way he handled business, relatable in the way he went to work. He didn't bring the team instant success – neither did Tavares, for that matter – but he gave its fanbase much-needed gratification.
At a time when the Isles had very little to boast about, Okposo became a source of organizational pride. He was an attractive player and he was theirs, a figure of envy around the league. The losing wasn't fun and the future still seemed very far away, but hey, we've got Okposo. 
And you don't.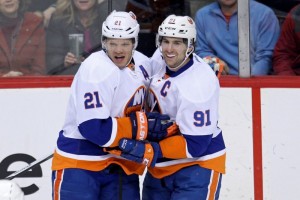 Eventually, the fans started coming for Tavares. "The Next One," as he had been dubbed in Canada, stormed onto the scene in the 2009-10 season and has carried the team's torch since. But it would have been long extinguished had it not been for Okposo.
The two players, for all their collaboration, are fundamentally different. Tavares, a star of the highest order, seems like a gift bestowed upon the Isles from above, a savior from a faraway land. (Canada!) He's polished, refined and so visibly faultless he must be made of different matter. He is no less an Islander because of this, but he feels more like the organization's prize than its product.
Okposo, on the other hand, seems cut from a familiar mold. He's divinely talented but not so smooth around the edges. He's pugnacious, prone to emotional outbursts, and guilty of his share of mistakes on the ice. Most of all, perhaps, he's demonstrative – in a way Tavares never will be. Where the captain tends to keep his emotions in check, Okposo lets them fly.
He's always felt right for these fans. There's just so much more Okposo in them than Tavares. Maybe that will begin to change in Brooklyn as the fanbase grows more sophisticated, but it seems irrelevant either way. What matters is Okposo arrived just when the team needed him, and, in a way no one else could, made Islanders fans feel fortunate again.
Whether Okposo returns next season remains to be seen. The Isles have a number of expiring contracts and limited cap space to doll out raises. It's very possible that Okposo is simply left out by the math.
Either way, one has to assume he'll always occupy a special place in these fans' hearts.