Miserable. Disappointing. Un-watchable.
The Anaheim Ducks embodied at least one of these words on any given night for what felt like an eternity to start the season.
Head coach Bruce Boudreau's proverbial seat went from "hot" to "third degree burn-inducing." Captain Ryan Getzlaf's play was described as "casual."
The scene was set for a flurry of panic moves, and potentially some self-destructive ones at that.
Not so with general manager Bob Murray at the helm. He stood pat, allowing the team to slowly find its feet, and he may soon be rewarded for his patience.
The Burden Of Expectations
The Ducks have given themselves millions of reasons to win now.
Both Getzlaf and Corey Perry are entering the latter stages of their primes, while Ryan Kesler is already beginning to experience a significant decline in offensive production. Kesler just inked a contract that will bring him $6.875 million a year until 2022, while Getzlaf and Perry will both be making $8 million-plus a year until 2021. Anaheim has gone all-in with the notion that those three can be key pieces of a championship team. At those price tags, they had better be right.
While those three players form the largest slice of Anaheim's salary-cap pie, Murray has managed to mix in young affordable talent along with low-cost, high-value free-agent acquisitions. As a small market franchise, Murray has no choice but to make the most of every penny, and he's done that quite well for the most part.
http://gty.im/499438188
Sami Vatanen, Hampus Lindholm and Rickard Rakell are marquee young players that will be restricted free agents this summer. Anaheim should have the cap room to re-sign all three, but the ascension of Shea Theodore and Josh Manson, currently on entry-level contracts, would soften the blow of losing one of Lindholm or Vatanen. Flexibility is key in the modern NHL, and Murray has given this franchise plenty of that.
The gargantuan contracts of their superstars add pressure to win now, but Anaheim has a strong enough stable of youth to be competitive once their big-money stars decline even further. The franchise will not decline with its current superstars, thanks to Murray's work.
Saving The Ducks In 2016
Murray's measured response to Anaheim's struggles needs to be applauded. He's avoided the trap of seeking out quick fixes in exchange for future assets. In fact, he's finding ways to make his team better now and more flexible in the future, a rare double.
Carl Hagelin, who was hailed as Murray's prize acquisition of the summer of 2015, simply never worked out in Anaheim. Though possessing some excellent speed, the scoring he became known for in New York went the way of the VHS; that is, oblivion. Shipped out to Pittsburgh on Sunday morning in exchange for David Perron, Hagelin's hefty four-year contract is now off the books, while Perron is on the last year of his deal.
Perron's playmaking ability makes more sense with Anaheim's offense than Hagelin's up-and-down speed. The Ducks get a superior player while ridding themselves of a contract that already doesn't look good. Pretty impressive stuff.
While he's coolly managed his roster, he's also placed a ton of faith in his embattled head coach. Boudreau has long been criticized for not fixing his playoff failures, yet he's actually one of the most successful regular-season coaches of all time. To boot, he has the Ducks playing some phenomenal hockey at five on five. Anaheim's possession game has consistently improved since the start of the season: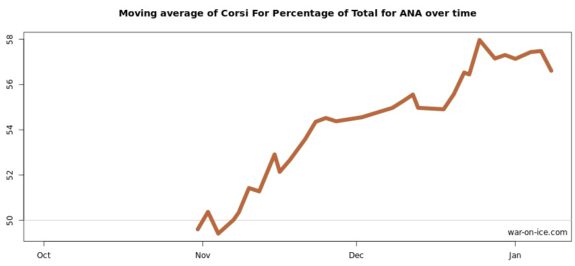 If the Ducks do claw their way into a playoff spot, Boudreau ought to be seriously considered for the Jack Adams Award.
The script of the 2015-16 season could have been written so differently. Boudreau could have been fired 12 games in, and a future star or two could have been shipped out for reinforcements. Would Anaheim have been better for it? Probably not, and the future of the franchise may have been jeopardized.
Professional sports franchises do dumb things. Heck, the Montreal Canadiens just traded for John Scott. Anaheim's general manager avoided making those impulse band-aid moves, keeping the long-term health of the team in mind. In doing so, he may have saved the Ducks from self-destruction.