The NHL continues to reiterate its desire to start the 2020-21 season on or around Jan. 1. However, the league does not want to play through the summer, meaning it will most likely be a shortened season with possible divisional realignments to compensate for some closures in Canada. (from 'Shortened 2021 NHL season may feature all-Canadian Division, says Vegas owner Bill Foley,' Edmonton Journal, 10/16/2020)
An all-Canadian NHL division is a possibility for 2020-21, and could result in a tougher Pacific Division for the Golden Knights.

A closer look at how temporary realignment could impact Vegas for the upcoming season, on @TheAthleticNHL–https://t.co/btKSxuwIIJ

— Jesse Granger (@JesseGranger_) November 21, 2020
The downsides of an abbreviated season are obvious. From a fan's perspective, it means less hockey. And that's never good. For a player, fewer regular-season games will mean that each one has a bigger impact on the playoff picture. And a condensed schedule, while less playing time, means even less time to recoup and recover from the previous matchup.
Nevertheless, a shortened season can have its benefits. Middle-of-the-pack teams are just a few unexpected hot streaks from Stanley Cup contention. And some squads, like the Carolina Hurricanes, who have been together a while and possess a fast-out-of-the-gate playstyle, are better suited for a shorter season and may have more hope for a possible dream run.
Team Chemistry
Carolina has remained dormant for much of the offseason after their first-round playoff exit, opting mostly to retain players from last season and sticking with their plan to build for the future. The only notable signing was a three-year deal for winger Jesper Fast, brought in as a right-handed shooter to replace the retired Justin Williams. But Carolina's inaction during the free agency period could be beneficial in a shortened season.
"I think it's all about the chemistry on the team." pic.twitter.com/W6HAuQVLJl

— Carolina Hurricanes (@Canes) February 28, 2019
Teams with established game plans and a group of players with good chemistry on the ice could be a significant advantage early on in the new and unusual season. A limited schedule, and possibly limited training camp, puts more pressure on teams with new players or new systems to adjust even quicker than normal.
A similar strategy succeeded in the lockout season of 2012–13, where the Chicago Blackhawks were a massive beneficiary to the shortened 48-game season. Chicago made no significant changes to its roster from the previous season after a first-round playoff exit, signing just two free agents in the offseason. The familiarity and team chemistry were major factors in the team starting the season with a record 24 consecutive games without a regulation loss and eventually winning the Stanley Cup.
A fast start will still be needed with every game having more impact in 2020-21. The Hurricanes have proved to be fast starters in years previous, kicking off last season with a five-game win streak and an 8-3-1 record in October 2019. A similarly hot start could produce lucrative results, but the pressure is on for Carolina to perform, and some coaching adjustments from last season are needed.
More Ice Time for Depth Players
Last season, the Hurricanes looked like a team that had the ability to repeat their Eastern Conference Final appearance in 2018-19 and possibly get over the hump. But overreliance on top-end production and a slew of injuries crippled a promising campaign.
Head coach Rod Brind'Amour leaned more heavily on his best players than most other teams, especially when it came to scoring. The dangerous trio of Sebastian Aho, Teuvo Teravainen, and Andrei Svechnikov all tallied over 60 points in the 68 games of the regular season. Stats that are impressive on the surface, but the line's gaudy numbers stem from exceedingly high ice time at the expense of depth players.
With the exception of Svechnikov and Jordan Staal, Aho and Teravainen saw the ice almost four minutes more per game, on average, than every other forward. The overreliance on the top line resulted in stagnated scoring across the rest of the lineup and, as a consequence, Carolina was ranked 15th across the league in goals scored.
The issues also bled into the defense. The Hurricanes were one of two teams in the East with multiple players in the top 15 of average ice time — Dougie Hamilton and Jaccob Slavin — and the only team with four in the top 30.
Predictably, the immense number of minutes resulted in a lot of devastating injuries to top players. Hamilton (23:17) and fellow defenseman Brett Pesce (21:53) both had career highs in average ice time per game, and both sustained severe injuries that kept them out for significant time. In turn, the injuries to the defensemen thinned out the blue line and put more pressure on goaltenders Petr Mrázek and James Reimer, both of whom also suffered injuries. Carolina limped into the bubble, even after a five-month pause, and was bounced in the first round.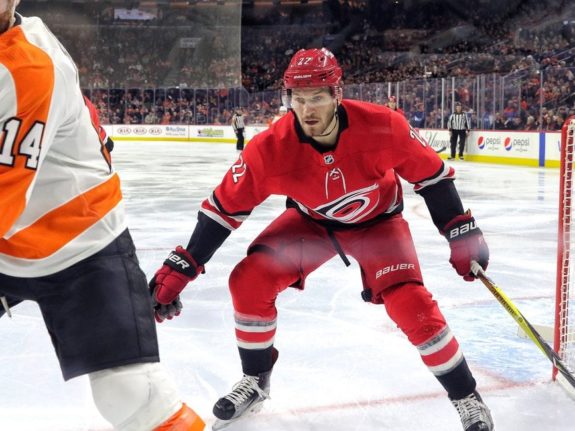 But this issue is more manageable in a shortened season. With fewer games to play, Canes players will have less wear and tear on their body that could result in serious injury, but that is not the be-all end-all. The NHL will assuredly try to compress the season as well, meaning more back-to-back games and less recovery time. With a condensed season, Brind'Amour will need to adjust and more evenly distribute the ice time on his team or suffer the same results as last season.
---
---