The turkeys have been stuffed and the Black Friday sales have been confirmed. It can be difficult to find things to be thankful for, especially during a year that has been filled with as many unforeseen circumstances as this one was. Anaheim Ducks fans, in particular, are one of the many groups in sports currently that may be finding it difficult to be thinking of positives. After all, it's been almost a full calendar year now since the team last stepped on the ice for an NHL game.
As the conclusion to 2020 approaches, so too does the dawn of the 2020-21 NHL season. A Jan. 1 start date seems optimistic given the absence of a training camp start date still, but some will say we should be fortunate that the chance of a new season even exists given the current state of affairs worldwide. Here are three things that Ducks' fans can be thankful for leading up to the 2020-21 season:
Ryan Getzlaf
The offense starts and stops with the captain, Ryan Getzlaf. Going into his 16th year as a pro, the 35-year-old's points totals have steadily decreased since the team's last foray into the Stanley Cup Playoffs. The former Calgary Hitman still possesses a wicked shot––though seldom utilized––and his vision is still among the best in the league.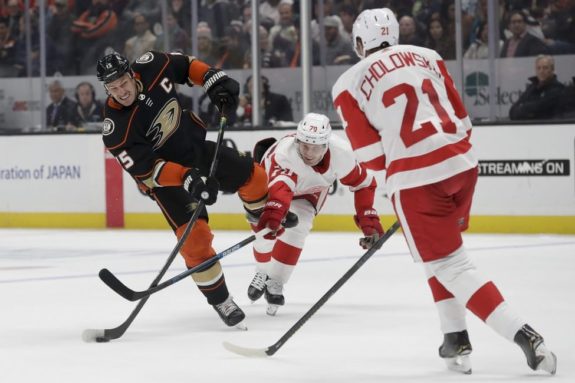 However, the quality of the team around Getzlaf has been on a bit of a decline as he reaches his mid-30s. He was just a wee pup in the league when he won his one and only Stanley Cup in 2007 as part of the "Kids Line" alongside Corey Perry and Dustin Penner, surrounded by savvy veterans like Jean-Sebastian Giguere, Teemu Selanne, Chris Pronger and Scott Niedermayer. While there has been extended team success since then, the Ducks have not returned to the Stanley Cup Final since their 2007 victory.
Getzlaf's contract is set to expire following the 2020-21 season––the 2021 Expansion Draft looms also––and his long-term future has yet to be decided. The forward has made it clear that he wants to remain in Anaheim and win another Cup there, to boot. While the latter outcome appears unlikely for now, there is a high probability that Getzlaf will return on a short but cheaper (his current AAV is $8.25 million) deal next offseason.
Spectacular Scouting
General manager Bob Murray has done quite a bit of his magic through the draft since his appointment prior to the 2013-14 season, finding value in picks like Ondrej Kase and Troy Terry, who were both late-round picks. A lot of this work is thanks in part to Martin Madden, who was named assistant general manager this past season. Madden was previously director of amateur scouting for the Ducks dating back to 2008.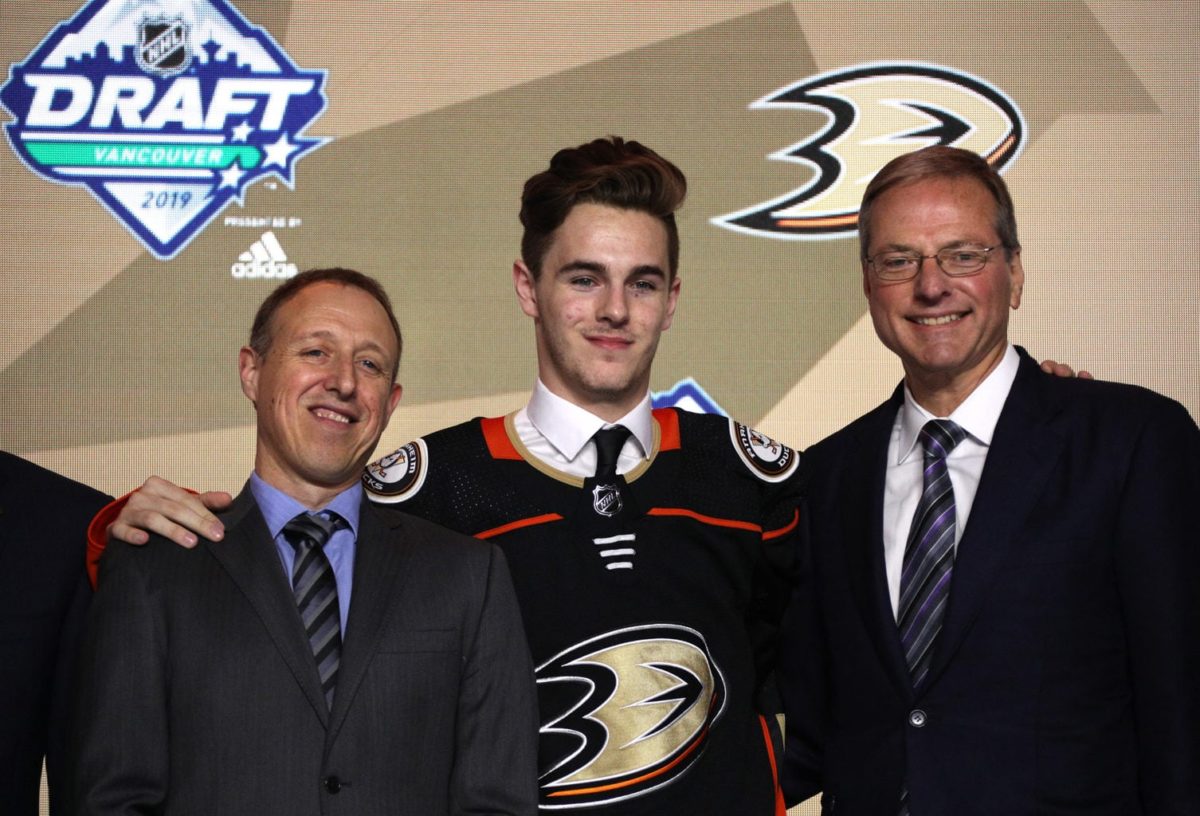 Players like Sam Steel, Max Jones and Maxime Comtois are beginning to carve out full-time roles while other picks like Brandon Montour and Marcus Pettersson have full-time roles on other teams after being traded away. Isac Lundestrom is also knocking on the door after brief cups of coffee during the 2018-19 and 2019-20 seasons.
The Ducks now potentially have their next No. 1 center and No. 1 defenseman in Trevor Zegras and Jamie Drysdale respectively via consecutive drafts. Zegras has the chance to crack the opening night roster after spending one season at Boston University. Drysdale is further back in his expected arrival to the NHL, but has already shown what he can do at the OHL level for the Erie Otters.
Great Goaltending
The Ducks have been blessed with some spectacular shot-stoppers over the last decade. Jonas Hiller made the phasing out of Giguere much easier to stomach, and Frederik Andersen did the same when it came time for Hiller to move on. The emergence of John Gibson shortly after Andersen took full-time control of the crease gave Ducks management a good problem to have. Gibson was eventually chosen as the heir apparent, with Andersen being dealt to the Toronto Maple Leafs for a 2016 first-round pick and a 2017 second-round pick. Coincidentally, these picks were used to select Steel and Comtois.
Locking down Gibson to a long-term deal in 2018 proved to be a shrewd move, as goaltender salaries are continuing to rise regardless of goaltender quality, even in a flat cap era. Gibson's contract could be arguably considered the best value among the top-10 highest goaltender salaries in the league, as the netminder has bailed out the Ducks on numerous occasions.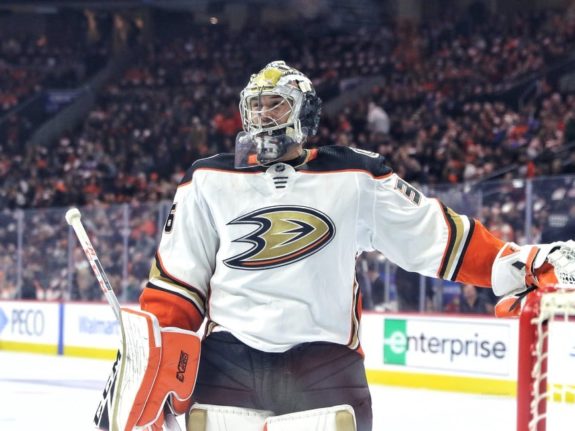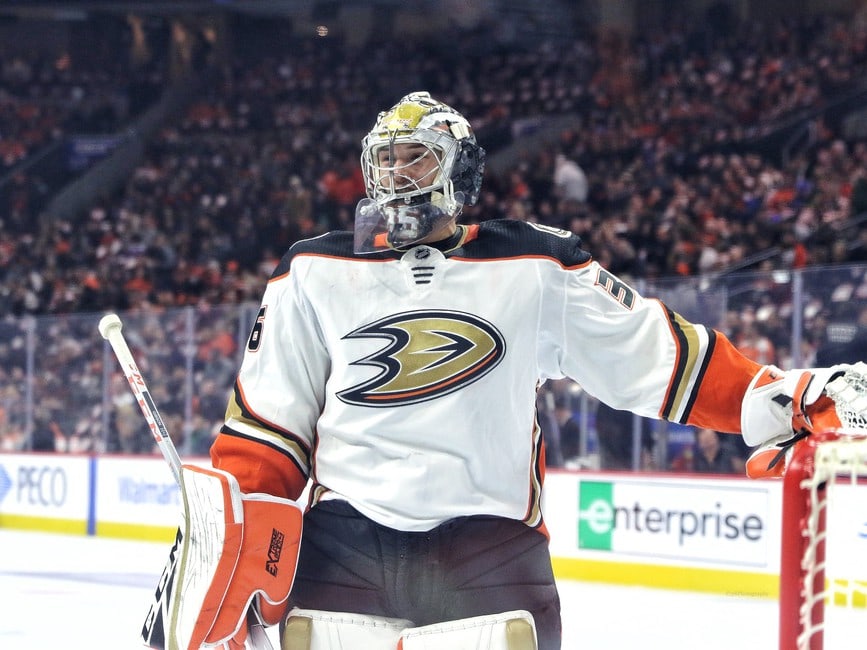 Whenever the new season begins, the Ducks will do their best to be competitive, I'm sure. But the team isn't set up to make a long playoff run––if they even get there––by any means. There are a lot of question marks surrounding the offense, especially regarding players like Sonny Milano and Danton Heinen, who were barely able to showcase their abilities before last season was suspended.
There are some silver linings to look forward to though, and these three items are part of that. The continued development of the young players will be instrumental in turning the Ducks back into a playoff-caliber team and continuing to transition the workload to someone other than just Getzlaf should be extremely pertinent as well.
---
---