Ron Francis, the general manager of the Carolina Hurricanes, is wheeling and dealing. In 24 hours he took what was a rather uneventful NHL Expansion Draft and turned it into fresh excitement for 'Canes fans, picking up defenseman, Trevor van Riemsdyk. As the NHL Entry Draft approaches, it's easy to imagine Francis being extremely confident, playing his cards with finesse.
NHL Expansion Draft Befuddling
Connor Brickley? That was the reaction of myself and fans of the Carolina Hurricanes across the hockey universe when the announcement was made that the Vegas Golden Knights had taken Connor Brickley with their NHL Expansion Draft selection from the Hurricanes. As recently as yesterday, the day of the NHL Expansion Draft, I wrote what some were predicting. Marc-André Fleury would be taken by the Golden Knights from the Pittsburgh Penguins, as would Cam Ward from the 'Canes. Oops.
I do not think anyone was prepared for what we saw during the NHL Expansion Draft. Pick after pick was made that had folks shaking their heads, as the Golden Knights left seemingly much better players on the table nearly every time they picked. Sure, James Neal was plucked from the Nashville Predators, and Fleury was taken from the Penguins. But, when the announcement was made that Brinkley was selected from the Hurricanes, and not Ward, Lee Stempniak or Joakim Nordstrom, words could not describe how befuddled myself and others were. It was truly remarkable.
Francis Dealing for van Riemsdyk
One of the selections that appeared to be strong for the Golden Knights was that of van Riemsdyk from the Chicago Blackhawks.  The young defenseman won a Stanley Cup with the Blackhawks in 2014. No sooner had the dust settled from the Expansion Draft, then the news hit that Francis was still dealing, securing van Riemsdyk and a seventh-round pick in the 2018 NHL Draft from the Vegas Golden Knights in exchange for the Penguins' second-round pick in the upcoming 2017 NHL Draft. In the team's release announcing the acquisition of van Riemsdyk, Francis said,
As a right-handed defenseman, Trevor fills an immediate need in our lineup. He has obviously already experienced success in Chicago, and now will be another good, young piece on our blueline.
For a team that already has a defense that is considered very good, van Riemsdyk should be a solidifying piece who will also spark a competitive training camp.
[NEWS] #Canes Acquire Trevor van Riemsdyk from Vegas: https://t.co/xeI1cnWkjC

D-man earned 16 pts (+17) in 58 gms in 2016-17. #Redvolution

— Carolina Hurricanes (@Canes) June 22, 2017
Francis has had much success dealing with the Blackhawks, most recently filling his desire to shake up things in-goal with Scott Darling, who played as a backup to Corey Crawford, and has also won a Stanley Cup with the Blackhawks. Francis also has former Blackhawks forward, Teuvo Teravainen, who signed a two-year contract extension on June 15 worth $5.7 million; forward, Joakim Nordstrom; and even defenseman, Klas Dahlbeck, who played a handful of games with the Blackhawks in the 2014-15 season. Kris Versteeg was with the Hurricanes in the 2015-16 season, after having played the previous season with the Blackhawks.
The road to hockey in Carolina at times runs through Pittsburgh, but Francis has also carved a trail between Raleigh and Chicago that seems to be helping him build this team for long-term success.
Let's Meet van Riemsdyk
We had our first chance to talk with van Riemsdyk Thursday afternoon via a teleconference between him and the Hurricanes media. When asked how it would feel to now be one of the older defensemen in the locker room, as opposed to one of the younger as he was in Chicago, van Riemsdyk said,
It's a different dynamic, obviously. In Carolina, it's. a younger group, but it's really talented. A group of guys that have played really well, and that you can learn from, too. It's definitely going to be a fun group to be a part of.
Van Riemsdyk has played in the past with some of the players on the Hurricanes' roster, and he said that will make the change a little easier. He said that having played with Darling, Teravainen and Nordstrom will make the change easier. "I'm really excited," he said.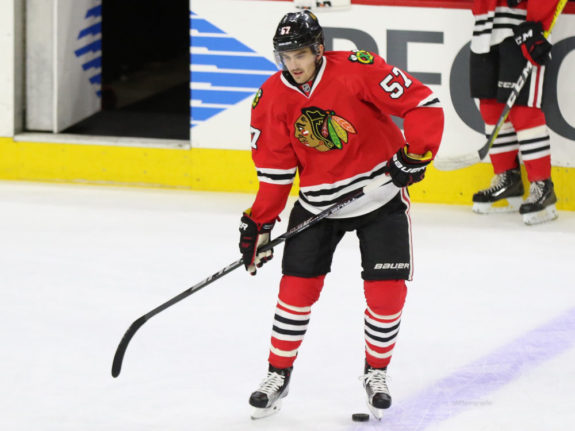 Asked about what the last 24 hours had been like, first being selected by the Golden Knights and then traded to the Hurricanes, van Riemsdyk said,
It's definitely been a bit of a whirlwind the last 24 hours. Obviously, there's a lot of speculation about what's going to happen. I just tried to stay in touch with my agent and keep each other as informed as we can with what we're hearing and what we know or don't know.
Adding that he couldn't be happier to be in Carolina, he said, "It's a great team headed in a great direction. I'm excited to be a part of it."
Having played in front of Darling with the Blackhawks, van Riemsdyk said that familiarity can make a difference? "Obviously, Scott's a great goalie. If he sees it he's going to save it," van Riemsdyk said. "He's made some pretty spectacular saves and bailed me out quite a few times."
Van Riemsdyk described his style of play as trying to be a simple player, "getting the puck out and going as fast as I can."
#Canes upgrades

Goaltending ✅
Defense ✅
Offense 🙏

2/3 before even the entry draft is great! #InRonWeTrust

— Jonathan 🏒 (2-1-0) (@Wolfpuck87) June 22, 2017
Hurricanes head coach Bill Peters should be very pleased. Francis is playing his cards like a veteran Vegas high-roller. Now if he can deal for a scoring forward or two, the odds makers might have to rethink the 'Canes' possibilities in the upcoming season.