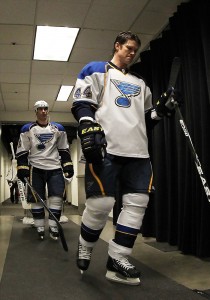 Over the past few weeks it has been crystal clear who the Buffalo Sabres and their fans want in Buffalo next season, someone with the last name Ryan or Doan.
However, with Doan being a free-agent and deciding his future, it  appears there are other teams leading in the chase for his duties, and in Ryan's scenario, the Sabres may not have the pieces or be willing to part with the pieces necessary to acquire him from the Anaheim Ducks.
So, if the Sabres fail to grab Doan and Ryan, which my money is on, what would be the the next best thing for the blue and gold?
That answer could come in the shape of big, 6 foot 5 inch, Jason Arnott. The 37-year-old, free agent, has a long storied career, and is coming off of a season where he recorded 17 goals and 34 points for the resurgent St. Louis Blues. He was brought into the Blues' locker room to bring experience and leadership to a rather young roster, a scenario that could be very similar to the one he would see if Buffalo were to sign him.
Arnott is a very big body, that would go along with the Sabres' move to become a bigger and tougher team next season, that makes his money in front of the net. Although Arnott is inching towards the end of his career, he has proven he can be a heavy force on the fore-check and could help in the Sabres' makeover.
Along with Arnott's offensive play he put up a respectable plus-13 rating, as a part of a defense first, offense second, Blues team last season. So Arnott would not bring in the defensive liability that comes with signing most seasoned veterans.
Another plus, Arnott proved to still be effective with the man advantage, scoring six goals and recording 14 points while on the power play last season, a total that would have tied Arnott for third in power play points on the Sabres' last season. But, where Arnott would be most valuable for the Sabres would be in the middle.
In 769 face-offs last season, only newly acquired Steve Ott took more face-offs last season, Arnott boasted a 50.3 win percentage. Arnott would step into the center role for the Sabres' bottom six forwards, and could even step up into that number two spot if needed.
A line made up of, Arnott between Ott and Patrick Kaleta, would be a physical force that the Sabres have not had in quite some time.
But with a young crop of players like, Cody Hodgson and Tyler Ennis, just about ready to jump into the lime light in Buffalo, Arnott's presence could be a great tool in molding their young talent and prove to be the best reason to bring Arnott in.
Coming off of a single year contract worth a cap hit of, $3,875,000, the Sabres would be able to bring in some useful veteran leadership and not break the bank in while doing so.
Eric received his BA in Journalism from California State University, Northridge. Eric has contributed to RinkRoyalty.com, Buffalowdown.com and California Rubber Magazine.