Did anybody see these performances coming just a few weeks ago? After stumbling his way through the majority of the season, Ilya Bryzgalov seems to have really turned things around for the Flyers. Since a 5-4 shootout win over the Calgary Flames back on February 25th, Bryzgalov has given up six goals in his last five games and has gone 4-1 with two shutouts in those games. Bryzgalov has become the first Flyer to record two shutouts in the same week since Marty Biron did it back in 2008.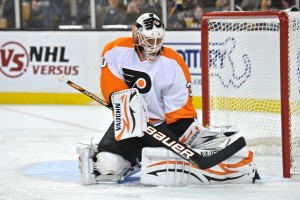 Things have not been easy during his first season in Philadelphia. Bryzgalov was booed on a near nightly basis at the Wells Fargo Center in January but that all changed in last night's shutout victory over the Florida Panthers. Late in the third period after making a flurry of saves, the building was rocking with enthusiastic chants of "Bryz! Bryz! Bryz!". Bryzgalov has really struggled to find any consistency this season. He was good the first few games, then he was "lost in the woods" before finding his way and putting together a great stretch into early December. That was when the wheels fell off. Once Bryzgalov became a TV Star on HBO's 24/7 series leading up to the Winter Classic, Bryzgalov had no filter whatsoever and flat out told the media he had no confidence in himself and that this team had no chance winning with him in between the pipes. After the Winter Classic there was very little consistency for Bryzgalov, you never knew how he was going to perform and it was almost guaranteed he would give up a goal in one of the game's first shots.
Earlier this week, Tim Panaccio of Comcast Sportsnet reported that Danny Briere and other team leaders had sat Bryzgalov down and had a meeting with him about being a better teammate. That meeting seems to have been the turning point for Bryzgalov as you can see in the way he carries himself during games and in his post game interviews that Bryzgalov has certainly gained more confidence in himself. While he has refused to talk about his own performance, even going as far as shushing a reporter, his responses have been much more laid back and he hasn't criticized himself in quite a while. The only animated thing he has said recently came after last night's win when asked about the Flyers' new rookie defenseman Brandon Manning he said, "Brandon Manning was released by the Colts and he played tonight here, he stepped up and played very good."
Bryzgalov has one of the toughest jobs in the NHL being the starting goaltender of the Flyers. Goalies usually play a huge part in winning Stanley Cups and the Flyers haven't done that since Bernie Parent backstopped them to back to back championships in 1974 and 1975 before losing in the finals in 1976. Parent is still one of the most beloved sports figures in Philadelphia and can be seen on a regular basis wandering around the Wells Fargo Center signing autographs. The fans here always look to the goaltenders as the scapegoat, and they usually have good reason to. The goaltending in Philadelphia has been mediocre at best since the days of Ron Hextall. Brian Boucher failed to catch on in the early 2000's after going to the conference finals as a rookie. After him it was guys like Roman Cechmanek, Robert Esche, Antero Nittymaki, Ray Emery, Michael Leighton, Boucher again, and Sergei Bobrovsky before Flyers' owner Ed Snider got fed up with the shortcomings of his teams and signed Bryzgalov to a nine year $51 million contract this past June. While he has not yet lived up to that contract, things are starting to look good and all will be forgiven if he can lead the first parade down Broad Street since 1975 in a few months.