On Jan. 15, 2015, the Minnesota Wild made a trade to acquire Devan Dubnyk from the Arizona Coyotes. In the midst of the Wild's mid-season goaltender crisis, most Minnesotans scratched their heads and wondered what the heck Chuck Fletcher was trying to accomplish with this move. Dubnyk was far from the noteworthy netminder Minnesota was in need of, and few believed he would have any significant impact on the rest of the Wild's season.
But we all know how the rest of this story goes: Dubnyk experienced some sort of superhero transformation on his journey from Arizona to Minnesota; he became a brick wall in net for the Wild; and he was largely responsible for pushing the team into the postseason while also becoming a league-leading, Vezina-nomintated goaltender.
The end of the 2014-15 season was nothing short of amazing for Dubnyk and the Minnesota Wild. The Wild finally believed they had found a reliable goaltender, Dubnyk had saved his career, and fans felt they no longer had to worry about the Backstrom/Kuemper dilemma.
Yet as the offseason approached and Dubnyk was offered a six-year, $26-million contract, questions arose and many wondered if Dubnyk's unbelievable play would continue in the years to come. Dubnyk had never played like this before in his career, and the incredible skills he displayed in 2014-15 seemed to be a fluke.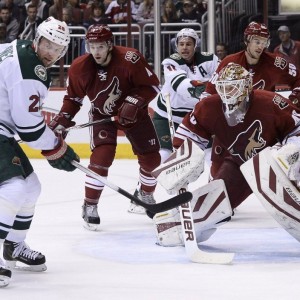 Dubnyk Mortal After All
Unfortunately for the Minnesota Wild, these worries came true. So far this season, Dubnyk does not appear to actually possess superhuman skills or brick wall-like abilities. He is, as some of us feared, just an ordinary, human goalie.
That's not to say Dubnyk is not talented, effective, or a welcome addition to the Wild roster. He still has been relatively stable as Minnesota's starting goaltender, and it's frightening to imagine what this team would look like with a tandem of Backstrom and Kuemper instead. Dubnyk has helped the Wild earn a 7-2-2 record through 11 games, but he definitely has not been the driving force that he was last year.
Last season, Dubnyk ended the regular season with a 36-14-4 record, six shutouts, a 2.07 GAA and .929 save percentage, a Masterton Trophy and a Vezina nomination. Not too shabby for a guy that had previously bounced around between five different teams throughout the past five years. Dubnyk's stats were second only to league leader Carey Price.
So far this season, things aren't looking as outstanding for Dubnyk. Although he has a decent record of 7-2-1, the 29-year-old netminder has looked a little shaky at times and in turn has not been able to post league-leading numbers. Dubnyk currently ranks no. 24 among all goalies in the league with a 2.59 GAA and no. 31 with a .898 save percentage.
When the Wild played the Chicago Blackhawks last Friday, Dubnyk gave up four goals before the Blackhawks got to 30 shots. Saturday, when Minnesota faced the St. Louis Blues, Dubnyk allowed two goals within the first ten minutes of the game. It's not fair to blame all of this on the goaltender, but it's pretty clear Dubnyk's magic from last season is starting to wear off. While it's true that stats aren't everything, they are a pretty good indication of how a player is performing. So far this season, Dubnyk's stats show he hasn't been quite as good as he was last season, although 2015-16 is still young.
Looking Ahead
There's no doubt that Dubnyk will continue as Minnesota's starting goaltender, and there's no reason why he shouldn't. He is by no means a lousy goaltender, and he most likely will not become anything close to that over the next season. But he is not superhuman, and he is not a brick wall. He is a goaltender, and he has, and will continue to stop most of the shots that come his way.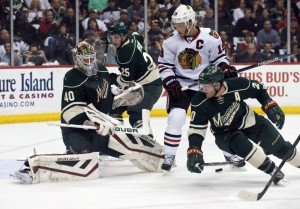 However, with this in mind, the rest of the team needs to recognize that Dubnyk's exceptional play last season probably isn't going to happen again this year. That means they're going to need to give him a little more help in front of the net and not rely on him completely to win every game.
The Minnesota Wild are still an incredibly talented and dangerous team, regardless of whether Dubnyk has a league-leading save percentage. This season things just aren't going to be as easy as they were to end last season, but that really shouldn't have any impact on this team if they continue to work together and play as a team. The Wild proved they can beat teams like the Blackhawks even when Dubnyk isn't at his best. There's no reason Dubnyk's mortal play should keep this team from accomplishing anything short of the playoffs.
Alli covers the Minnesota Wild and has been a contributing writer with THW since August 2014. She is currently a journalism and sports management student at the University of Minnesota. For all of your Minnesota Wild news and updates, follow her on twitter: @allibaker23