The season got off to a horrendous start. Perhaps one of the worst case scenarios for the Winnipeg Jets became a reality in the first game of the season when Evander Kane went down with an injury. Kane collided awkwardly with teammate Mark Scheifele at the blue line just a few shifts into the opener against the Arizona Coyotes. Scheifele skated away unharmed, while Kane has been out ever since with a knee injury.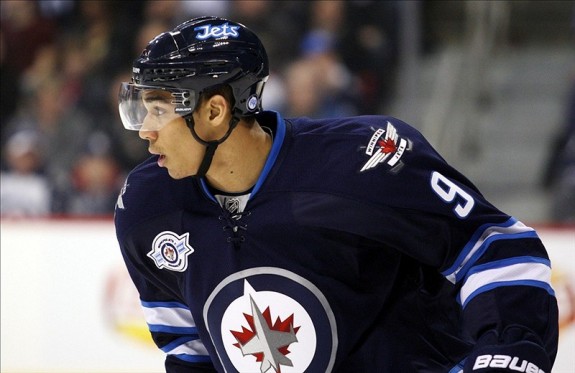 The Jets had little trouble with the Coyotes that night, blowing them out 6-2 on the road. But, over the next four games the Jets scored just twice, losing decisively to the San Jose Sharks, Los Angeles Kings, Nashville Predators and Calgary Flames. Sure the Jets have won three of their last four games since, but even during that run they managed 11 goals in four games. It's good, but nothing overwhelming from the offense. An offense which has relied heavily on two players: Andrew Ladd and Bryan Little. They have combined for nine goals and seven assists on the season.
The Jets need goals and Kane should provide plenty. The 23-year-old participated fully in practice ahead of the Jets game against the New Jersey Devils on Thursday. According to Ed Tait of the Winnipeg Free Press, Kane had this to say after practice. "I think I could play tomorrow but, unfortunately, it's not up to me. We'll see what happens, what the docs say and hopefully we get some good news and I'll be able to play."
Head coach Paul Maurice is confident with Kane's conditioning and his work on the ice and officially lists him now as day-to-day stating,
"Evander feels good. He's on the ice, he's strong… it's just a matter of him getting cleared to play. I have no issues with his conditions or his work level. We tested him yesterday and he's still in better shape than 90 per cent of the guys in the league."
#NHLJets optional skate at Prudential Center today. Evander Kane is not wearing non contact jersey #bn pic.twitter.com/H5yKzp7PYK

— Ed Tait (@EdTaitWFC) October 29, 2014
Now comes the question of where he will play. If he is ready to go Maurice probably won't hold him back. Kane should be expected to earn plenty of time both at even strength and on the power play. Slotting in alongside Mark Scheifele and Blake Wheeler on the second line seems to make the most sense. It would give the Jets two strong lines that can attack with speed, skill and a bit of a physical edge, specifically with Kane.
As previously mentioned Ladd and Little have been the dominant duo offensively. Scheifele has struggled to produce with just one goal and one assist, while Blake Wheeler has three goals and two assists, all of which have come five-on-five. Kane should help on the forecheck, add speed on the rush and contribute a few rebound goals off the cycle.
He should be a difference maker and he should average close to half a goal per game. If he doesn't, the Jets will likely stay near the bottom of the Western Conference.
Eric is a postgraduate public relations student at Humber College. Prior to that he obtained a bachelor's degree in communication studies from the University of Windsor. He covers the Winnipeg Jets for The Hockey Writers and is a featured columnist for Bleacher Report.