Head coach Barry Trotz and Co. opened up training camp on Monday morning with two groups of skaters taking the ice.
Of those skaters, we all know New York Islanders' star center Mat Barzal was not on the ice as he and general manager Lou Lamoriello continue to hammer out a contract. As for the rest of the roster, it remains mostly unchanged, with a dash of a few young faces, however, minus two on the blue line.
Kids Make an Impact
Skating with the first group, Oliver Wahlstrom reported for duty after being recalled from loan overseas with AIK of the Allsvenskan league. The 20-year-old sniper tallied eight points (4G, 4A) in 10 games skating in Sweden's second-highest professional league.
A third-line spot is up for grabs on J.G. Pageau's wing, and a continued strong effort from Wahlstrom could help him claim that spot by the end of training camp.
"I'm not really concerned about the goals," Trotz said on Monday afternoon when asked about the potential inclusion of top prospect Oliver Wahlstrom in the starting lineup. "I'm more concerned about the wins. As you find in the playoffs, it's harder to score goals…if you look at the teams that went to the final four last year, they were probably in the top five of defensive teams."
Ilya Sorokin headed out to the ice with the Islanders second group and new veteran goaltender Cory Schneider.
Sorokin had been with the team for the entirety of the NHL playoffs, so this wasn't the first time he skated with the team. Currently, he's been on Long Island for about a month and a half now, training for the upcoming season and working on his English.
Semyon Varlamov chimed in on his transition from the KHL to the NHL when asked about Sorokin's transition:
"There's definitely more traffic in front of the net for NHL goalies,'' Varlamov said. "I remember, in 2012 when I played in the KHL during the lockout, I had no problems during the game, to (be) able to find the puck. And then we finished KHL season and came back… it was very difficult for me, to play the game again here, because, it's really hard to find a puck (through traffic) in this league.'' (from 'Islanders rookie goalie Ilya Sorokin must adjust to NHL style of play, Barry Trotz says,' Newsday, 01/03/2021).
Dmytro Timashov remains a restricted free agent. However, he was out on the ice for day one, as the Islanders still own his rights. Lamoriello acquired the 24-year-old winger from the Detroit Red Wings for future considerations on Dec. 11th, 2020.
Bode Wilde was also invited to the first day of training camp and made a good impression on Trotz.
After having his season cut short twice in 2019-20 due to injury and then the pandemic, Wilde's impression is a great development for a thin Islanders prospect pool.
Well Conditioned
With the shortened training camp and no exhibition games before puck drop on Jan. 14th, Trotz is going to have to figure out his forward groups quickly.
However, Trotz doesn't appear eager to do so within the next few days, as he has other plans.
"We're going to go three days working on fundamentals, I wouldn't read too much into the lines right now," Trotz admitted. "You have to have a really good foundation right now. There isn't going to be a lot of practice time…you're probably going to have four or five games in a week [during the season]. Rest is going to be a bit of a weapon this year."
Coming up two wins short of a Stanley Cup Final berth, Trotz believes the Islanders have an advantage coming into the 2020-21 season with mostly the same group. First and foremost, he is going to make sure his team is well-conditioned.
"Today was more about our lungs and our legs than it was about making plays," Islanders captain Anders Lee said. "Right now, we're all genuinely looking forward to getting things going again. When you have a run like [last season's], it's always disappointing to have it end. The step we took was also inspiring in a way, too, and extremely motivational. It's a combination of us working toward that final step and at the same time, building off the end of last year."
After their first day on the ice, the head coach expressed his pleasure with the state of the team's conditioning.
Defense Pairs
Whereas we won't take stock in the forward line combinations just yet, Trotz did confirm the top-6 defensive pairings, and it's pretty much what you expected.
Back in October, Lamoriello made a deal with Colorado Avalanche GM Joe Sakic that sent Devon Toews to the Avs for two second-round draft picks. A little over a month later, Johnny Boychuk announced his "retirement" from hockey, a forced life decision after his eye injury in the 2019-20 season.
When the team returned to head into the bubble, they cleared Boychuk to return as well. However, newly acquired Andy Greene played his way into the lineup, and Boychuk watched from the press box for most of the playoffs.
Now, Greene has returned to the Islanders for the 2020-21 season (although the terms of his contract are still unknown) and is paired with young Noah Dobson.
Lamoriello gave Dobson the vow of confidence after trading Toews to Colorado. "We would not have made this move certainly if the ice time that Devon received, we didn't have the ability to put a player into that, and Noah Dobson will certainly, we feel is ready to take the next step," said Lamoriello. "We'll have to just wait and see."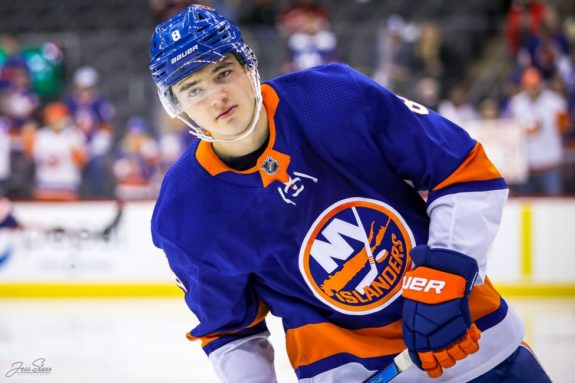 Nick Leddy will pair up with Scott Mayfield with long-time partner Boychuk out of the equation. Adam Pelech, who has confirmed he's 100% healthy, and Ryan Pulock remain the Islanders' top-pairing defensemen.
As for a seventh defenseman and the taxi squad, Sebastian Aho, Grant Hutton, Thomas Hickey, Sam Bolduc, Parker Wotherspoon, and Wilde all remain in the mix.
After the first day of training camp, the Islanders are happy to be back and eager to build off their success from the bubble. The expectations are high within the locker room for the close-knit group.
"Tremendous credit to all our guys," said Trotz. "I feel like we're going to be in a good place."
Want more Islanders content? Check out the Nassaumen Hockey Podcast, hosted by The Hockey Writers authors James Nichols and Jon Zella. Follow on Apple Podcasts, Spotify, and Google Podcasts!
---
---