The New York Islanders' franchise cornerstone, Mathew Barzal, is a restricted free agent (RFA) after the season. Many have analyzed how much the two-time All-Star will make this offseason, and it comes as no surprise that the Islanders want to lock up Barzal for the future. But what should both sides do? (from 'Mat Barzal's future a tricky situation for Islanders,' New York Post, 01/24/2020)
Bridge Deal Makes Long-Term Sense for the Islanders
When the NHL and NHLPA signed the newest CBA back in 2013, they stipulated a clause that the maximum length of a player contract is eight years. This was done to stop teams from giving out ridiculously long contracts, aka the Rick DiPietro rule. Also, players cannot be unrestricted free agents (UFAs) until they are 27 years old or have played more than seven seasons. Because of this, the Islanders own the RFA rights to Barzal until 2023.
The Islanders have two options:
A short-term "bridge deal" that would expire before Barzal's RFA eligibility runs out.
A long-term contract.
The Islanders should sign Barzal to a bridge deal, and then to a longer contract when he's 25 years old. Patrik Laine and Brayden Point both signed shorter contracts in their first year of RFA eligibility and will be due for another one before the Winnipeg Jets and Tampa Bay Lightning, respectively, lose their rights.
Islanders general manager Lou Lamoriello could take a play out of the Jets' and Lightning's playbooks and maximize the number of years he can hold onto his superstar. If the Islanders signed Barzal to an eight-year deal this offseason, they would only have him under contract through the 2026-27 season. If they signed him to a three-year deal, then signed him to an eight-year deal in his last year of restricted free agency, he could be under contract through 2029-30. The Islanders would then have Barzal locked up until he's 33 years old.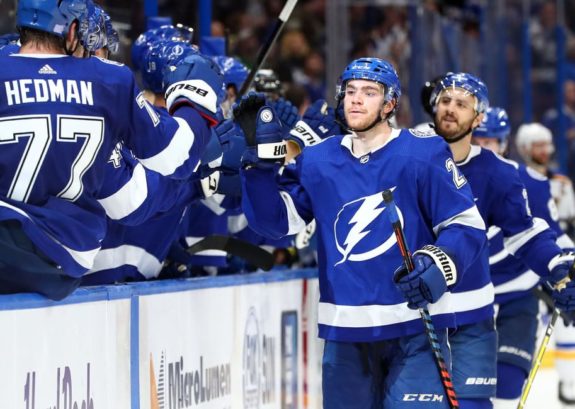 In addition to the term positives of signing Barzal to a short-term deal and then a long-term contract, it would make financial sense for the Islanders to do so. Laine and Point make $6.75 million this season, about $3 million less than the average RFA who signed a long-term deal last season. The Islanders currently sit in a precarious financial situation with having to not just re-sign Barzal, but Devon Toews and Ryan Pulock as well.
By signing Barzal to a bridge deal, that would also free up more money to spend for the next three seasons, and we know that the Islanders are continuously on the hunt for high-end offensive talent. It all makes sense why the Islanders would want a bridge deal, but would Barzal?
Positives of a Short-Term Deal for Mathew Barzal
The NHL has an opportunity to restructure their CBA and get a new US television deal after the 2021-22 season. Their average revenue has increased by 60 percent, and their new deal will reflect that rise. Pundits expect the new TV deal to pay the league around $400 million annually, almost a 100 percent increase from the last one. ESPN, FOX, Turner, DAZN, and NBC, among others. have all expressed interest in acquiring the rights to NHL games. Could a bidding war ensue, and the new deal be worth even more? Ok, the NHL will make a boatload more money, but why does that impact Barzal?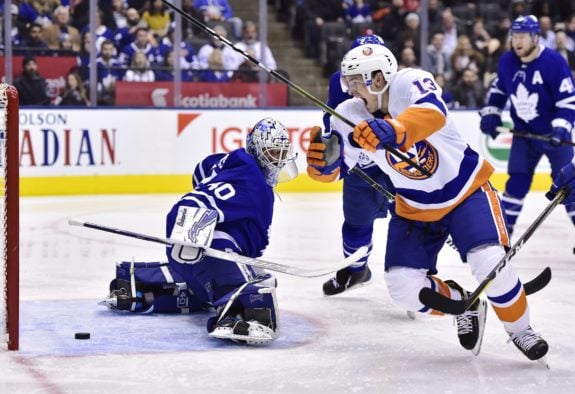 With every new CBA and TV deal, the NHL salary cap hits a major jump. The year after the NHL locked up their current TV deal with NBC, the salary cap increased by almost nine percent. Since then, the NHL's popularity grew, and with more teams (including the Seattle expansion franchise as they will have already begun play) now in the fold, the average player salary will skyrocket in the summer of 2022. If Barzal decided to sign a short-term deal now, and a long-term one in 2023, he would be able to capitalize on the cap increase. He may make $2 million less next season than he would if he signed an eight-year contract, but he could more than recoup that money in his next negotiation. Elite players in free agency currently make around $10-11 million; I project that number to balloon to $14-15 million in just a couple of years.
If you have been watching Islanders games closely over the last two seasons, you will see the improvement in Barzal's game. He's become more of a two-way player and is learning how to be a goalscorer. Currently, he's a top-20 player in the league, and will not be paid the same amount of money as someone like Auston Matthews. I would put money down that in the next three years, he will be a top-five player in the league. He should bet on himself and cash in, in 2022 or 2023.
The New York Islanders are trying to take advantage of their window in the next couple of seasons before their core becomes too old. Lamoriello wants to get the most bang for his buck and is willing to pay Barzal more money down the line. He could exploit the new CBA, TV deal, and bet on himself for a massive payday after the 2022-23 season. This could be a win-win for both sides as the Islanders are financially flexible, and Barzal will make more than he otherwise could have.