As the New York Islanders and much of the league approach the mid-way point in the season, teams are beginning to be sorted out between contenders, those on the bubble, and teams that can't wait for their nightmare to be over. There's still some time left, sure, but in a tight MassMutual East Division, the Islanders need to enter March like a lion and find some consistency, if they plan on making the postseason somewhat comfortably.
Consistency
A lack of consistency has plagued the Islanders this season and in parts of the 2019-20 campaign, and will likely continue to be the monster under their bed moving forward unless something changes. When this team is playing well and head coach Barry Trotz can roll his lines, the Islanders are a tough team to beat. It helps that Oliver Wahlstrom has come out of his shell offensively, finally scoring a "real" goal, as Butch Goring put it on the MSG broadcast, during the Islanders' 7-2 thumping of the Boston Bruins. Couple this with J.G. Pageau's pace so far this season and the Islanders finally have a third line with Michael Dal Colle that can find the back of the net and not be a defensive liability.
And to be clear, we're not talking about a clunker here and there or even the occasional bad period or two, which is expected. The Islanders tend to fall asleep from a handful of games to sometimes seven or eight contests before they begin to turn things around. We saw it at the end of the 2019-20 regular season before the pause and then again at the beginning of this season for a five-game stretch before their nearly 10-game point streak. Their play gets sloppy and lazy, reverse passes at the offensive blue line, and there are continual defensive lapses beginning in the neutral zone.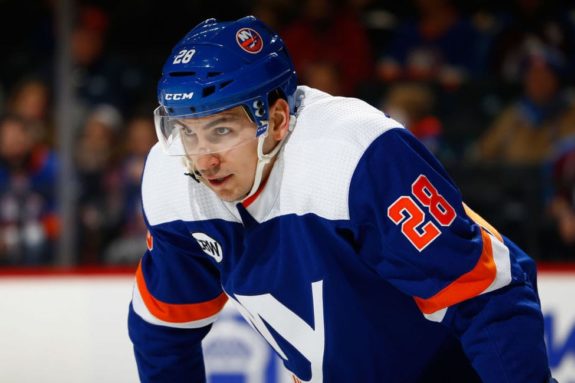 Those defensive lapses have occurred a little too much with the newly formed defensive pair of Nick Leddy and Scott Mayfield. As The Athletic's Arthur Staple pointed out in an article in the middle of last month that was critical of the pair, the two are a good fit on paper, but there are some challenges, and it's been fairly obvious when mistakes pop up.
Although these two have been teammates for five years, it's still a new pairing. Leddy is a seasoned veteran, but he doesn't have the same hockey IQ that Devon Toews does; it's easy to believe that Toews' hockey sense and elite skating helped cover up mistakes on the Toews-Mayfield pair better than the Leddy-Mayfield pair has done so far.

From Islanders Thoughts: Five Islanders thoughts: Do they have a second-pair problem on defense?, The Athletic, 2/12/2021
But it's not all on that defensive pair for the issues in their own zone. Too often we see forwards gliding back not covering someone driving the net, an avoidable situation that could have saved the Islanders in a number of games this season. There have been a few plays where Mathew Barzal, Josh Bailey, and Brock Nelson have been caught puck-watching or pick up the wrong players on the way back. On occasion, this is going to happen, but with so little room for error, and the Islanders' lack of scoring, though that's looked better as of late, they need to eliminate those lapses.
Where the Islanders have found consistency this season is between the pipes. Semyon Varlamov has been an absolute rock in the net and Iyla Sorokin has bounced back well after his first NHL start, which came against the New York Rangers. Though he's only played five NHL games so far, his numbers are pretty good, especially if you remove the game against the Rangers. With that deduction, his numbers reflect his time in the KHL – a 1.50 goals-against average and a .935 save percentage. Whether he can keep that up remains to be seen, but it'll be important for him to get some games in March with the heavy schedule and the stretch run really beginning in late March/early-April as the playoffs take shape.
Including their tilt against the New Jersey Devils on Tuesday, throughout the month of March, the Islanders have 16 games in 31 days. At the end of it, just a month will be remaining on the shortened season. Without getting a consistent, full-team effort, the Islanders may find themselves on the outside looking in with a tough mountain to climb at the end of it.
Want more Islanders content? Check out the Nassaumen Hockey Podcast, hosted by The Hockey Writers authors James Nichols and Jon Zella. Follow on Apple Podcasts, Spotify, and Google Podcasts!
---
---