The New York Rangers' top prospects have shuffled a little over the last month. Nils Lundkvist still tops the list but Vitali Kravtsov has climbed back up to the second spot, all while Brett Berard has fallen off while playing for Providence College of Hockey East after a strong World Junior Championship, helping the United States win a gold medal.
1. Nils Lundkvist
Lundkvist, the smaller but talented defenseman from Sweden, keeps producing goals and points in the Swedish Hockey League (SHL). Lundkvist, the Rangers' 2018 NHL Entry Draft first-round selection (28th overall) is leading all SHL defensemen in goals (12) and power-play goals (7). Lundkvist already has more goals than last season when he finished with 11.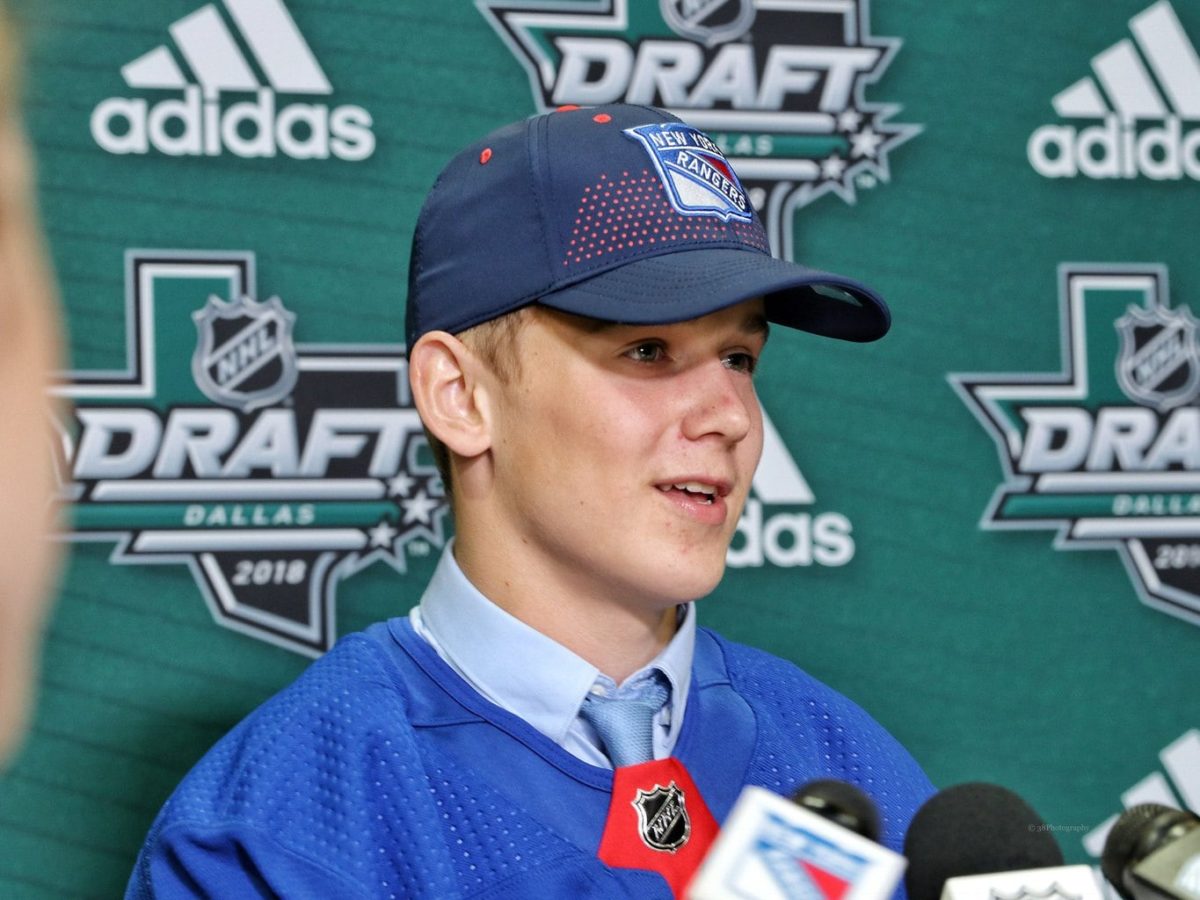 In a game last week against Frolunda, Lundkvist had a goal and an assist while logging more than 25 minutes of ice time. The following game against Malmo, he notched a tying goal and had just over 22 minutes of ice time. Lundkvist has 73 career points in 160 games during his SHL career. That ties him for first all-time among U-21 (Under-21) or younger players. Since the beginning of last season, he's the league leader among defensemen in goals and third in points with 23 and 58 respectively.
2. Vitali Kravtsov
Kravtsov has regained some traction that he lost last month within the Rangers' top prospect pool. The 6-foot-3, 189-pound right-wing from Russia, who was also a first-round (ninth overall) 2018 Rangers' draft pick, had 24 points in 49 games for Traktor of the KHL to finish out the 2020-21 regular season. Last week against Torpedo, he was a plus-two, and against Metallurg Magnitogorsk, scored to tie the game with eight seconds left and logged the most ice time of any skater at 20:26.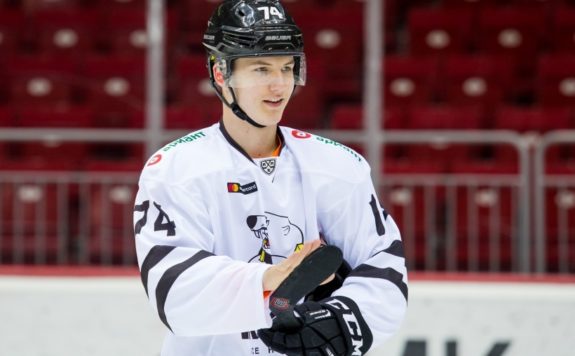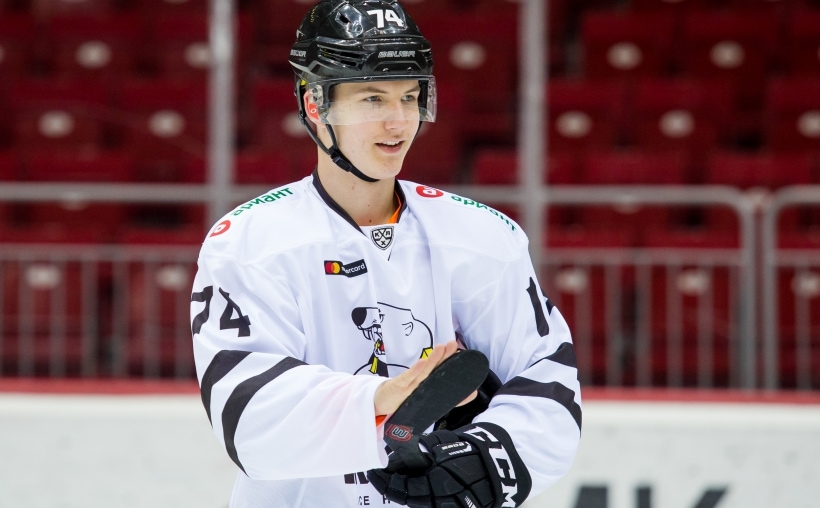 Kravtsov finished the season with career-highs in goals, points, plus/minus and shots on goal. He had 16 goals, 24 points, was a plus-eight and recorded 125 shots on net. He was tied for the team lead in goals and had the most even-strength snipes at 13. Rangers star Artemi Panarin had 30 goals in 158 KHL games while in his U-22 season or younger, Kravtsov has 30 goals in 148 games while in his U-22 season or younger. Traktor starts their playoff series against Salavat Yulaev on Mar. 3.
3. Zac Jones
Zac Jones, Richmond, VA native, has recorded a point in 10 of his last 14 games, including one last weekend against Providence. In that 14-game span, Jones has 4 goals and 10 assists while playing for UMass of Hockey East. The team is 9-3-1 in games that Jones has gotten at least one point.
The 20-year-old 2019 Rangers' third-round draft pick, who's in his sophomore season, is tied for fourth in points among NCAA defensemen and tied for fifth with assists since he started his college career. So far in the 2020-21 season, he's tied for third in goals for NCAA defensemen.
4. Tarmo Reunanen
Tarmo Reunanen has at least a point in four of the Hartford Wolf Pack's first five games. The six-foot, 185-pound Finnish defenseman has two goals and three assists so far in the COVID-19-shortened 2020-21 AHL season. However, he's minus-two with no penalty minutes. The Rangers picked Reunanen in the fourth round of the 2016 NHL Entry Draft.
5. Morgan Barron
Morgan Barron is on a three-game point-scoring streak. The 6-foot-4, 220-pound Hartford Wolf Pack center from Halifax, Nova Scotia, has also scored in four of the Wolf Pack's first five games this season.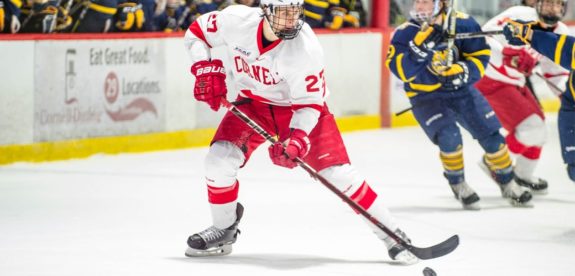 Barron has recorded two goals, two assists, is a plus-two and has two penalty minutes thus far. Barron was drafted in the fifth round (174th overall) by the Rangers in the 2017 NHL Entry Draft.
The Five of March
These top five Rangers' prospects for the month of March are all poised to keep building on their 2020-21 performance. While it's clear that Lundkvist and Kravtsov are far-and-away the top two Rangers prospects in production, potential and consistency, the organization still has a deep prospect pool behind them.
*Vitali Kravtsov video courtesy of Alex Nunn – Blueshirt Banter
---
---
Scott Blair is an author and journalist from Los Angeles, CA, by way of Detroit, MI. Uniquely diverse experiences have shaped Scott's life in both of those places he calls home. He is now traveling the world, learning and growing as a human and a writer.  He was a professional hockey player and then turned to the arts, becoming an actor for about 15 years. His passions turned to poetry, prose, politics, and journalism when he got tired of the Hollywood machine and what it represents. Scott is available for interviews and welcomes questions and topic ideas.