If anyone has a shooter tutor, Paige Harrington is looking for one.
While the rest of her Buffalo Beauts teammates may be reveling in their Isobel Cup championship, Harrington is busy preparing to take on the world after being named in April to the U.S. Women's National Ball Hockey Team that will compete in the ISBHF's Ball Hockey World Championships.
"I was so excited," Harrington said recalling the moment general manager Jason Kelly informed her of her selection. "I loved the initial [tournament] that I ever played at, so I was really excited when Jason told me."
That initial tournament was in March.
When your Happy Ending is ruined because Skeats scores in the last 2 seconds…#ballhockeyislife… https://t.co/lNwJtEYY7F

— Paige Harrington (@ona_ramPAIGE) March 25, 2017
Hockey is Hockey is Hockey is Hockey
From the outside, it looks the same. A big warehouse-like building situated off a road with the sounds of hockey escaping every time the door opens. But inside those doors, there is no ice and there aren't any pucks. Instead, it's an orange ball that weighs a few ounces.
For Harrington that lightweight ball keeps sailing over the net on her shots as she gets used to the weight difference. But, as Kelly noticed at the team's final camp before the Worlds this past weekend, she's come a long way.
"I think in the last month you saw a big improvement in her stickhandling," he said. "Just in getting used to the ball. The speed of the ball, the lightness of the ball. She made the comment the first time she played about those differences and you can see it now, a month later, that she's already gotten a good handle on that and she's only going to get better as we go."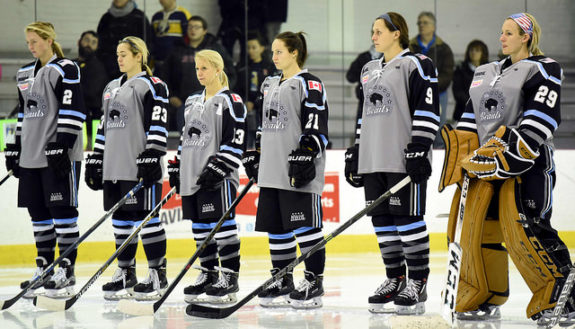 While stickhandling, and trying to go bar down will be something the UMass graduate will be working on before heading to Europe, she knows her positioning on the blue line is her strength. But it's also the stay-at-home defender's easygoing demeanor that has already left a mark on the team.
"Paige brings an experience and a calmness that is undeniably good for us," said Kelly. "That calmness that she has when she plays it really also calms everybody else down. Her partner this weekend made a comment how coming in to play with her, and having never played with her, after two shifts she realized that there was nothing to worry about, that she was going to be in the position that she should be in."
But don't let her struggles with that orange ball fool you. Harrington, who has added sprints and speed and agility drills to her training regimen, can rack up the points. While she only has three assists in 34 career regular season games with Buffalo, the former Penn State and UMass defenseman had 26 points in 28 games during her senior year for the Minutewomen.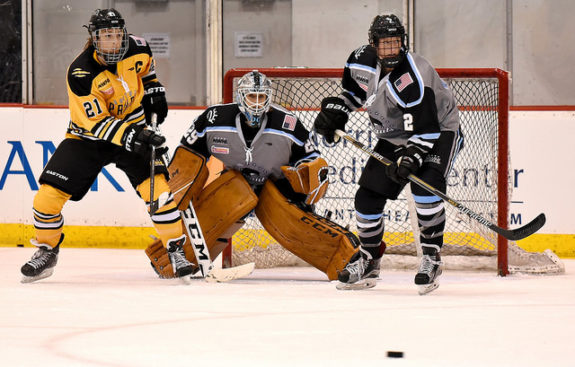 Team USA Set to Take on the World
A tall, lanky, left-handed shot for the Beauts, Harrington is not a newcomer to the international hockey scene. In 2013 and 2015  she served as an assistant captain for USA Hockey at the Winter World University Games and captured a bronze medal in her first year.
"[This is] just another experience for me to wear USA across my chest so that's always an amazing opportunity," Harrington said with a smile. "[When] I played for the university USA team I was able to travel to Europe a couple of times … It's not going to be my first time [playing internationally], but it's my first time for ball hockey so I'm probably going to be a little bit nervous, but I'm excited."
Thanks for everything Coach! We got the bronze!!! #USA #wug13 pic.twitter.com/P2JMqAX2ZD

— Paige Harrington (@ona_ramPAIGE) December 20, 2013
While she'll have to contain her excitement for a few more weeks, this ice hockey player has already developed a passion for the sport.
"Honestly, just getting the word out about ball hockey as a sport and just being able to represent that is an awesome opportunity," she said. "I didn't know anything about it coming into it … but it's an awesome sport and everyone can do it. It's not expensive. You can just pick up a stick and you can even practice on the street."
[I]t's an awesome sport and everyone can do it
For Harrington, she's hitting the garage working on her stickhandling, shooting, and footwork. But she knows the competition will be tough come June. She'll even be facing a familiar foe in her best friend in the NWHL – Team Canada's Devon Skeats. While she's excited to face her, she does have a message for her former teammate: "She's physical so I'll make sure to give her a few hits. She knows it's coming," she said with a grin.
Team USA's first game will be June 3 against Italy at 6 a.m. Eastern.  They play Team Canada on June 5 at 5 a.m. Eastern. All games will be streamed on pardubice2017.com.
At-large-contributor.
Formerly ESPN, SNY, and SNY.tv.
4-time Emmy winner, 2-time NY Emmy nominee for short-form writing.