The Winnipeg Jets had an exceedingly up-and-down 2022-23 season. They had a strong first half, suffered a prolonged slide in the second half, recovered from it just in time to squeak into the playoffs, then were quickly dispatched in the first round by the Vegas Golden Knights.
In this series, we'll take a look back on the season, player by player, and grade their individual performances with an eye toward their future with the team.
The Jets handed a large role to 21-year-old Cole Perfetti in 2022-23, and he was a stellar option for the first half of the season. The former 10th overall selection in the 2020 NHL Draft is starting to hit his stride in a major way, provided he is able to stay healthy for a full season.
Cole Perfetti Impresses in Top-Six Role
Perfetti was one of the best playmakers on the team this season, as his patience and vision resulted in plenty of high-danger chances for his teammates. He finished the season with eight goals and 22 assists, for 30 points in 51 games.
Related: Jets 2022-23 Report Cards: Dylan Samberg
According to Natural Stat Trick, his Corsi percentage, expected goals percentage (xG%), and high danger chance percentage were all above 50%. This provided head coach Rick Bowness with the flexibility to use him as a "third wheel" on a line with two veteran scorers.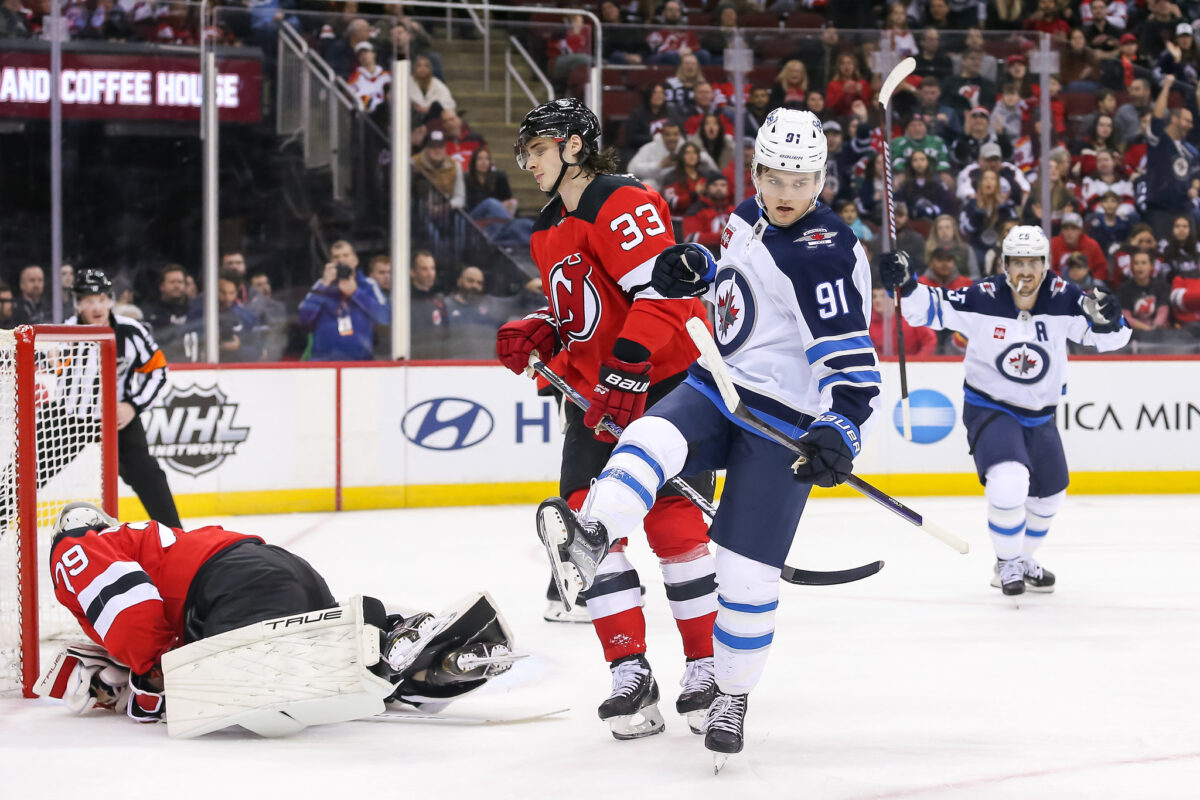 That flexibility resulted in Perfetti being a part of one of the most productive lines the Jets ran all season. According to Money Puck, the line of Perfetti, Mark Scheifele, and Blake Wheeler played 237 even-strength minutes together. In those minutes, they recorded a 52.7 xG%, 56.5% Corsi, and outscored their opponents 15-5. Not only was that the best trio he was a part of but the same could be said for Scheifele and Wheeler who struggled at times when not on Perfetti's line.
Look for Perfetti to resume his top-six role at the beginning of 2023-24, which will be a contract year for the first time in his career. After next season he will be a restricted free agent (RFA), and with how things have played out so far, both sides may be looking for a bridge deal to see if Perfetti can reach his full potential for his next contract.
Inability to Stay Healthy Becoming a Concern
Perfetti suffered an upper-body injury on Feb. 19, 2023, which knocked him out for the remainder of the regular season and playoffs. In 2021-22, he suffered a different upper-body injury that was also season-ending. The best ability is availability, and Perfetti has yet to be available for a full season.
There was no shortage of issues going on with the Jets from the middle of January until the end of the season, and Perfetti's injury played into that. The franchise was a solid 34-21-1 before his injury, which was good for second-best in the Central Division. After his injury, they ended the season a middling 12-13-2 before going 1-4 in the playoffs.
---
Latest News & Highlights
---
This player card from The Athletic shows that Perfetti was providing an abundance of surplus value on his $894,000 contract. Another thing to note is how much value he brought to the table defensively. Plenty has been said about whether or not the Jets' forward group bought in defensively, but Perfetti proved that he was more than a one-dimensional player this past season.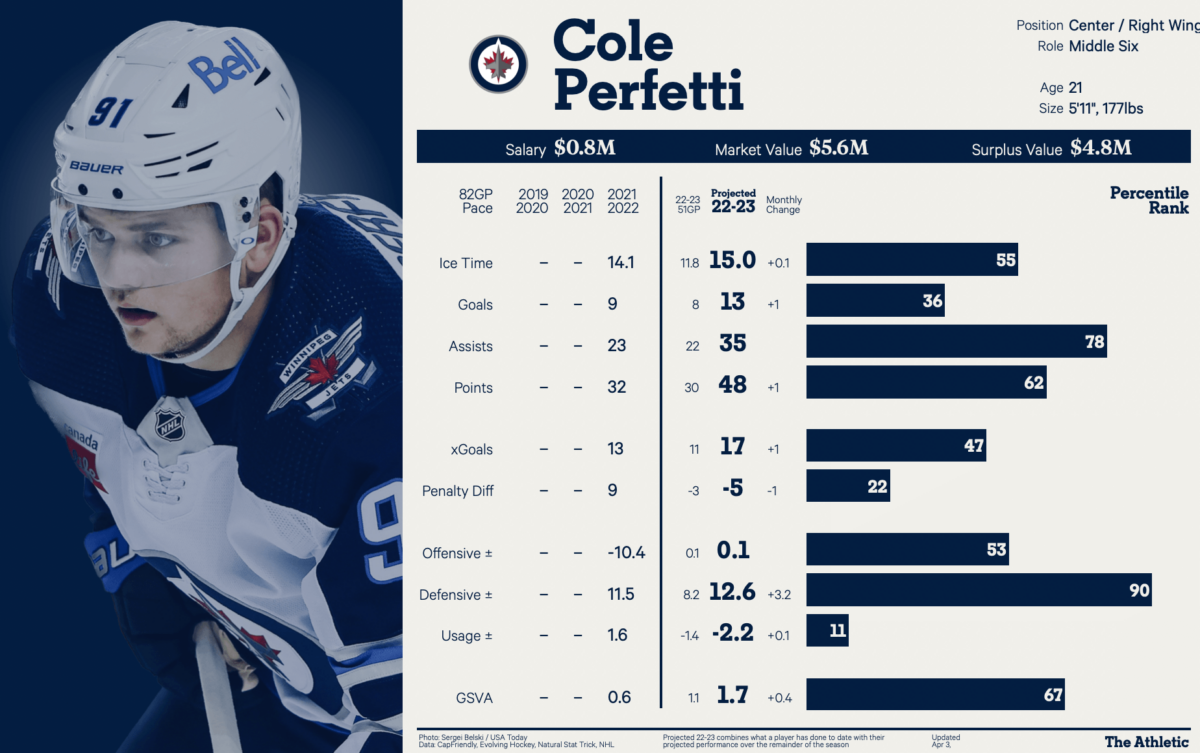 Perfetti now has a very big summer ahead of him for his development. Some fans are saying he needs to put on some weight, while others are saying he needs to improve his foot speed. The truth is likely somewhere in the middle. At his age, he is still learning how to avoid checks at the NHL level, and the more experience he has, the better he will be at protecting himself.
There is no doubt that Perfetti is arguably the biggest piece to the future of the Jets franchise, given that he has been the top prospect in the system ever since he was drafted. Jets fans will need to have patience when it comes to him, especially this upcoming season. He is still very young and figuring out how his game translates to the NHL level, and when we look at the underlying numbers, we see that he's providing a boatload of value already.
His final grade for the 2022-23 season is a B+, and it would have been an A- or A if he had stayed healthy throughout the year. Regardless of health, the organization watched him make major strides as a top-six NHL forward this season, and for that, he deserves a high grade.
Final Grade: B+