The most important position in hockey is goaltending and for many teams lucky enough to have a bonafide number-one goaltender, his reign can only last so long. If there isn't an option to take over the crease, times could be pretty bumpy until one is developed. Very few teams are able to transition from one elite goaltender to another without issue. As we all know, they are a bit of a different breed in more ways than one. The Winnipeg Jets have heard all the rumours of Connor Hellebuyck being traded since the Jets were ousted from the playoffs. That said a goalie search could be just what's needed.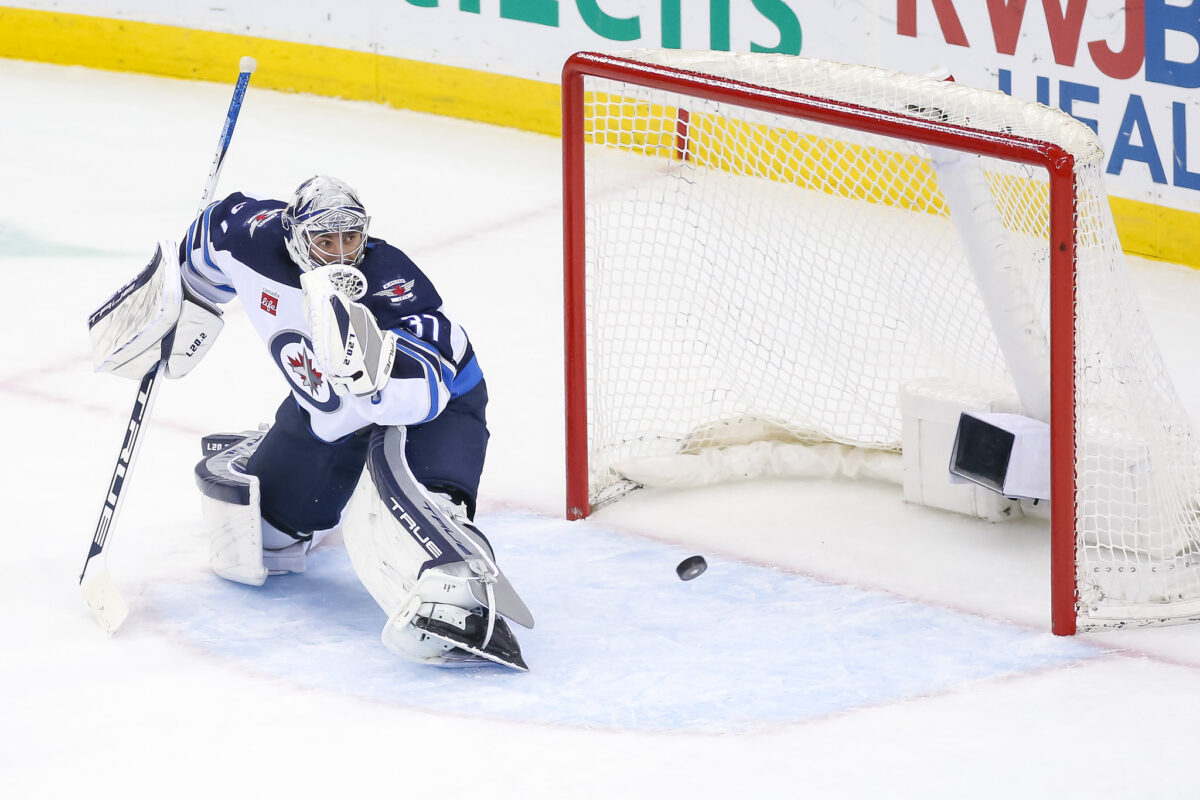 Perhaps the most important out of all the positions in hockey, goaltenders are generally late bloomers not being fully ready to man the crease until they're 23-27 years old.
Related: Canadiens Should Target Overage Goaltender at 2023 Entry Draft
But, if a general manager (GM) can select an overager in the later rounds of the draft or manage to draft and develop a potential star for the future, a lot of the stress and pressure can be dissipated. The Jets are set in the crease with Hellebuyck as we speak, but preparing for the future right now could prove to be crucial for the team going forward. There are options within, but being that it's such an important position, it shouldn't be left to chance. With that said, let's dive into three options the Jets might consider for their goaltending after Hellebuyck.
Arvid Holm
A seventh-round selection in the 2017 NHL Entry Draft, Arvid Holm has seemingly leap-frogged his biggest competition within the system in Mikhail Berdin, who was loaned to HK Sochi in the Kontinental Hockey League (KHL) for the 2022-23 campaign. He took advantage of the situation with the Jets' American Hockey League (AHL) affiliate, the Manitoba Moose. He took hold of the reins and posted an 18-11-4 record to go along with a 2.67 goals-against average (GAA) and a .911 save percentage (SV%).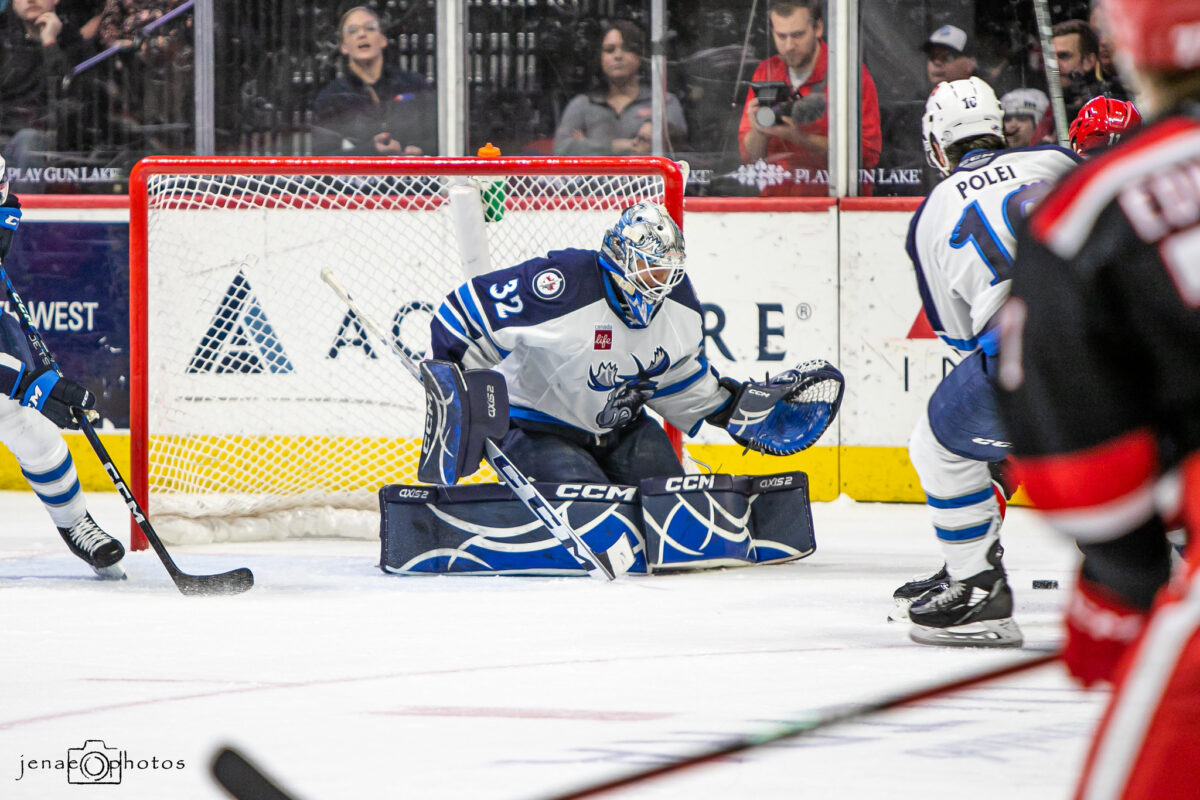 Because of his large frame, at 6-foot-5 and 205 pounds, Holm is able to control his movements cutting off a large portion of the net with seemingly little difficulty. While some big goaltenders rely too heavily on their physical attributes, he battles for his saves and is positionally sound. At just 24 years of age, he is developing quite smoothly and with another season in the AHL, he might just be ready for a callup. A transition up to the NHL to be a backup to Hellebuyck could prove to be a big step in his development, allowing him to learn from the Jets' starter and get a feel for things, be it at practice or from the bench, just seeing how NHLers handle all situations.
Undrafted Overagers
The 2023 Memorial Cup offered front offices, scouts, and prospect enthusiasts a glimpse into the future with some stiff competition from the three qualifying teams, as well as the host team. With that said, if one of the goaltenders mentioned below drew enough interest from the Jets' management, I believe it would be worth their while to swing for the fences. While the Ontario Hockey League's (OHL) champion Peterborough Petes and the host team, the Western Hockey League's (WHL) Kamloops Blazers, fell short of a berth in the Memorial Cup championship game, their starting goaltenders were tremendous. Michael Simpson (Petes) and Dylan Ernst (Blazers) certainly proved they're able to shine on the biggest stage of their young careers.
---
Latest News & Highlights
---
While Ernst and Simpson didn't qualify for the championship, they might still be worth a long look. However, for those teams more interested in the two finalist goaltenders, the Quebec Major Junior Hockey League's (QMJHL) representative and Memorial Cup champion Quebec Remparts have a great option. Their goaltender William Rousseau should garner plenty of interest. He had a stellar regular season posting a 35-8-1 record and while he is a bit undersized at 6-foot-1, that shouldn't be a cause for concern. Just have a look at these crazy playoff statistics that the 20-year-old native of Trois-Rivieres, Quebec compiled through 26 games. He led his team to a 21-5-0 record.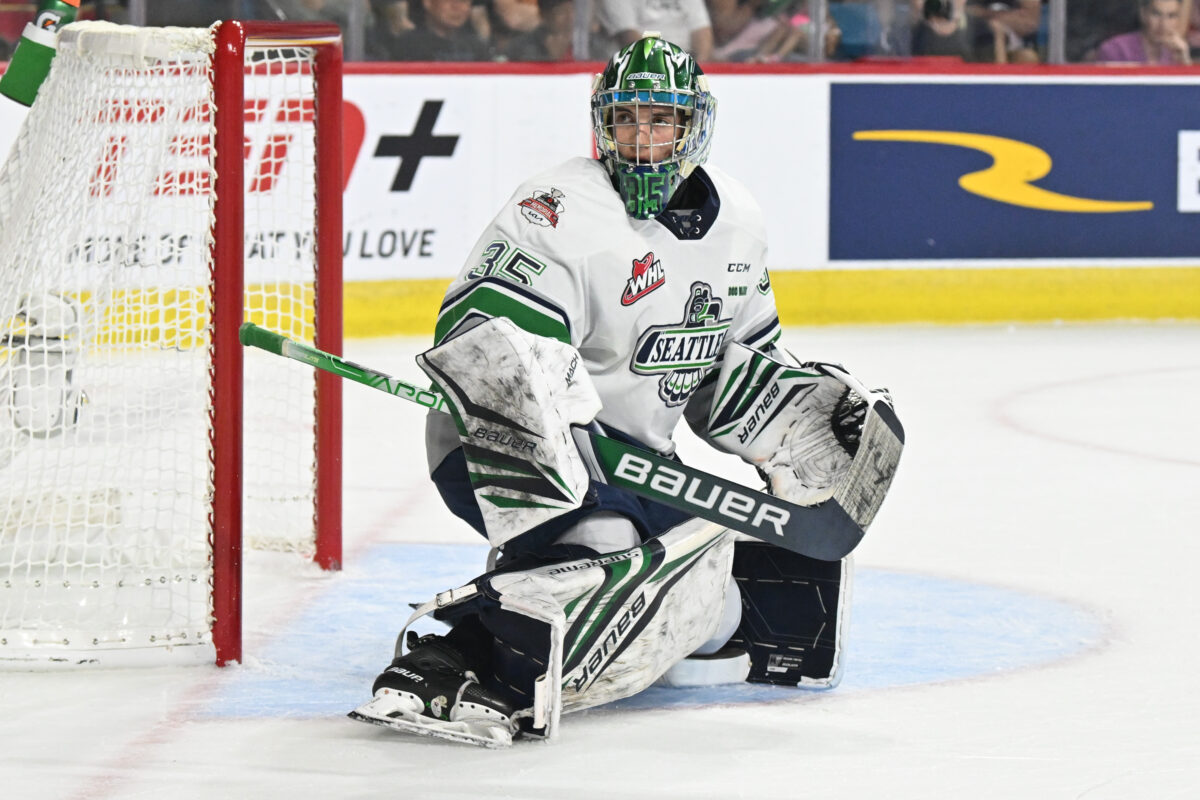 He was brilliant throughout the tournament and in the Final. He stymied the Seattle Thunderbirds offence, which featured the likes of Brad Lambert, Dylan Guenther, and Jared Davidson, just to name a few, and shut them out in a 4-0 win. Even with that said, the Thunderbirds goaltender shouldn't be scoffed at either. Thomas Milic could be an option. His season came to an end with a large disappointment, but he proved at the World Junior Championship that he has nerves of steel and a strong mental game, leading his home country, Team Canada, to a gold medal with an unblemished 5-0-0 record. His 2022-23 playoff performance was also impressive, as his 16-3-3 record earned his team a WHL championship and the runner-up position for the Memorial Cup.
2023 NHL Entry Draft
I put the 2023 NHL Entry Draft as the last option because while it is viable, it is the longest path to finding a starting goaltender for the future. Having said that, the top-ranked goaltender offers some intrigue and is certainly worth a long look for teams selecting late in the first round and into the early-to-mid second round. Now, the Jets don't currently have a second-round pick in the upcoming draft, but if they were interested enough they could try to trade an asset, along with a pick to move up. Carson Bjarnason is certainly a few seasons away from playing pro, but his WHL statistics prompted TSN's director of scouting, Craig Button, to rank him 23rd on his annual draft rankings.

He has the ideal size for an NHL goaltender at 6-foot-3 and 181 pounds, and let's not forget he is only 17 years old, so he is not yet finished maturing physically. He has played his entire junior career in the WHL with the Brandon Wheat Kings and he has been very steady, showing off his poise and athleticism to make the big save time after time to provide his team with momentum. This past season, he suited up for 47 starts, sporting a 21-19-4 record along with three shutouts. While his numbers might not leap off the page, he is still young, especially given his position, so selecting him ahead of his development curve could prove to be a steal. He could be a big gamble, but the reward might outweigh the risk. With more time and the right development, I believe he could be a big-time NHL goaltender in the future.
Finding a Starting Goaltender; No Easy Task
With the three potential options for finding a diamond in the rough, gambling on a goaltender might be the right choice for the Jets, especially considering that Hellebuyck's future is so up in the air. Kevin Cheveldayoff should not be deterred from selecting a highly touted prospect or even a late-round undrafted goaltender. A high-risk, high-reward decision could change the entire outlook of the Jets' future.