The NHL trade deadline is nearly here and several big names have already been knocked off trade bait boards everywhere. As the list begins to thin, teams are forced to dig a little deeper to find names to keep on their radar.
The Winnipeg Jets' deal for Nino Niederreiter is their only trade to this point, and despite being linked to several players, it appears they're unsure as to how "all-in" they want to go. With the external solutions drying up, it might be time to look at more unconventional targets. One of those could be 26-year-old Philadelphia Flyers' defenseman Travis Sanheim.
---
---
The Flyers have been viewed as sellers for quite some time now, and while the team's unrestricted free agents are the focus, there might be some value to be found in their long-term contracts. Sanheim was extended this season and has had his fair share of struggles in 2022-23. After the news broke that he was being healthy scratched before a Feb. 20 game against the Calgary Flames, suddenly that relatively fresh contract began to stir up questions.
With the Jets seeking term in potential deals, Sanheim would fit that description and more. His new, eight-year contract kicks in at the start of next season and is set to expire at the end of the 2030-31 season. The new deal will pay him a total of $50 million over the course of eight years, or $6.25 million annually (AAV).
If things continue to be a struggle for Sanheim, that contract would be very tough to swallow. If there's any doubt he won't be able to live up to his AAV, the Flyers may look to get out from under that contract before it even kicks in.
Related: 2023 NHL Trade Deadline Tracker
---
Latest News & Highlights
---
Another important aspect of that contract is the trade protection that comes with it. His current deal, which expires at the end of this season, allows for him to be traded to any team. However, his new one carries a full no-trade clause (NTC) for the first four years and a modified NTC for the final four.
Sanheim was born in Elkhorn, Manitoba, which means it would be possible that he'd be willing to waive it for a move to his home province. That being said, if the Jets are interested in his services, that's not a risk they'd want to take. If the Jets were to have interest, they'd want to make a move before that NTC kicks in.
Sanheim's 2022-23 Season
Like many others, Sanheim has had his fair share of ups and downs with the Flyers over the past year. The team has struggled mightily, and despite his best efforts, he has seen a dip in many of his numbers.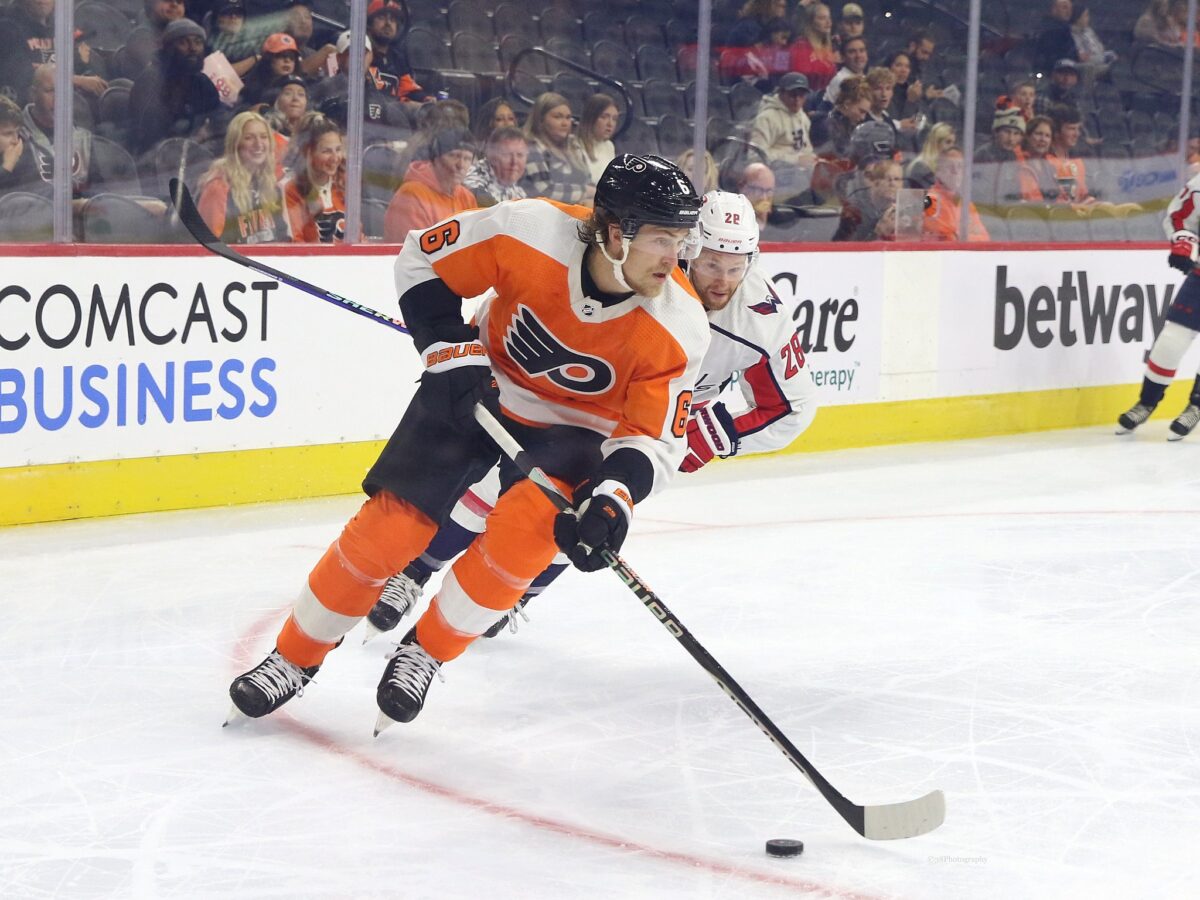 While he's not going to wow you with high point totals, Sanheim has consistently found himself around the 25-30 point mark on a regular basis. In 61 games, he has 16 points, so he's going to be close to his normal mark by the end of the season. His value, however, has often been shown by his steady defensive metrics and positioning.
Very regularly, Sanheim has shown strength around the net. Throughout his entire career, he's done a great job of keeping the middle of the ice fairly clear, especially in front of his own net.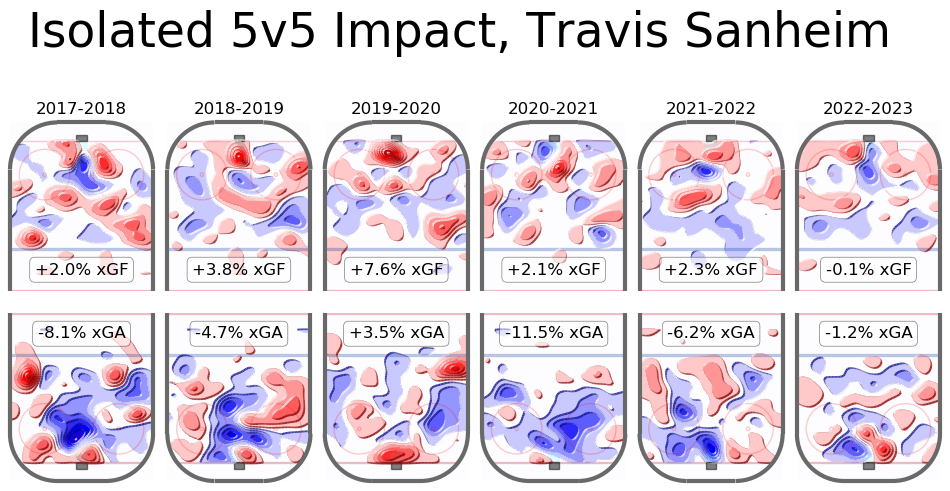 His last two seasons have been two of his strongest, with this season being slightly below average. If he can regain his form of solid net-front defending, which seems reasonable in a different system, he holds a lot of value.
Does a Sanheim Trade Make Sense For the Jets?
The potential of a Sanheim deal raises some questions for the Jets. One of the biggest issues with it is the fact that he's another left-handed defenseman (LHD). The Jets have one of the deepest LHD pools in the league and that has caused quite a log jam.
The only way to effectively make a Sanheim trade work would be to shift someone to their off-side and hope they can maintain an effective standard of play. It's not necessarily uncommon to see players succeed on their off-side, but it is a lot to ask.
This also hinges on a defenseman with term going back to the Flyers in the deal. The likely choices are Neal Pionk and Nate Schmidt, but the ideal scenario for the Jets would be Pionk. His defensive play has been a detriment to the team, and while the Jets would lose his offense, they would gain a significantly better defender in Sanheim.
That being said, if there's a way to balance the addition with the switching of sides, this deal fits perfectly with what the Jets are seemingly trying to do. With their unwillingness to fully admit their upcoming roster uncertainty, acquiring a player with Sanheim's term helps to extend that core. He has a track record of being a very solid player, and while it doesn't matter on the ice, bringing in a Manitoba native often sits well with the community.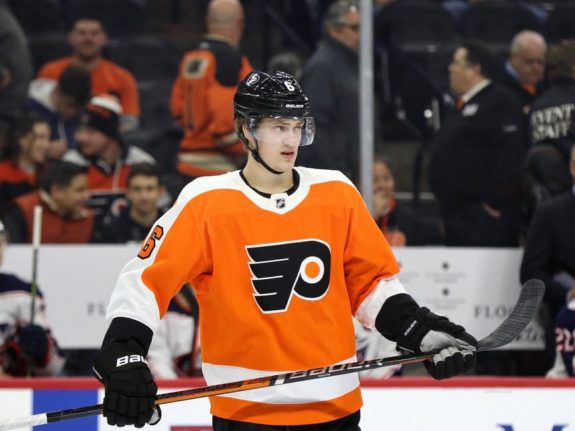 With the term left on Sanheim's contract, chances are the acquisition cost would be relatively light. The likelihood of retention changes depending on the return, as the Jets may be more likely to soak in the full contract if they're shedding Pionk's or Schmidt's salary. With Sanheim's contract kicking in after this season, the deadline seems like the most likely time for a move.
The deadline is nearly here, and the Jets have been relatively quiet. With just hours remaining until the trade freeze, will they make a splash or put their trust in what they have? Regardless of the plan, it should be an anxious day in the Jets' front office as they try to find an answer to that question.