In today's NHL rumors rundown there are questions as to why the Philadelphia Flyers haven't made any big trades yet. James van Riemsdyk is the most likely player to be traded, but what else is the team trying to do? Meanwhile, are the Calgary Flames buyers or sellers?
---
---
The Montreal Canadiens still might be able to trade Joel Edmundson but teams wanted to see him play on Thursday night before making a decision. Finally, will the Carolina Hurricanes do anything big? They have tried but haven't had much luck.
What's Holding Up Deals Out of Philadelphia?
Despite announcing they were selling at this season's trade deadline and they've let teams know who is available, the Flyers haven't been active in the trade action leading into Friday's deadline. Charlie O'Connor of The Athletic says it's because the Flyers are selling nothing but backups to contending teams.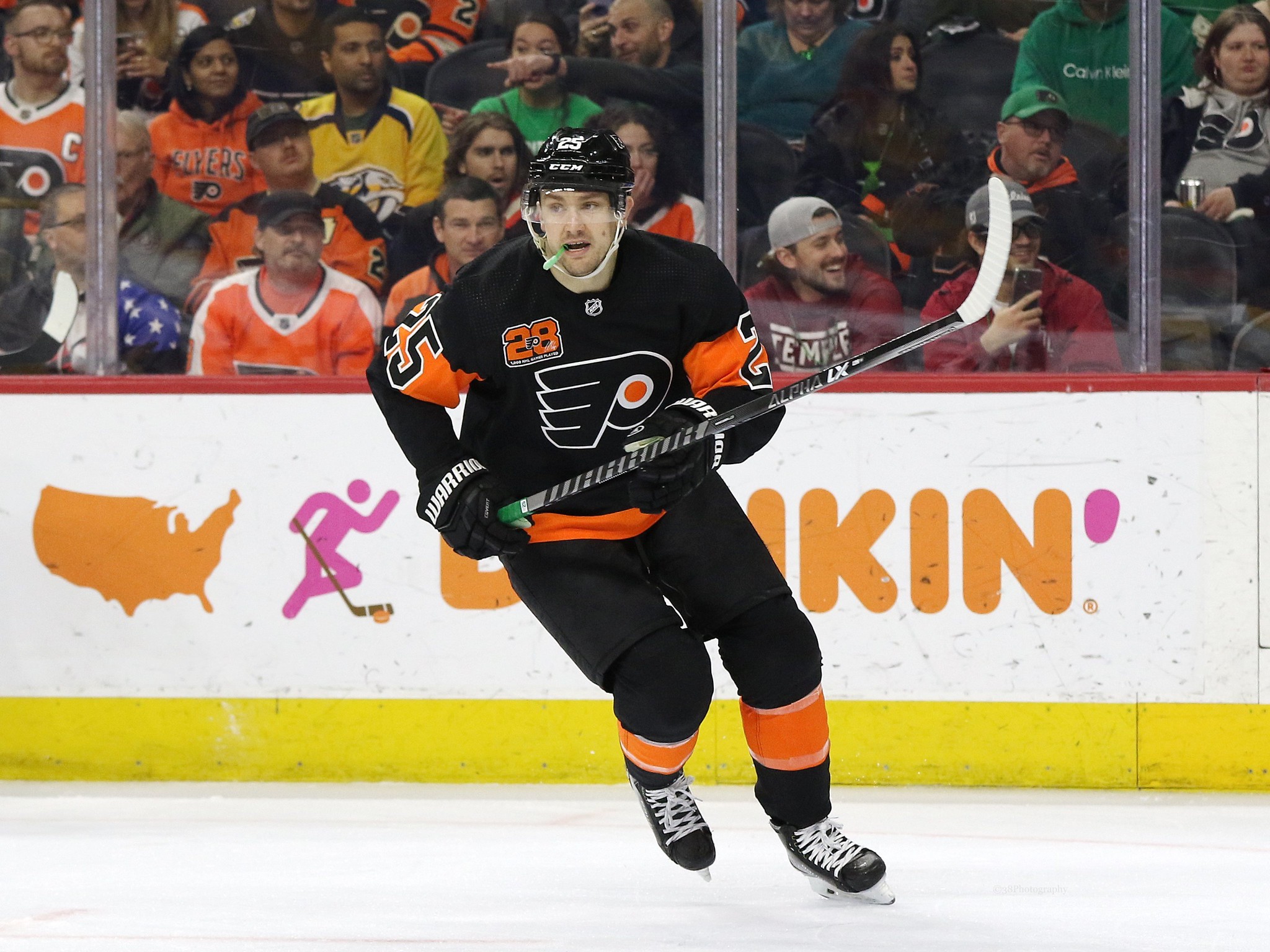 He writes:
In short, it boils down to this: the Flyers don't have the kind of assets that other teams believe deserve to be prioritized. They're either fallback rentals, or veterans that would require the kind of complex negotiations that don't usually go down at the deadline. Acquiring an available Flyer is either so simple that it could happen with seconds to spare before the deadline, or so complicated that it might not even be possible until the summer.

Source- 'Why the Flyers Haven't been Active Before Deadline Day' – Charlie O'Connor – The Athletic- 03/02/2023
There is some concern James van Riemsdyk won't be moved which would be seen as a huge mistake. He was never scratched for trade-related reasons and the organization never considered doing so. The hope is that he'll fetch a third-round pick.
Patrick Brown and Justin Braun might be two other names who could be moved. The Flyers are shopping Kevin Hayes and Ivan Provorov but there isn't a guarantee they'll move considering the term left on their respective contracts. O'Connor adds:
"As with Hayes, there's likely an internal front office hope that the rapidly-shrinking number of players available on deadline day leads a desperate team or two to up their offers into a range that the Flyers would deem acceptable."
Chris Johnston on Insider Trading says Vegas has an interest in James van Riemsdyk and believes Jets and Golden Knights are interested as well.
Are Flames Buying or Selling?
Following another loss, the Flames aren't technically out of the playoff conversation but they'll need some help to get in. It's not clear if they are buyers or sellers.
Pierre LeBrun on Insider Trading says some teams are interested in Joel Edmundson, and the Flames may be among them. Edmundson returned to the lineup Thirsty and that was important for some teams to see. He played just over 16 min.
Are Canadiens Ultimately Going to Trade Edmundson?
Eric Engels of Sportsnet writes that Joel Edmundson could be moved on Friday. While his injury situation makes him far from a guarantee to be moved, there are teams showing interest. Engels explains, "Sources we connected with late on Thursday suggested at least two playoff-bound teams remained interested in his services, making it possible he could move before Friday's 3:00 p.m. ET., deadline." He adds, "We didn't need them to tell us that had this 3-2 loss for the Canadiens against the Los Angeles Kings not been Edmundson's first game in a little over a month, he'd have likely been traded days ago."
Senators Still Want to Add?
Chris Johnston of TSN says that, believe it or not, after adding Jakob Chychurn, the Ottawa Senators are still looking to add. "As of Thursday, Pierre Dorion is still said to be working the phones." He's looking for another center and he's told his players that he's promised his players he would do whatever he could to make his team better and give them a chance to win.
---
Latest News & Highlights
---
However, Dorion said early on Friday that he took two more calls but he thinks he's made his moves and doesn't anticipate doing anything else.
Jets Hoping to Do More, But Conflicted
Darren Dreger notes that there is some debate in Winnipeg about what the Jets should do. There is an internal discussion about whether the team should use the current draft capitals to add a scorer. They haven't played that well of late and they don't have a lot of picks to give up.
"I don't think Kevin Cheveldayoff is eager to move more draft picks but they do have cap space." That suggests if the Jets do anything, it will be to add players that can be had for an extremely low cost, even if the player being acquired has a bigger cap hit.
Hurricanes Have Been Surprisingly Quiet
The Hurricanes added Jesse Puljujarvi and Shayne Gostisbehere and there is nothing imminently close to doing anything else. LeBrun says it's not like they didn't try to land Timo Meier, but there isn't an appetite to spend their first-round pick on a player who isn't a difference maker nor do they want to give it away for a pure rental.
The team does have a habit of waiting until the last moment to make a deal. If they get a good deal at the end of the deadline, the Hurricanes could make a move.
Stars Should Be Active on Friday
Jeff Marek noted that the Stars might not be done making moves after adding Max Domi from the Chicago Blackhawks.