As the Winnipeg Jets stumble toward the trade deadline, it has become clear that more pieces are necessary to help get them out of this funk. After dealing for Nino Niederreiter on Feb. 25, the Jets addressed a need for a middle-six forward with a scoring touch.
That being said, they will need another one of those to help bolster a lineup struggling to score goals. The Jets have tallied only nine goals in their past six games and just two goals in their past three games. With some of the bigger names coming off the board, the Jets are now forced to look at other places to address their scoring issues.
In addition to this, adding to a defensive group that has been in flux over the past several weeks might be in the cards as well. Ideally, they would look to add someone to push someone like Neal Pionk into a more sheltered role, but you need to be picky when adding to your top four. For these needs, the Jets could contact the Arizona Coyotes and see if they're open for business on a couple of players.
---
---
Jets Could Target Nick Schmaltz
While it wasn't known until just these past few weeks, Nick Schmaltz is a name the Coyotes are taking calls on. Schmaltz is a talented, 27-year-old forward who has tallied 17 goals and 39 points in 43 games this season.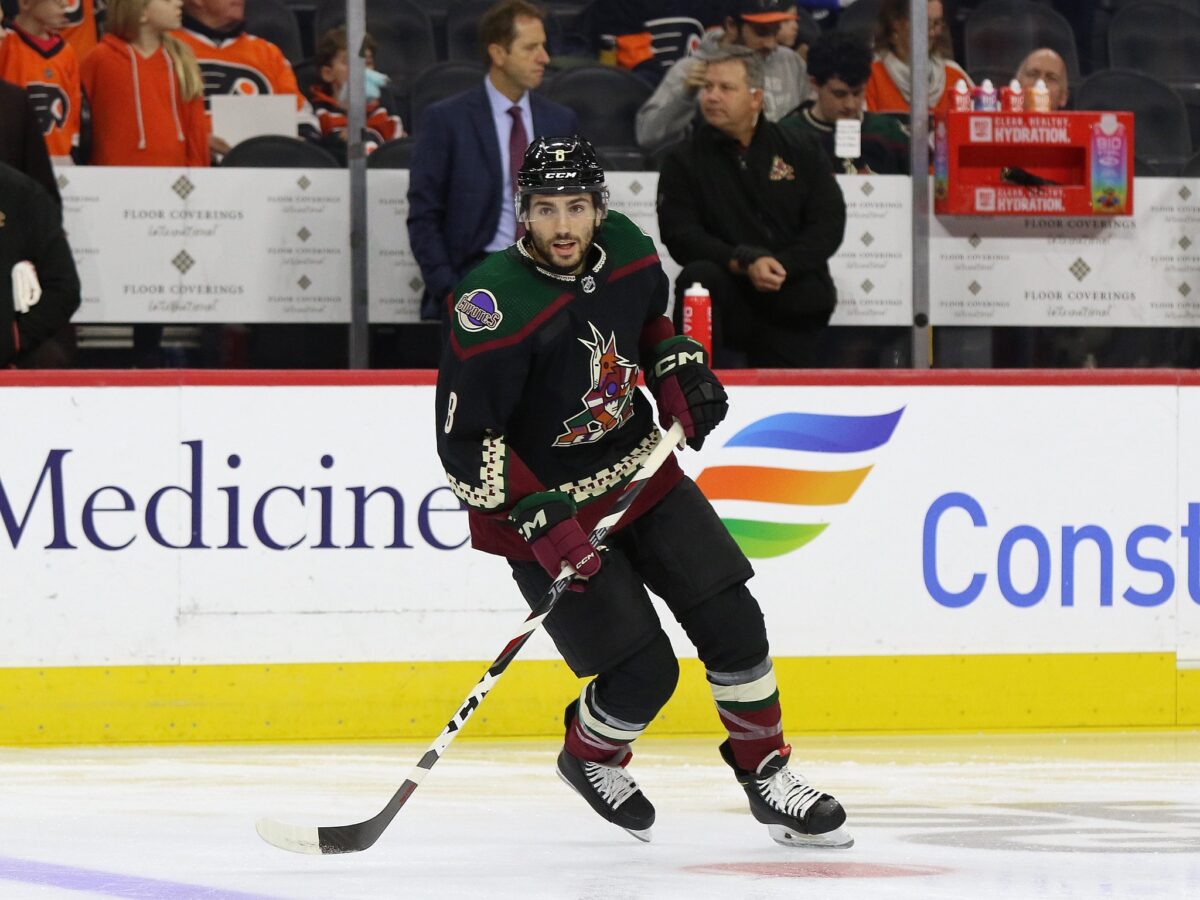 There's been no confirmation if the Jets have reached out to the Coyotes regarding Schmaltz, but Elliotte Friedman brought up Schmaltz as a name the Jets could have an interest in. In his weekly appearance on the Feb. 23 episode of The Marek Show, Friedman said that if he were the Jets, he would be "all over it" if Schmaltz is indeed on the market.
Friedman has good reason to say this, as Schmaltz is a very talented player with term, something the Jets have been known to look for. He also doesn't have any trade protection, which would keep Schmaltz available to them without the worry of a trade being blocked. His contract, which will pay him $5.85 million through 2025-26, has a modified no-trade clause that kicks in next season, which effectively puts the Jets on the clock if they do have interest in him.
Should they have interest? Absolutely they should. He's a versatile forward who has played center and wing in his career and has really come into his own with the Coyotes over the past several seasons. He's playing on the top line next to Clayton Keller and Barrett Hayton and has produced at a good clip while averaging nearly 20 minutes per game.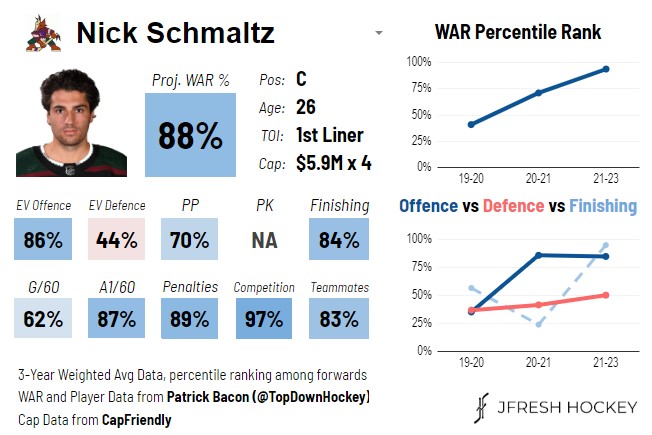 Schmaltz helps to drive offense while also having a keen sense of putting the puck in the net. He's on pace for his second consecutive 20-goal season, and with how he's been developing, it likely won't be his last. Schmaltz would be a valuable addition to the Jets' top six, and could also function as a potential replacement for Pierre-Luc Dubois if he wishes to depart the Jets in the offseason. With term and production, acquiring Schmaltz should be a priority for the Jets if they want to improve this year and stabilize the forward group in the future.
Shayne Gostisbehere Would Make Sense for Jets
For the first time in several seasons, the desire to add a top-four defenseman doesn't seem as important for the Jets. That being said, the "package deal" seems to be a theme at this year's deadline. The New York Rangers acquired Vladimir Tarasenko and defenseman Niko Mikkola, the Toronto Maple Leafs, in two deals, acquired Ryan O'Reilly and Noel Acciari and Jake McCabe and Sam Lafferty, and the Boston Bruins acquired Dmitry Orlov and Garnet Hathaway. The Jets should see if the Coyotes are willing to take that same route.
Related: Jets Cannot Afford to Wait for the Trade Deadline
---
Latest News & Highlights
---
One route they could take, while unlikely, is the nuclear route and work to find a package involving Jakob Chychrun. This would be highly expensive, but they would upgrade their top six forwards and top four defensemen. They would likely need to move heaven and earth to get this done, but it would legitimately improve the team for this year and future years.
If they choose to be a bit more cautious, they could look to a pending unrestricted free agent to help lower the cost. Shayne Gostisbehere's contract expires at the end of this season but could provide legitimate value to the Jets' defensive group.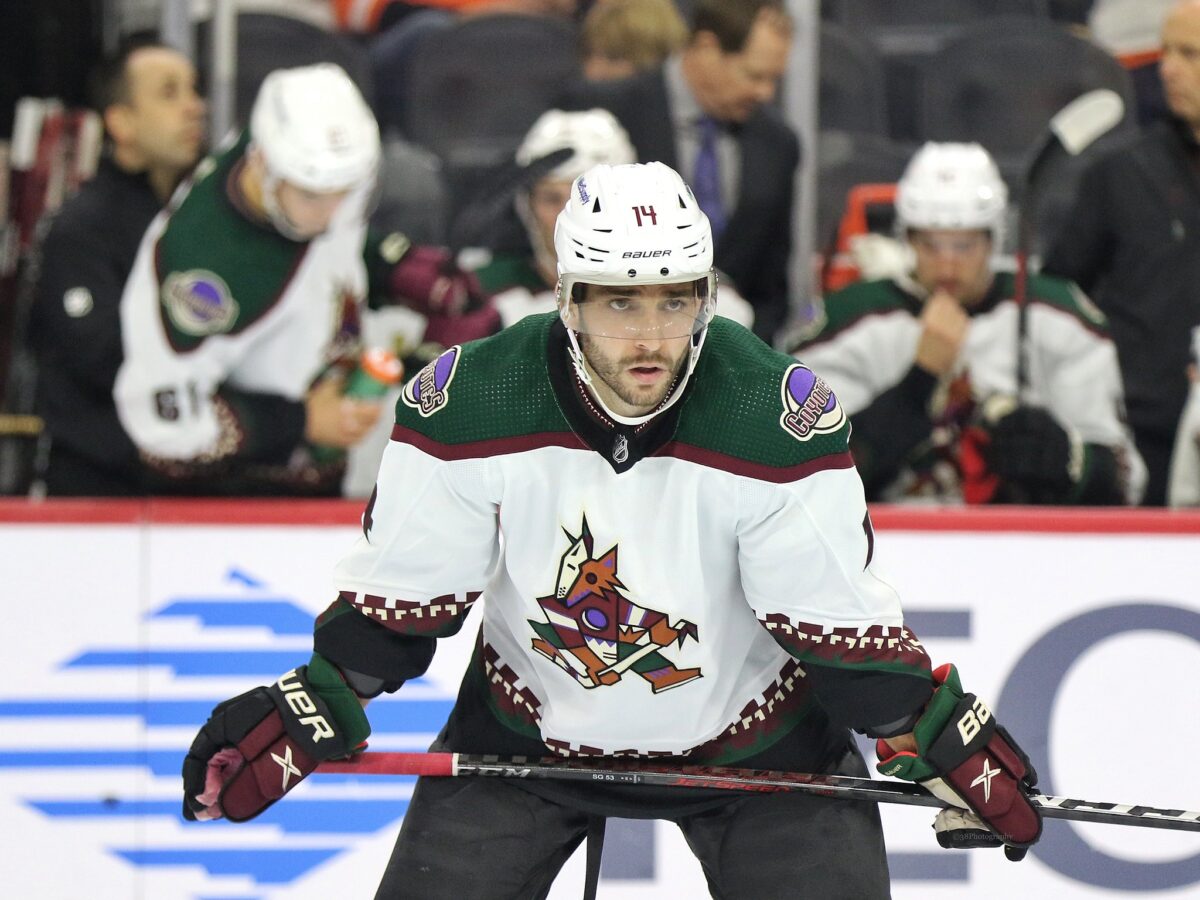 Gostisbehere would be cheaper to acquire and can still boost the back end. He's never been a terrific defender, but he tends to outscore his issues, and this year is no different. His 30 points in 51 games rank fourth on the Coyotes, and his defensive game may improve in a better situation.
Ultimately, the Jets would have to decide who moves out of the lineup if this move were to happen. In an ideal situation, they would need to find a place for Neal Pionk, who has had a very rough season. The issue, however, is that the default lineup change will often bump a player off the third pairing.
In this situation, Dylan Samberg would likely be the one scratched. Samberg doesn't deserve to be taken out of the lineup in rotation, but if management feels they need to add to the back end, it's the route most traveled.
What Would it Take?
A move that would add two impact players wouldn't be cheap, although targeting Gostisbehere would make it easier to stomach. The ask for Chychrun has been very high and is likely impacting his ability to be traded, so looking elsewhere might be the ideal scenario.
If the Coyotes elect to move one or both of Schmaltz and Gostisbehere, the deal would likely center around a first-round pick. For just Schmaltz, it would be likely that a package of a first-round pick, a number two or three prospect, and a roster player would likely get you close if not there entirely.
To add Gostisbehere to the fold, it's safe to assume the Coyotes would want another mid-tier prospect and a middle-round pick to offset the cost. A deal for both would involve money movement to make the cap work for the Jets. This is a situation where they could include Neal Pionk to open a spot for a defenseman without adding another roadblock to someone like Samberg while also moving his salary.
Ultimately, it seems as if the Jets need to make impact moves to contend in the Western Conference, and this would be a situation where they could really make a splash. With less than five days until the trade deadline, the Jets are on the clock, and Kevin Cheveldayoff needs to be aggressive in order to keep pace.