| | | | |
| --- | --- | --- | --- |
| Born: | April 20, 1993 | Draft: | 2012 Flyers, 78th Overall |
| Hometown: | Pembroke Pines, FL, USA | Position: | Defense |
| Known For: | "Ghost Bear" | Shoots: | Left |
| National Team: | USA/France | Current Team: | Arizona Coyotes |
Shayne Gostisbehere (/ɡɑːstɪsbɛər/ gaws-TIHS-bair; born April 20, 1993) is an American professional ice hockey defenceman for the Arizona Coyotes of the National Hockey League (NHL). He previously played for the Philadelphia Flyers.
Gostisbehere was born in Pembroke Pines, Florida, and began playing hockey with the minor affiliate of the Florida Panthers. Halfway through high school, he transferred from Marjory Stoneman Douglas in Florida to South Kent School in Connecticut. From there, he played three seasons of college ice hockey with the Union Dutchmen of the ECAC Hockey conference, helping to take the team to their first NCAA championship title in 2014. Gostisbehere was named the tournament's Most Outstanding Player, and was a finalist for the 2014 Hobey Baker Award.
The Flyers selected Gostisbehere in the third round, 78th overall, of the 2012 NHL Entry Draft, and he signed an entry-level contract with the team in 2014. After only a handful of appearances with the Flyers and their American Hockey League (AHL) affiliate, the Adirondack Phantoms, Gostisbehere suffered an ACL tear that benched him for most of the 2014–15 season. He returned in 2015 for a breakout rookie season, scoring 17 goals and 29 assists, including a 15-game point streak. He became the youngest Flyer to receive the Barry Ashbee Trophy for best team defenseman, and was a runner-up for the Calder Memorial Trophy.
After a lackluster sophomore season, a successful pairing with fellow two-way defenseman Ivan Provorov for most of the 2017–18 season helped Gostisbehere secure his second Barry Ashbee Trophy in three years. The Flyers traded Gostisbehere to the Coyotes after the 2020–21 season.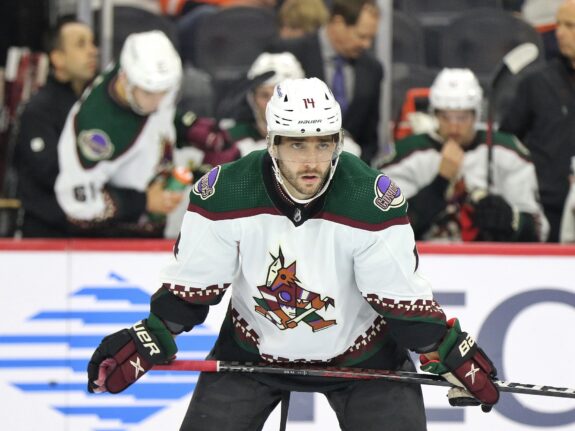 Shayne Gostisbehere Statistics
Trade Tracker
Date
Traded From
Traded With
Traded To
Traded For
July 22, 2021
Second-Round Pick
(Artyom Duda)
Seventh-Round Pick
(Miguel Tourigny)
Future Considerations
Deeper Dive
Achievements
2011-12 NCAA (ECAC) All-Rookie Team
2011-12 NCAA (ECAC) All-Tournament Team
2011-12 NCAA (ECAC) Champion
2011-12 NCAA (ECAC) Regular Season Champions
2012-13 NCAA (East) Second All-American Team
2012-13 NCAA (ECAC) Champion
2012-13 NCAA (ECAC) Second All-Star Team
2012-13 U20 WJC Gold Medal
2013-14 NCAA (Championship) All-Tournament Team
2013-14 NCAA (Championship) Tournament MVP
2013-14 NCAA (Championship) Winner
2013-14 NCAA (East) First All-American Team
2013-14 NCAA (ECAC) All-Tournament Team
2013-14 NCAA (ECAC) Best Defensive Defenseman
2013-14 NCAA (ECAC) First All-Star Team
2013-14 NCAA (ECAC) Player of the Year
2013-14 NCAA Top Collegiate Player (Hobey Baker Award) Finalist
2015-16 NHL All-Rookie Team
Sources