It's a weekend full of Winnipeg Jets hockey as the team gears up to take on the second half of their Florida back-to-back, hoping to earn another win as they face the Tampa Bay Lightning tonight (March 12). The Jets have been struggling as of late, going 3-5-2 in their last 10 games. This stretch is sure to be no easy feat as after the team plays tonight, they will then take on the division-leading Carolina Hurricanes and Boston Bruins.
---
Latest News & Highlights
---
The Lightning will also be playing two games in a row, coming off a 3-1 win over the Chicago Blackhawks. With only 16 games remaining in the regular season for the Jets, the odds are still in their favour when it comes to the Stanley Cup Playoffs, but nothing is for certain just yet. Let's get into what you can expect for tonight's game. 
Winnipeg Jets Projected Lines
Forwards
Kyle Connor – Mark Scheifele –  Nino Niederreiter
Nikolaj Ehlers – Vladislav Namestnikov – Blake Wheeler
Morgan Barron – Kevin Stenlund – Mason Appleton
 Axel Jonsson-Fjallby – David Gustafsson – Saku Maenalanen
Defenseman
Brenden Dillon – Neal Pionk
Dylan Samberg – Dylan DeMelo
Logan Stanley – Nate Schmidt
Starting Goalie
David Rittich
Tampa Bay Lightning Projected Lines
Forwards
Brandon Hagel – Brayden Point –  Nikita Kucherov
Ross Colton – Anthony Cirelli – Alex Killorn
Michael Eyssimont – Nicholas Paul – Tanner Jeannot 
Patrick Maroon – Pierre-Édouard Bellemare (Game-time decision) – Corey Perry
Defenseman
Victor Hedman – Nick Perbix 
Mikhail Sergachev – Zach Bogosian
Ian Cole – Erik Cernak
Starting Goalie
Andrei Vasilevskiy
Standout Storylines
Jets' Playoff Destiny Questionable With 16 Games Remaining
As of March 8, TSN reported that the Jets have about a 74 percent chance of qualifying for the Stanley Cup Playoffs, but to keep that up they need to continue winning games – something they have been struggling to do. The Jets have won two of their last nine games, including last night's overtime win. 
The team does have Connor Hellebucyk to rely on in goal who currently ranks sixth in the league in wins and is tied for sixth in save percentage. Having a steady goalie is always a good thing, but he can't be the only piece on the team that is consistently reliable.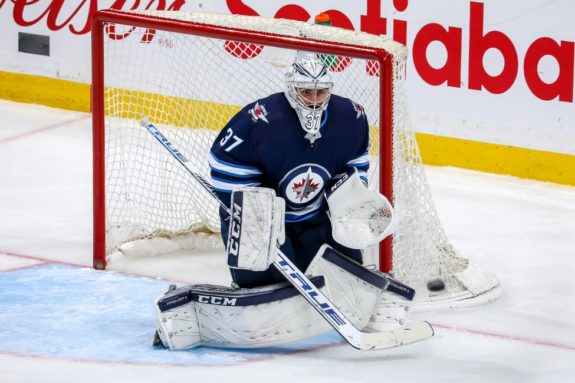 The Jets also have their star players living up to their potential like Josh Morrissey who is having the best season of his career setting new personal records in points (67), assists (52) and goals (15). Though last night Morrissey and defenseman Adam Lowry sustained lower-body injuries and coach Rick Bowness said it's unlikely that either will play tonight against the Lightning.
Right-winger Blake Wheeler remains optimistic that his team's efforts will soon pay off saying, "The reality of the situation is there was a stretch where we weren't playing well at all and we deserved our fate. The last handful of games, we've been quite a bit better and you can see signs of the team that we had in the first half of the season."
The stretch he is referring to is one where the Jets lost five in a row until they snapped the losing streak with a 7-5 win over the Edmonton Oilers on March 4. 
Related: Jets' Remaining Schedule Puts Playoff Hopes In Serious Jeopardy
Bowness is confident that the efforts of his team will be reflected in wins soon enough saying, "The guys know that we're playing a lot better the last couple of games. They know the importance of the weekend, clearly." He went on, "We're going to have to get a couple wins here." 
We will just have to see if the Jets' efforts will be reflected on the scoresheet come Sunday night. 
Lightning Look to Extend Win Streak to Three Against the Jets 
As the Lightning are also gearing up for the second half of their back-to-back, they hope to bring their winning streak to three games by the end of the weekend. They are 3-4-3 in their last 10 games, but have an incredible 24-5-5 record at home this season. 
The Lightning have a firm lead in the standings, claiming third place in the Atlantic Division with 11 points separating them from the fourth-place Florida Panthers. However, last night there was a concerning sight for Lightning fans as Steven Stamkos did not return to the game after suffering what appeared to be a leg injury in the first period.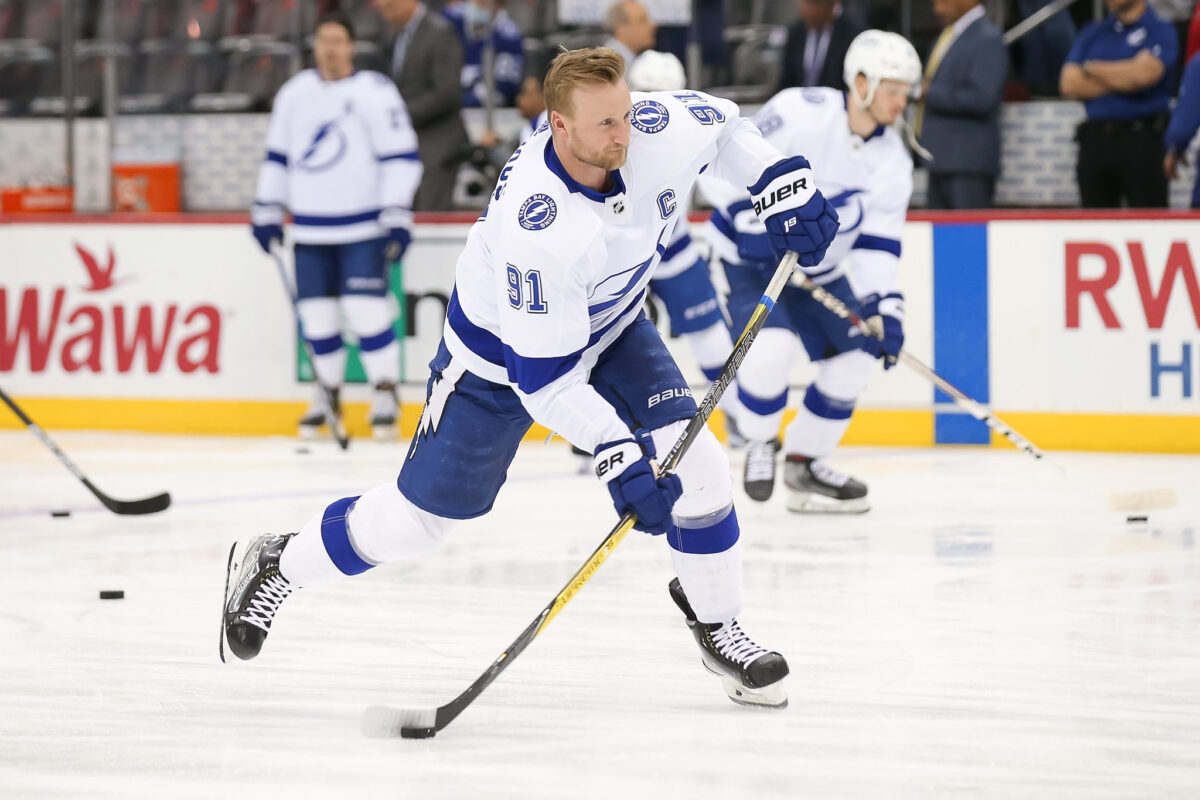 Stamkos currently has 66 points in 65 games for the Lightning this season, so to say he is a key player on the roster would be an understatement. Coach John Cooper is hopeful that he will be okay saying, "We just kept him out for precaution. We'll check him out tomorrow [Mar. 12], but we're hopeful he'll be OK." 
Something the Jets do need to be prepared for is the physical presence the Lightning bring to the ice every game. The team ranks second in the league in penalty minutes with 800. This is the 11th consecutive season they have ranked first or second in the league in penalty minutes. Within those seasons, they have led the league nine out of the 11 times. The last time they didn't rank within the top five NHL teams in penalty minutes was the 2005-06 season. 
The Lightning aren't afraid to get physical when it matters and looking to extend their winning streak to three after beating the Blackhawks last night, the Jets need to be ready for Tampa Bay to bring the heat come puck drop tonight. 
Players to Watch
Jets – Vladislav Namestnikov
Vladislav Namestnikov will be facing his former teammates for the first time this season as he gets ready for game No. 5 in a Jets jersey. The 30-year-old scored his first two goals as a Jet against the Panthers last night (March 11) bringing his point total to five in only four games with the franchise.
Due to Pierre-Luc Dubois being out of the lineup, Namestnikov has been able to play on the second line with Nikolaj Ehlers and Blake Wheeler. No. 26 discussed playing with Namestnikov saying, "He's a really smart player. He keeps the game simple, he's easy to read off of. You kind of know where he's going to go, you know where the puck is going to go." He continued, "I've enjoyed it. He's fit in really well."
With Namestnikov fitting well on the second line, we'll have to see what happens when Dubois returns. For now, keep an eye on Namestnikov to see if he continues to show off his skills tonight. 
Lightning – Nikita Kucherov
The Lightning have a handful of players who have remained the stars of the franchise for years now and one of those is Nikita Kucherov. The 29-year-old has played with the Lightning for his entire NHL career, earning 711 points in 628 games with the franchise. This season, he has 95 points, 69 assists and 26 goals in 66 games, ranking third in the league in points and second in assists.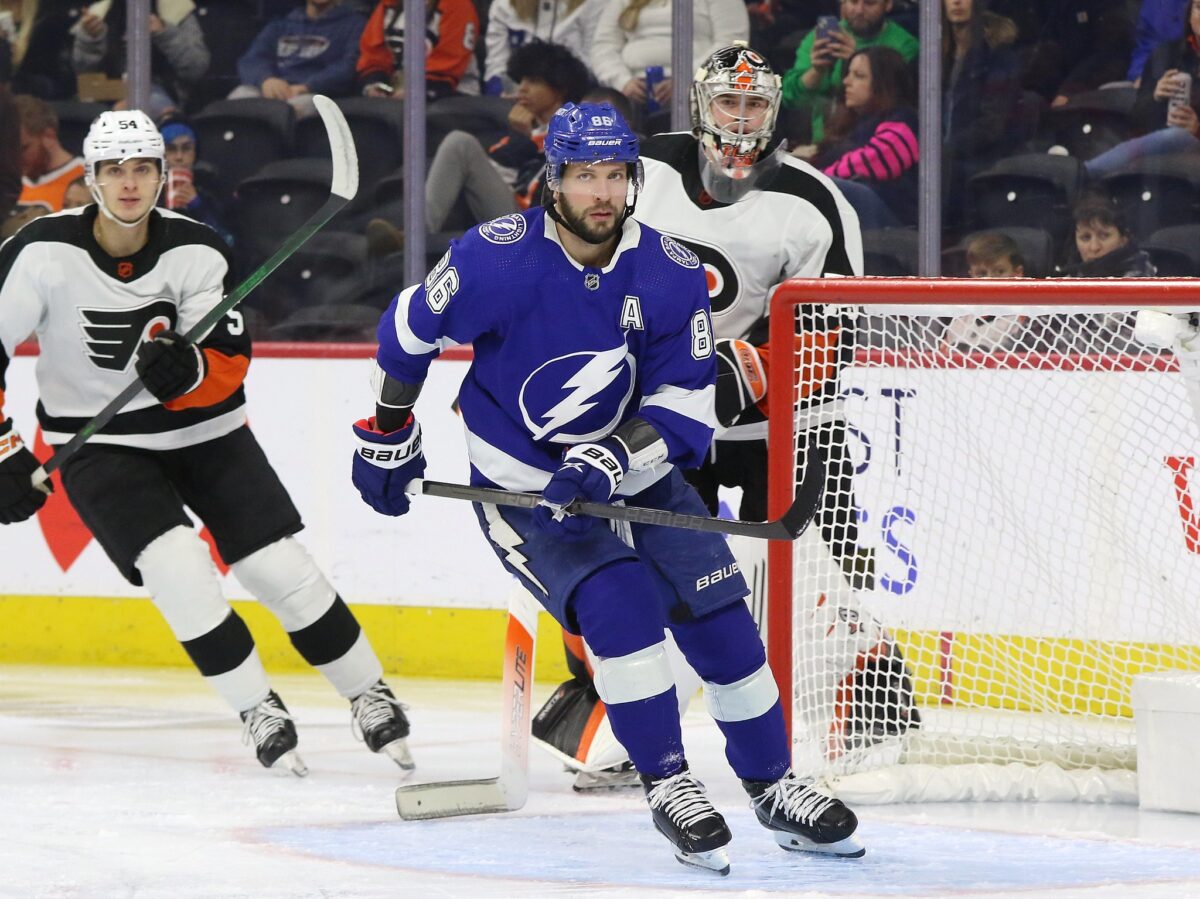 After playing the Philadelphia Flyers on March 7, Kucherov officially recorded three 90-point seasons with Tampa Bay, trailing Steven Stamkos (5) and Martin St. Louis (4) for the most in franchise history. Watch for the right-winger as he clearly is a powerhouse on the ice. 
This weekend is the start of a tough and telling stretch for the Jets and their Stanley Cup Playoff fate. Tune in tonight at 7 p.m. EST to see what happens when the Lightning and the Jets face off at Amalie Arena.
---
---