The 2023 Entry Draft comes at a time when the Winnipeg Jets really need an injection of youth as many core pieces have contracts set to expire after next season. The scouting team has done an excellent job at selecting NHL-level talent with their first-round pick, and this draft class has an extremely talented group of players; the Jets have a real opportunity to select a difference-maker at 18th overall.
Team Needs for the Jets
A Top Centre Prospect
The Jets are lacking a bonafide centre in their prospect pool. For the past couple of seasons, the opportunity to play up the middle has, rightfully, been blocked by Mark Scheifele, Pierre-Luc Dubois and Adam Lowry. Both Scheifele and Dubois do not have contracts past 2023-24, and Lowry is a third-line centre on a Cup-contending team, so the path to playing centre might now be open. Many players and prospects have played centre briefly (Cole Perfetti, Brad Lambert, Chaz Lucius, Rutger McGroarty), but none are guaranteed to have their skills translate to playing down the middle compared to on the wing.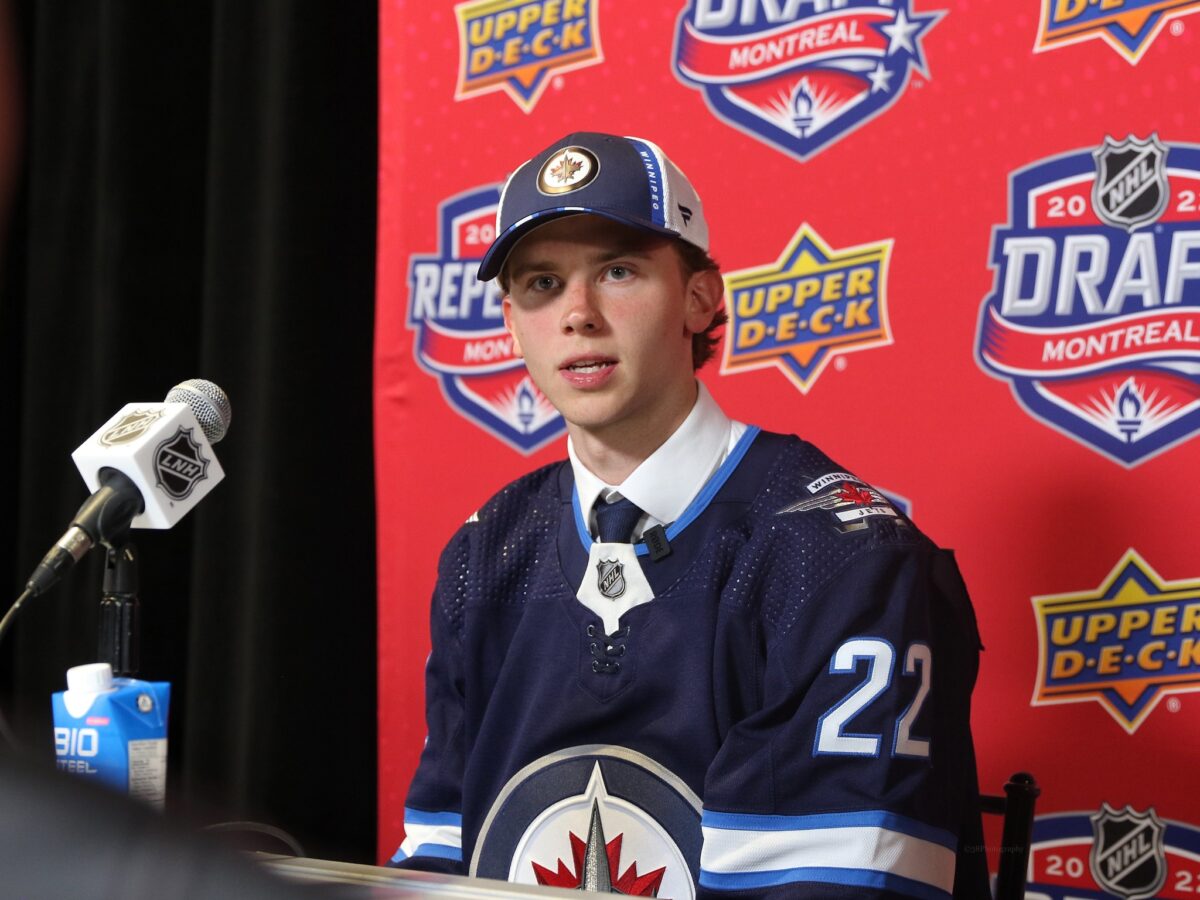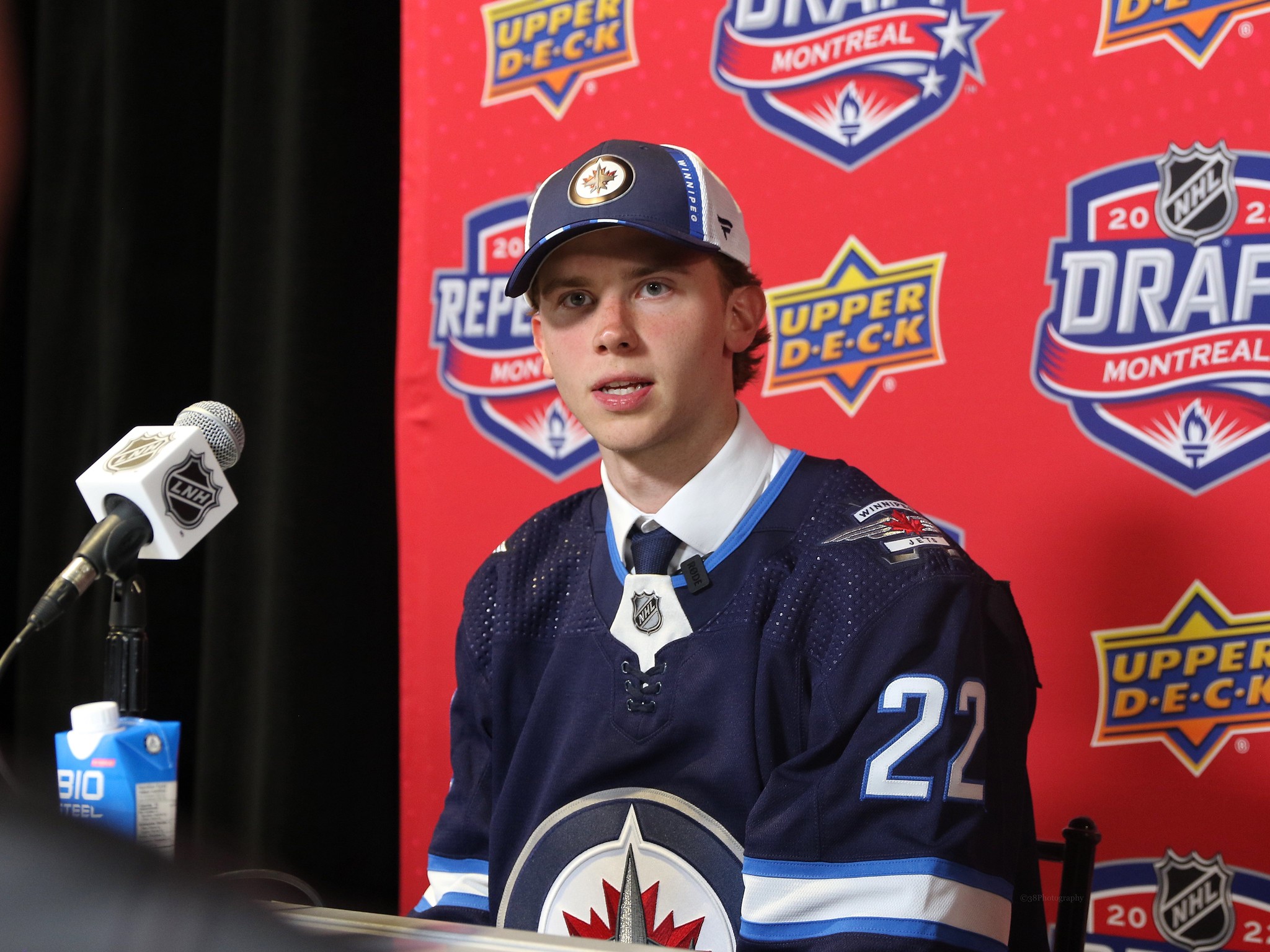 Jets Want Size Upfront
The consensus at the moment is that the Jets are looking to select a forward who brings some size to the lineup in the first round (from 'Corey Pronman's Latest NHL Mock Draft has Leo Carlsson Rising after Strong Play at Worlds', The Athletic, June 1, 2023). They could use some "bite" in their top-six as Dubois' days as a pest in a Jets uniform are clearly numbered.
Leadership, Two-Way Play and Transition Skill
Winnipeg clearly values these three skills, as both first-round draft picks last year (Mcgroarty and Lambert) addressed these needs. Management knows what they need, and I expect these skills to still be a factor in who they select in 2023.
Forwards to Target
Position: RW Height: 6-foot-4 Weight: 193 Pounds Handedness: Right NHL Projection: Top 6 Winger
Why He's Realistic: Wood is projected to go somewhere in the 14-18 overall range. While he is a big, tall forward, he plays a more skill-based game instead of being a pure power forward, so he could be available at pick 18.
Related: 2023 NHL Draft Guide
Why He's a Jets Target: He excels at board battles at both ends of the ice, and he has the basic skills and intangibles to have a very productive career in the NHL. If he can improve his quickness and skating ability, the sky is the limit for the right winger. Wood's ceiling is comparable to Tage Thompson, while a more cautious comparison would be Drake Batherson.
Brayden Yager
Position: C Height: 6-foot Weight: 165 Pounds Handedness: Right NHL Projection: Top 6 Centre
Why He's Realistic: Yager is currently projected to be drafted anywhere in the 10-32 range. This is primarily due to concerns about his true potential. Many wonder if he will be able to fill out his frame and be a productive centre or if he is destined to be a scoring winger.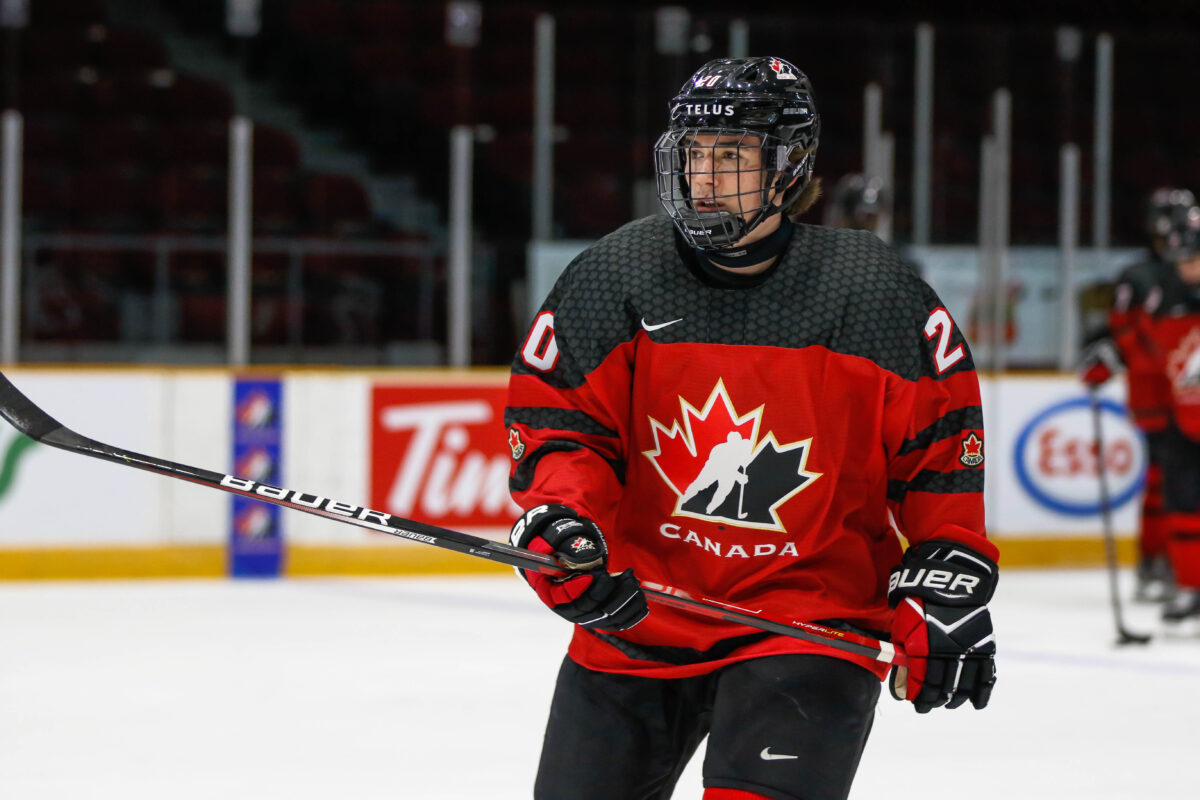 Why He's a Jets Target: If Yager can develop as advertised, he has the tools and compete level to be a productive centre similar to Vincent Trocheck. Furthermore, he fits the mould of recent Jets draft picks who have dropped on draft day due to a lack of speed or clarity on what position they will play (Perfetti, Lucius, Mcgroarty).
Colby Barlow
Position: LW/RW Height: 6-foot-1 Weight: 187 Pounds Handedness: Left NHL Projection: Top 6 Winger
Why He's Realistic: Barlow has similar flaws to many other players projected to be available when the Jets step up to the podium. There are some concerns about his upside and foot speed, which now has him going in the top 20 range.
---
Latest News & Highlights
---
Why He's a Jets Target: If Barlow is available at 18, I don't think the Jets will pass up the opportunity to select him. He provides NHL upside along with the intangibles the Jets adore. He captained his Owen Sound Attack this season as a 17-year-old, showcasing his leadership skills. He also won the CHL Scholastic Player of the Year award, which Josh Morrissey and Perfetti also won. Barlow reminds me of Rickard Rakell, as both players possess a high-quality shot and are threats to score off the rush.
Calum Ritchie
Position: C Height: 6-foot-2 Weight: 187 Pounds Handedness: Right NHL Projection: Top 6 Centre
Why He's Realistic: He's currently projected to go in the 20-32 range; however, given that he's a centre, I could see him going as high as 16th. Furthermore, he's often been criticized for his lack of foot speed and forcing passes when he's open in a shooting situation.

Why He's a Jets Target: The ideal role for Ritchie would be a complementary centre for offensive wingers. This means he would fit like a glove with Nikolaj Ehlers. Ritchie also has many skills that the Jets need. He plays a solid two-way game, excels at taking faceoffs, is a solid puck carrier at both ends of the ice and has decent size. He is comparable to Chandler Stephenson as a two-way centre who meshes extremely well with skilled linemates.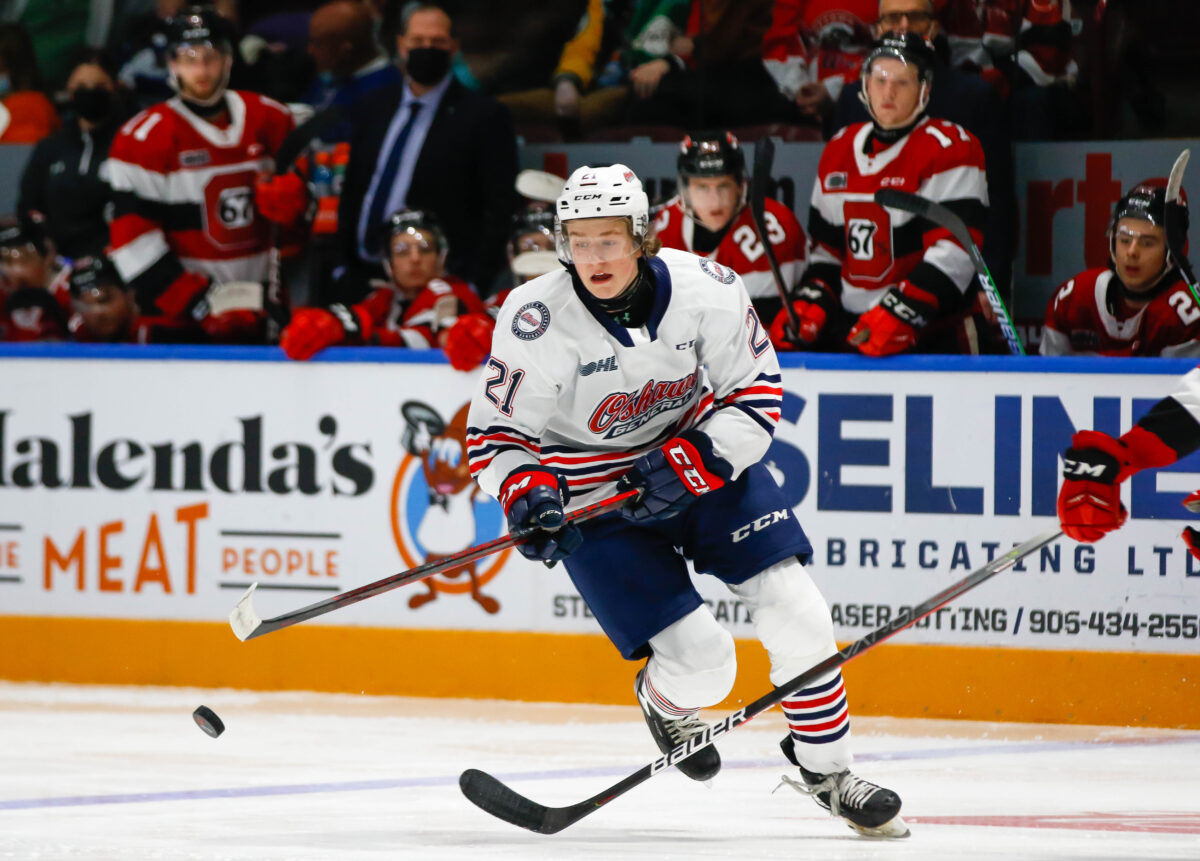 Oliver Moore
Position C Height: 5-foot-11 Weight: 176 Pounds Handedness: Left NHL Projection: Fringe 1st Line Centre
Why He's Realistic: Moore has been ranked in the top 12 all year, but his lack of size and the years he will need to develop properly could scare off teams come draft day.
Why He's a Jets Target: The Jets have been lucky with players falling to them in recent drafts (Perfetti, Lucius, Nikita Chibrikov, Lambert), and Moore has steal-of-the-draft potential if he is still available in the middle of the first round. He is arguably the fastest skater in the draft, has elite puck skills and, with the right development, can play centre. He is a huge threat off the rush and could become a player like Dylan Larkin if he develops as expected.
Jets Hope to Improve an Already Good Prospect Pool
The Jets enter the draft with a very solid but not spectacular prospect pool. They have a lot of quality players in the pipeline, however, they lack a true superstar to lead the group. As a result, the Jets' prospect pool ranks around 10th in the league. However, this very deep class gives the Jets an opportunity to add another quality piece to their system, and I expect management to have their sights on drafting a forward who fits all the needs listed here.